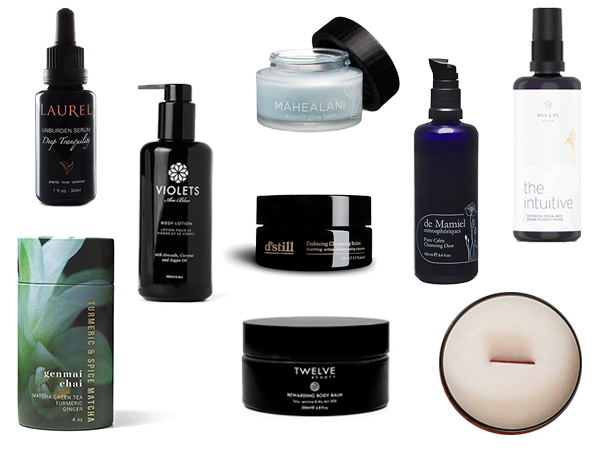 What is more delicious than slipping into a cozy sweatshirt and slathering yourself with a moisturizing balm? Add a cup of coffee and either a romance novel (don't knock it– they've come a long way) or a Parks and Rec marathon (I subscribe to Peacock just for the ability to do this), and you have a perfect, fall weekend day.
Beauty products can be like comfort food, even when you're trying a new product. This is definitely not the first time I have compared beauty products to comfort food; remember Thanksgiving 2019 (aka "the before times") when I wrote about how you could put a lot of our favorite Thanksgiving ingredients on your skin?)
There is something about the scents and textures of my favorite balms, oils, and creams that feel downright comforting. Part of it is the actual, physical and medicinal properties of these products– Blue Tansy soothes, Lavender calms, etc.– and part of it is the power of aromatherapy. Scent is something that has become more and more important to me over the years, and maybe I'm also getting better at acknowledging how important it is to me.
Texture is equally important, and, like scent, so hard to describe with words alone. Maybe part of what makes texture and scent so beautiful in personal care products is the fact that they are both subjective, evolving, and ephemeral. No two people's experience of a beauty product are ever the same; people's skin reacts differently to ingredients, our interpretation of scent is unique, the way a product mixes with our personal chemistry is special.
However, there are some products, formulas, and ingredients that have become popular and beloved for very good reasons! These are the continued best-sellers, the best-kept (but not for long!) secrets, the things we save up for and treasure every last drop or dab of! This is a compilation of those products: the ones that are unique yet universally beloved; calming yet compelling; timeless and timely.
If you're looking for comfort as the seasons change, you're not alone. I hope this list of things I have either loved for a long time or have recently started loving helps you find your new Autumn treasures! Enjoy the scents and textures of fall self-care.
Cleansers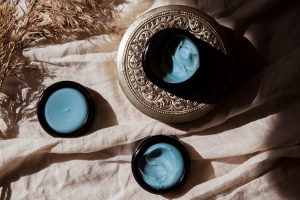 It's no coincidence that my three favorite Fall Cleanser picks all have Blue Tansy in them! I love this ingredient all year round but there is something particularly alluring about its scent and calming properties as the weather gets a little colder.
The d'still Calming Cleansing Balm,  de Mamiel Atmospheriques Pure Calm Cleansing Dew, and Earthwise Beauty Marshmallow Cleanser all utilize the anti-inflammatory and stress-reducing properties of blue tansy to help calm skin while removing dirt, grime, and makeup. All three of these cleansers are good for those with sensitive skin, which is many of us this time of year as our skin adjusts to different environmental conditions. The d'still Calming Cleansing Balm is thick and rich, but can either be rinsed off when massaged with water or removed with a warm cloth– an option I really like having, depending on how much TLC my skin needs each day. The de Mamiel Cleansing Dew can also be rinsed off with added water, and can be part of a double-cleansing process if you like to do so (which I do about 50% of the time!). Earthwise Beauty Marshmallow Cleanser is super-concentrated, so a little goes a long way, and this makes it GREAT for travel (plus it comes in travel size!). It can also be used as a body wash for very sensitive skin types– another way it's a good travel product, because it's multi-use.
Toners
Fragrant mists are a must in any season, but while I might want something refreshing in the spring or cooling in the summer, fall calls for a more moody mist.  I like a grounding scent in the fall, something that reminds me of earth and leaves and drizzles.
Honua Lihau Mist contains (and smells like) blue tansy, which I clearly can't get enough of in the fall. It also has Hawaiian sandalwood, vetiver, and neroli to round out the gentle toner, which is also good for warding off breakouts and irritations with its anti-bacterial and anti-inflammatory ingredients.
Max & Me The Intuitive Mist calms with palo santo, a truly classic fall scent note. I've written before about this particular mist and the magic that goes into it. High vibe skincare like Max & Me's is particularly good for times of seasonal change.
Amly Silver Rich Facial Mist: Beauty Sleep is one of my fall picks because of its earthy, lavender and neroli smell, but also because the brand's silver-rich mists are legendary for hydrating and healing while you sleep… kind of a perfect metaphor for autumn and winter, no?
Serums/Oils
People ask me all the time what the difference is between a serum and an oil, and the answer is… it depends! There's no government-regulated definition, but serums can be water-based or oil-based (or sometimes have both!), and contain more active treatment ingredients, while an oil is, obviously, just oils, and might be more like a moisturizer than a treatment. Earthwise Beauty Nap in the Meadow Face Serum is aloe-based, which is like being water-based, but even better, because the aloe leaf juice adds bonus nutrients to soothe and hydrate stressed skin. Since this product is hydrating (hydro = water), you'll want to follow it with a moisturizer (moisture usually from oil)– see below for my Balm and Moisturizer recommendations! de Mamiel First Fix Stress Response Serum is one of the most intensely repairing serums out there– with many active ingredients chosen after 13 years of research and formulations, this oil-based serum is a miracle-worker. Since it has oil in it– prickly pear seed oil, which is a favorite ingredient of mine– as well as water, it's both hydrating and moisturizing, but I still like to follow it with at least a light moisturizer to really lock it in, especially as the colder weather leaves my skin drier. Last but definitely not least, Laurel Unburden Serum: Deep Tranquility is a moisturizer and serum all in one! With 28 active ingredients, it can be used all on its own– it has everything you might need! I love this one for its mix of healing oils including evening primrose, jojoba, pomegranate, chia seed, almond, and tamanu, just to mention a few!
Balms/Moisturizers
Another blue tansy-heavy category for me is balms and moisturizers– are you sensing a theme? I just can't think of a better match for fall than blue tansy, which you can find in Honua Māhealani Moonlit Glow Balm, de Mamiel Skin Recovery Blend, and one of my all-time personal favorites, Josh Rosebrook Vital Balm Cream (which falls between a balm and a cream, texture-wise). Something about each of these moisturizers makes me feel like I'm wrapped in a down blanket or diving into a tranquil pool of water that is just the right temperature!
If for some reason, you're not a blue tansy fan (but seriously, why not?), I have three other picks for your autumnal skin. Laurel Recovery Balm: Soothe + Mend, Graydon The Putty Super Soothing Face Cream,  and Ayuna Cream II or Cream III (please don't make me choose a favorite between Creams II and III— they are both amazing!) all pack the kind of moisture your skin is likely craving as the colder weather brings drier air, and indoor heating whisks any natural moisture away. It all comes down to texture with these– if you like a balm, Laurel is slow beauty at its best, handmade, wildcrafted and seriously potent for healing. Graydon The Putty absorbs easily and can be used morning or night, as well as on burns, cuts, or blemishes. The Ayuna creams are one of the most decadent product collections I've ever used– they are so rich and pack so many mega-effective ingredients into each formula that they can really be used alone or on top of an oil or serum.
Body Care
Lavender is another of my favorite fall skincare ingredients, and you'll find it in several of my picks below for autumn body care.
Violets are Blue Body Lotion with Argan and Avocado Oil, Organic Bath Co. Body Butter in Peacefull, Kosmatology Botanical Bliss Lotion Bar, and Osmia Night Body Oil all have the lavender magic that reminds me to take a deep breath and appreciate the changing of the seasons. I like to apply a nice lavender body treatment before going to sleep, especially in a cozy set of pajamas under warm blankets, where the smell can circulate and lull me to sleep. Each of the recommendations listed here has its own unique texture, so if you like a light, easy-to-spread, quickly-absorbing lotion, Violets are Blue Body Lotion with Argan and Avocado Oil is the lavender treatment for you. If you prefer a thick body butter, Organic Bath Co. Body Butter in Peacefull is what you seek. Kosmatology Botanical Bliss Lotion Bar is really great for travel or for kids who want to apply it themselves– it's spill proof and waste-proof! And Osmia Night Body Oil is great if you're a person who loves putting a luxe oil on damp skin right after showering or a bath.
For those who prefer unscented products, Twelve Beauty Rewarding Body Balm— more of a body cream than a balm, really– is unscented. It's deliciously thick and rich and a little goes a long way! This one is so good straight out of the shower– I like to apply it to sopping wet skin and let the balm really seal in the hydration.
If you prefer a spicy, comforting scent for fall, I also adore Kahina Giving Beauty Fez Body Serum. This Moroccan-inspired and sourced line is heavenly, and Fez's blend of essential oils creates a wonderfully unique aroma. It makes a great gift, too. I like to bring a bottle as a hostess gift for fall trips.
Wellness
Great skincare and body care can go a long way towards providing comfort, healing, and mood-boosting, but there are other ways to add some self-care to your routine that will help your body and spirit with the change in seasons and temperatures.
Free + True Ingestibles, in particular the Genmai Chai Turmeric Spiced Matcha and Body Harmony Turmeric Infused Rooibos, are a delicious way to boost immunity and give all of your senses a treat. I add heated milk to these powders– you can use plant milks or animal milks, or even incorporate into a smoothie. So soothing!
Burning some Province Apothecary Incense in Lavender or Cedarwood is another way to lift your mood and awaken your senses. Perfect for travel or just changing the vibe of a room at home, I love this affordable, fast way to scent my home without getting out an essential oil diffuser or letting a candle burn for a long period of time.
However, if you love candles, (and I do, when I have time and my kids aren't around to get into mischief), do I have a treat for you! Fontana Candle Co., new to Integrity Botanicals, makes candles are non-toxic, clean-burning, and handmade in Lancaster County, Pennsylvania. They have a super-unique wooden wick (!) and are the first MADE SAFE® certified candles. Their scents are so perfectly fall, from Cinnamon Orange Clove to Spiced Latte, and I'm stocking up for holiday gifts with Fraser Fir and Peppermint Twist.
I can't possibly talk about scents and self-care without shouting out Leahlani Skincare's new perfume: Kiele Aromatherapy Essence. As someone who LOVES gardenias, this essence is literally a dream-come-true for me. I can't think of a better mood-lifter or self-care practice than surrounding myself in the luscious smells of Hawaiian gardenias! The only thing better would be traveling there to smell them in person. Someday!
Seasons change and so does our skin, and so do our preferences and needs. While spring or summer might make you yearn for fresh or fruity oils that are light and crisp, winter might make you want peppermint or warming spice-scented lotions. Fall, however, is unique and distinct. We crave comfort and substance that we haven't needed all summer. We start wearing jackets and scarves– even here in California!– and it's time to shed our summer skin. Whatever the change in seasons brings up for you, it's important to take time to listen to your body, to nurture both it and your soul, and to treat yourself to some new skincare, body care, and wellness that help you adjust to the changes around you. If you need me, I'll be over here, bathing in a pool of Blue Tansy balms, watching comforting reruns of my favorite tv shows, and sipping some Genmai Chai Turmeric Spiced Matcha. I hope you'll do the same– or whatever feels like Autumn to you!