Both times I have been pregnant, I knew before taking any tests because of my sense of smell.

With my daughter, in 2010, I knew I was pregnant because, as my husband and I boarded the crosstown bus one morning in Manhattan, I said to him, "Whoa, that woman used a lot of shampoo!" There was only one other woman on this bus, and she was sitting at the other end of it, and, since this was one of those double-length city busses, she was about 100 feet away.
4 years later, when we decided to try for a second baby, I knew it had worked because, pushing my daughter home from a playdate in the park, I found myself wondering, "Who is eating a cucumber?" and then seeing a random kid munching on one A WHOLE (albeit, small) CITY BLOCK later. My smell was that sharp.
One reason it has been so sharp the past few years is the hormones– pregnancy, postpartum, breastfeeding, weaning– they all have strong effects on ones senses, particularly smell. Another reason is that, from my first pregnancy until recently, we lived a completely scent-free life at home.
You see, I gave up smells before trying to get pregnant with our daughter over eight years ago. After learning how toxic "fragrance" can be, and how it's so unregulated in the United States, I quit cold turkey. Unscented laundry detergent, fragrance free soap, you name it, we cut it out.
I did use some essential oils now and then, but, as we all know, even a few years ago, the natural beauty world offered few options for smells beyond lavender, rose, and (ugh, my personal nemesis) patchouli.
I thought I was okay, I didn't really need fragrance in my life. It was a good thing to cut out, I told myself, even the safest fragrances, so that my newborn kids could smell my pheromones right away, so the nursing relationship was strong, so that I wouldn't be distracted from the delight of the scent of new baby on their heads.
But now my babies are older, one is a toddler, and one is a full-blown kid, and their heads no longer smell like newborns and evaporated breastmilk. I found myself craving scents and perfumes and luxe lotions — the kinds that make you feel special and romantic and sexy. Like a human being again.
And I didn't think a natural scent existed out there that was going to make me feel all that. But thank goodness, I was wrong. Not only are those scents out there, but they are safe and natural and healthy, and, most importantly, beneficial! And, important to note, none of the ones I really gravitate towards are actually perfumes! Finding a scent that makes you happy can mean looking outside the box at body oils, hand creams, hair treatments, or any natural product that has a gorgeous smell. 
Maya Chia's Supercritical Waterless Wonder Balm is one of my favorite scents. It's made from essential oils, but I have no idea which combination, exactly (it's proprietary, as it should be!). I know there's Orange Blossom in there (be still, my heart!) and something that reminds me of childhood and honeysuckle. When I had the pleasure recently of meeting Susanne, who creates Maya Chia, I told her she should make it into a perfume— it's uplifting in a way I had never encountered. It is not too sweet or cloying, just perfect and gentle and joyous. It's relaxing when I need to wind down, and invigorating when I need a boost.
One Love Organics is another brand whose scents make me feel alive and enveloped in love, which, again, is what a fragrance should do. Their  Gardenia + Tea Antioxidant Body Serum evokes my childhood summers visiting family in the Carolinas. Their Elizabeth Dehn Vitamin C Body Oil smells like a tropical paradise I haven't yet found on earth, but will happily search for on every vacation I take. Both of these oils linger on my skin for continual reminders of peace and love all day. (Plus, the moisturizing effects are not to be overlooked! My skin has never felt better!).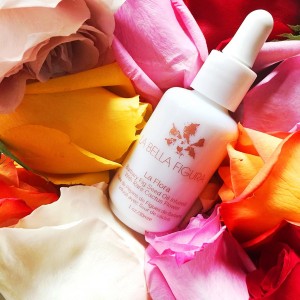 My recent discovery— and obsession— La Bella Figura's La Flora  is another miracle I've requested as a perfume. The scent comes from a miraculous single ingredient— rare Cactus Flower Oil— which I haven't smelled anywhere else. La Bella Figura also makes two aromatherapy oils which I love, Happiness Therapy and Travel Therapy.
And, Leahlani Skincare, new to Integrity Botanicals!!!, encapsulates the place I've dreamed of my whole life, but never visited (yet!): Hawaii. If this is how Hawaii smells, I am all in. Leah blends organic tropical nectars and tropical fruits with flowers and essential oils, to create scents that I thought could only be made by chemicals. I'm so happy to find that these natural wonders can— and are— captured and made in the form of things I can put on my skin and breathe in! My favorite is Leahlani's Bless Beauty Balm, a mix of Blue Tansy and Neroli and Orchid extract that just makes me instantly happier. I put it on my lips all the time to have it close to my nose! And, if you like Jasmine, as I do, the Aloha Ambrosia Morning Moisture Elixir is just heavenly perfection. Leah tells me this is what Hawaii smells like after the rain. I'm sold.
But even once I discovered these scents that spoke to me, I always found myself coming back to the central question: why does it matter? There are a ton of articles out there about the benefits of aromatherapy, but I have been wondering for almost a year now, why smelling something I love is so important.
And tonight, after I put my son in his crib and rubbed his back, I caught a whiff of the dab of La Bella Figura's La Flora that I'd put behind my ears after dinner, and I figured it out. It made me realize I was breathing.
We all breathe. All the time. Or else! It's something everyone has to do, and yet, it's something you can't spend time thinking about constantly, outside meditation or singing or yoga, or you'll make yourself crazy. But because we all do it, it's easy for me to take it for granted, to forget the gratitude that comes with another breath, another moment, another day.
As I put my daughter to sleep tonight and got that gorgeous breath of scent from Maya Chia's Waterless Wonder Balm on my hands, I thought, "hey, that was a nice breath. Thank you, body, for doing that. For sustaining me. For taking care of that important business of living, without my having to instruct my body on all the tiny minutia of each step of breathing."
Suddenly, I was aware that my body is a living miracle. Suddenly, I was grateful for my breath in a way I regularly forget to be. And I know now why it's important for me to wear a scent that I love; so that when I breathe during a quiet moment and sense the smell of jasmine or citrus or plumeria, I'm really saying, "Thank you, body. Thank you lungs and brain. Thank you for this breath and the next one, and this life. I'm so lucky. I'm so thankful. I'm breathing."
There are so many natural scents I love — too many to write about here— but since scent is such a personal, indescribable thing, here are a few more I adore that you might, too. This is a good use for our Free Samples on Integrity Botanicals; you just have to try them and see what speaks to you!