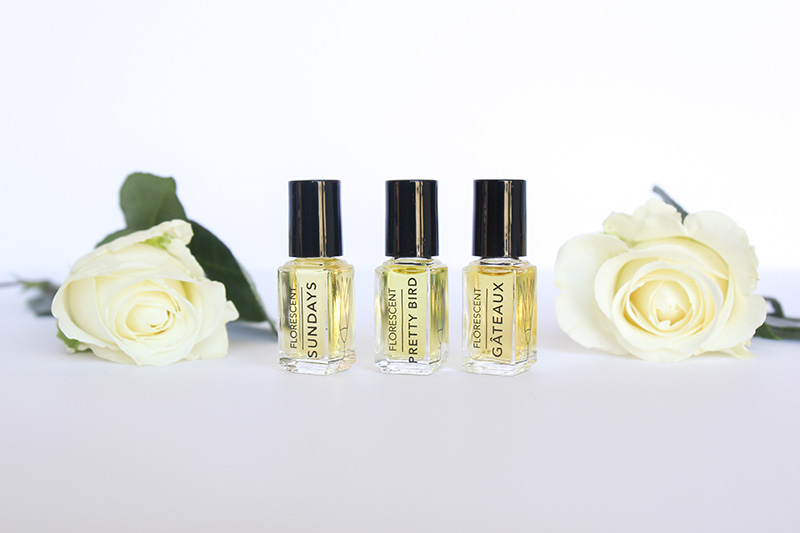 Have you found a perfume that is non-toxic, gentle enough for daily wear and smells heavenly? If that sounds like a tall order, I'd love to introduce you to Florescent botanical perfumes.
Florescent perfumes are 100% botanical and made from certified organic and wildcrafted essential oils and absolutes that are set into a base of organic grape alcohol. I created my perfumes with an alcohol base because I craved that beautiful, feminine ritual of spritzing a dash of perfume on before leaving the house. Organic grape alcohol is so gentle and soft smelling. It dissipates quickly and allows the full complexity of a fragrance—with all its subtleties and nuances—to come through better than a perfume oil. It's also long-lasting. Florescent botanical perfumes are available as a spray or a roll-on, and you can order a Trial Kit to experience all three before choosing your favorite.
Pretty Bird has been my personal scent for a long time now. It's the perfume I always wanted for myself and the one I reach for the most often. It's a bright, warm and rosy fragrance with a soft spicy/woodsy finish. The scent opens with notes of sparkling bergamot—bright and happy—and is warmed by earthy rose undertones that settle into a comforting and cozy blend of sandalwood, frankincense and clove bud absolute. It's a little tomboyish, and I liken it to slipping on your boyfriend's cashmere sweater, which yields the perfect combination of feminine and masculine scents.
Sundays is a lush and honeyed floral with warm woody undertones. It's balmy and rich but still gentle, and quite honestly it makes me feel a little tipsy with happiness. Jasmine has that narcotic affect on me, and Sundays is a combination of two types of Jasmine along with ginger lily, which creates a sultry, heady experience. The sense of euphoria that jasmine elicits is grounded by a little sandalwood and frankincense, which balances out the scent and gives it longevity. Unless you know that someone has an aversion to jasmine, Sundays is a true crowd-pleaser and makes a gorgeous gift.
Gâteaux takes most people by surprise, and it has the biggest range of the three perfumes. This garden floral begins with an herbaceous and fresh top note. Spearmint and rose geranium lead the charge, with fizzy bursts of blood orange alongside. This gives way to a soft and powdery finish, where orange blossom and tolu balsam, among other delicious botanicals, lend an elegant and slightly sweet note that lasts most of the day. Gâteaux reminds me of garden parties and teacakes—a little prim with a healthy dash of the wild and unruly.
To celebrate the launch of Florescent at Integrity Botanicals, we're giving away the perfume of your choice to two lucky people! Just enter below to win yours.