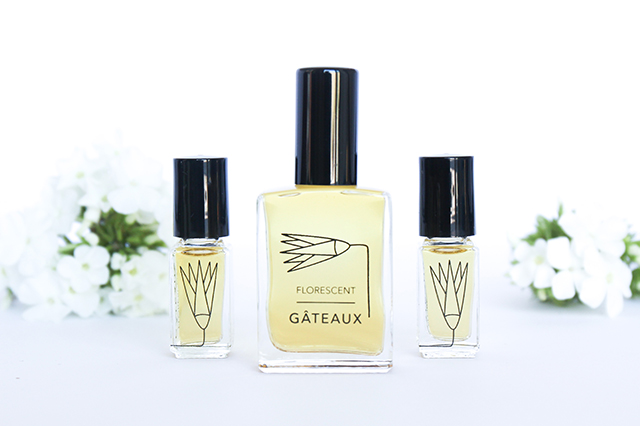 Later this week at Integrity Botanicals, we are celebrating the launch of Florescent perfumes.  The brand founder of Florescent is none other than our own blogger extraordinaire, Susannah Compton!  So today we're flipping the script and interviewing our favorite, multi-talented green beauty aficionado.
Marc and Terri: A lot of our readers know from you from NMDL.  How did you first get involved in the world of green beauty? 
Susannah: Like most people, my point of entry was as a consumer. In high school I worked part time for an Aveda salon. This was the late 90s just before the company was bought by Estée Lauder, and though I didn't know it then—the products made an imprint on me with their ayurvedic inspired formulas and strong botanical scents like clove, rosemary and mint. In college I studied abroad in France and became fascinated with skincare products and makeup in a new way. My French teacher had hinted that there was much to discover, and as I explored the French pharmacies and makeup counters I was drawn to French lines like Clarins, who were doing things with face oils, aromatics and milks that I hadn't seen before. Later in my 20s I fell for brands like Lush, Fresh and Jurlique whose marketing campaigns gave me the sense that I was making healthy product choices. Around 2008 I ran across a natural brand called Suki. Their toner was a game changer for me, and I became intrigued with results I got from purely botanical ingredients.
While I was on the track toward clean beauty, I had no idea that the industry was so unregulated and that toxic ingredients were lurking in many of my products until I stumbled across the book No More Dirty Looks while looking for resources on essential oils. I read the book in two days and then tossed everything that was compromising my health into the trash. I began studying safe botanical ingredients in earnest and started searching for new healthy products. The NMDL blog was a great resource and inspiration. When they put out a call for help in 2013, I dropped everything and submitted my letter of interest. Siobhan and Alexandra invited me to join the team, and green beauty has been an ever-expanding part of my life since.
What inspired you to launch your own perfume line? 
I am a maker at heart. I love the process of creating and then sharing what I've made with others. Perfume just happens to be the thing I enjoy making the most. The creative process of developing a botanical perfume is really challenging and rewarding. There are so many variables and possibilities, so when you finally hit that perfect combination that just makes you swoon with pleasure over its beauty, it's a very sweet moment. While developing my technique as a perfumer, I was covering the latest in green beauty and writing about brands that inspired me. I began to dream of building my own brand and sharing my perfumes with a larger audience. I wanted to create a line that would help people fall in love with perfume again, or maybe for the first time. People often tell me they don't like perfume, but that they love Florescent. It's really quite different than much of what's on the market. The right perfume can change your attitude and state of mind, which I didn't fully understand until I began blending for myself and had complete control over the outcome. A handful of women who were already running their own businesses in green beauty have been instrumental to Florescent's launch thanks to their ongoing encouragement and advice. This is an incredibly supportive community!
You're someone who wears a lot of different hats, between having your own business and multiple writing gigs.  How do you manage it all and what's your favorite way to decompress?
Currently, I manage it all by keeping evolving to-do lists and scheduling specific times to complete tasks. I have always had a lot of autonomy in my jobs, so I know how to work efficiently, but I've been working really long hours while developing Florescent.  I'm trying to find ways to create balance in my life so that I don't over do it. Beauty rituals are my favorite way to decompress. I get my biggest stress relief through at-home spa treatments that feel healing and really luxuriant. I love to shut myself in the bathroom and enjoy hot baths loaded with salts and aromatics, or do deep exfoliation treatments from head to toe as well as rich facemasks and facial steams. Of course, all of this self-care is punctuated with aromatherapy, which plays an enormous role in my daily routine and keeps me sane!  
What's the one book you think everyone should read? 
An Everlasting Meal: Cooking with Grace and Economy by Tamar Adler. This book of essays is not only beautiful to read, it may change your approach to cooking and feeding yourself in a radical way.
If you could have a conversation with any person, living or dead, who would it be? 
This is a weighty question, so rather than think too hard about it, I'm going to say the first person who comes to mind—Alec Lawless. I recently read Alec's hard to find book called Artisan Perfumery or Being Led by the Nose, and it's one I'll read over and over again like Mandy Aftel's Essence and Alchemy: A Natural History of Perfume. It occurred to me to write to Mr. Lawless and thank him for his contribution, but then I discovered he'd recently passed away. I would have loved to take one of his perfume workshops and chat about essential oils and natural essences as well as technique.
What advice would you give your 18 year old self? 
Follow your heart, not your head. Even without parental pressure, I put myself on a career path that was stable, responsible and so not right for me. I wanted to be an artist and a writer, and I didn't understand how to do that within the confines of becoming an independent adult. I felt this weird societal pressure to go to college and find a career track that promised a "sensible" job, so I relegated all my creative energies to part time hobbies and went to work for the federal government. Eventually, I made a break from the public policy career I'd spent five years developing, and then worked for a friend's tech start-up before leaving to write and begin my own business. It's not easy to transition from a well-paying, secure job to piecing together an income from month to month, but my heart tells me that this is the way forward, and I'm having so much fun with what I do everyday—that feels incredible.
What would you choose as your last meal? 
A classic breakfast—fried eggs over medium with generously buttered toast or biscuits, hash browns, and bacon. Plum jam or raw honey on the side for toast, and hot sauce for the eggs. Sliced avocado and tomatoes with sea salt are always welcome, too. I also love black beans at breakfast. Breakfast culture is strong where I come from, and it's deeply satiating to me.
What's the best beauty advice you've ever received? 
You are what you eat! Your diet has a direct impact on the way your skin looks. For healthy glowing skin you have to eat cleanly with a focus on colorful vegetables and healthy fats. When I make poor dietary choices, it shows up right away in my complexion as well as other areas such as my mood. When I eat well, I love the way my skin looks and I feel more resilient.
What celebrity would you be most excited to have wearing Florescent? 
Probably Drew Barrymore. I've followed her life and work since I was a child. She was that older cool girl to me. I love her creative energy, free spirit and the fact that she places such high value on women both in terms of friendship and entrepreneurship.
If you could live anywhere, where would it be?
I am such a beach lover, and I fantasize about living near vibrant waters under the warm sun. However, these days if I could live anywhere I'd choose to be near my family in the Texas/Oklahoma region. I've lived so far away from my family for over a decade, and I'd love to see their faces more regularly.
Check back on Thursday for Susannah's in-depth overview of each scent from the line plus a giveaway!