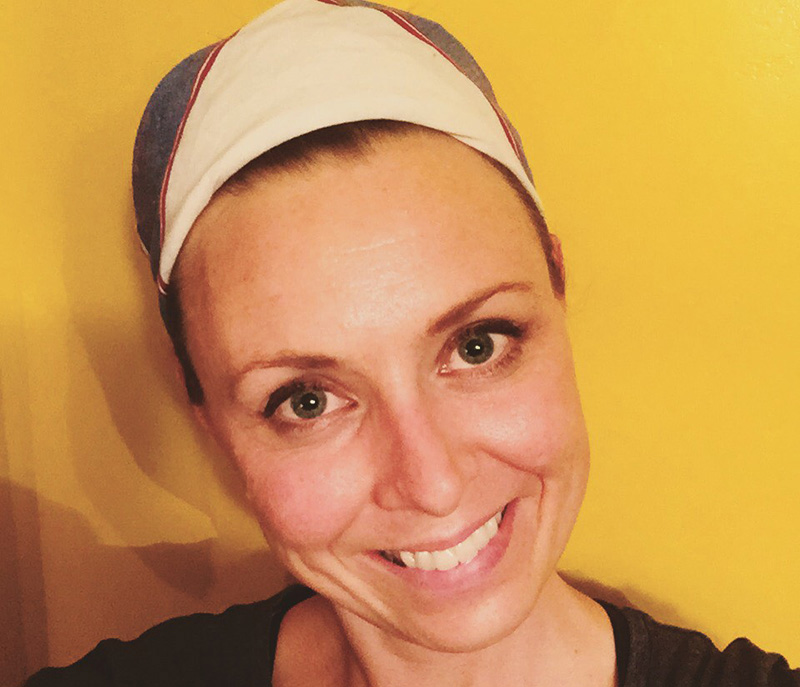 No doubt about it, there is something special about moss, the latest natural skincare line to launch with Integrity Botanicals. As I continue to enjoy the nourishing, clearing and skin-smoothing results from the moss products I'm using, my interview with the founder Celestyna gave me an opportunity to better understand what makes this brand click. It's not just what's in the bottle; it's the woman behind the bottle. I think you'll feel the same after reading more of Celestyna's views on skincare and life at large. Enjoy and look for our special offer and giveaway below.
Susannah: What is your skincare philosophy?
Celestyna: My number one thing here is that love is really important. I get it. I was there. I hated my skin, and the more I hated it, the more harshly I treated it. But loving something is really really important. You'll get far better results. Just look at children raised in a house full of love vs. not.
I think a lot of people get confused and they think that in order to love something they have to think it is beautiful. This goes for body love too. They look at their thighs and they're like I hate these — they're so ugly, how could I ever love my body? Well, take beauty out of the equation. I can't repeat myself enough ‑— beauty is not necessary for love. Just look at all the people you love — most of them are not supermodels. You adore them anyway. Why? Because they are funny, or strong, or calm or smart or because you have to ‑— they're family. Well, your skin is family. 
Love comes from a relationship. It comes from appreciating things for more than just their aesthetic appeal. You need a relationship with your skin. These days my acne is precious to me, and I am absolutely not joking or being flippant. It tells me in no uncertain terms when I've pushed my body too hard in terms of alcohol, sugar, caffeine consumption. It tells me A TON about the health of my feminine physicality. It enables me to create products for my business and allows me to be a reliable tester. It helps me manage my emotions. I don't try to force myself into thinking it is beautiful. I can't and it's pointless. It is not my acne's job nor my job to be physically beautiful.
I honestly think acne is a blessing, not a curse. It is an opening to find deep peace with who we are (not many people EVER do this because it's hard and it's much easier to ignore), and an invitation and a challenge to be better stewards of our body and our health than the typical person. And if you figure out soul happiness and body health, you have a long, blissful life ahead of you.
My skin is not pretty. It is covered with acne scars and shows a lot premature collagen loss and damage. I have deep wrinkles in my forehead that I have had since age ten. I don't care. Life is too damn short to care. I have other things to think about that are way more important — my husband, my business, seeing the world, helping the world. 
What I love the most about my face? It helps me communicate. It helps me be brave. I can feel the sun on my skin. I can see my parents genes in specific features of my face. My father's mouth, my mother's nose. None of this has anything to do with beauty.
Long story short — my skincare philosophy is "ditch beauty and bring love instead."
Also, PLEASE for the love of god, stop it already with "oil-free" products for acne. That is like ancient 80's advice that has been proven wrong so many ways. I personally cannot live without face balms.
What type of skincare does moss specialize in?
We have two specializations. One is skincare that is not only safe but also beneficial for acne-prone skin, especially adult and hormonal acne. This means it has profound anti-aging benefits as well.
We also specialize in hand-crafted artisanal couture skincare, which you can get a taste of with our limited editions. Ingredient scarcity or expense is not an issue with these opulent treats — all we care about is creating a finished product that is truly special, amazing for both skin and soul to experience.
Moss has a fairly large catalogue of products, and many of them are unusual and unique. Do you have any advice for how one should navigate the line to select the best products for their needs?
We're actually always actively pruning the collection and it is deceptively simple. You really only need a cleanser and a nourishing system. We have a page on the site that guides newbies through the selection process and are working on more support materials now.
I do like creating unique products, though. A couple of examples — two of our cleansers double as treatments — Beurre Céleste and Miel Noir. Both can be used as masks or cleansers and do a LOT more than just cleanse the skin — they treat it, repairing, exfoliating, nourishing, etc. 
Also, absorbing fluids — I advocate applying toner/gel/serum after your facial oil — not before. This way the water based products create a micro emulsion with the oil that remains on the surface of the skin, which helps it be absorbed much faster and leaves the skin way less greasy.
Your customer education approach seems to put a lot of emphasis on diet as well as products. Tell us why diet is important to achieving healthy skin in your experience.
Acne will seem very stubborn if you are only using one small tactic to control it. It works best when you come at it holistically and make multiple simultaneous efforts. So not JUST changing skincare OR diet OR lifestyle, but tweaking all three.
I would say EQUALLY important to diet with acne is stress management, which is almost never acknowledged.
My number one secret to healing acne, ESPECIALLY if people tell me they tried everything and nothing worked, is to ask — well, did you try everything AT THE SAME TIME? Sure, drinking green tea may not work, exercising may not work, zinc supplements may not work, switching to natural skincare may not work, meditation may not work. But now — do those all at once. You've reached a critical mass. (Those are just examples — your holistic acne treatment plan may involve very different actions/supplements.) 
This is why it is really beneficial to work with a naturopath who specializes in acne. BUT — it is not necessary. You can clear your acne on your own, by developing your intuition, by being kind and loving to yourself and skin and with patience and trial and error AND with a holistic multi-pronged approach. That's how I did it and there's absolutely nothing wrong with that.
Tell us about a person who has been inspirational to moss and why.
There are three beautiful women I would like to honor.
One of them, my mother taught me everything I know, about creativity, about art, about color, about entrepreneurship and about being rebellious and independent. Without a doubt, moss would not exist without her influence and flair. 
The other women are two formulators I look up to and deeply admire. Whenever I have wanted to quit, or been unsure of what move to make next, I always think of Laurel from Laurel Skin starting out selling at farmer's markets and now having an amazing thriving business and growing it all on her own. I looked at the "team" page on her website when I knew I would have to hire someone to get a bead on what kind of structure and people I might best be served with.
Lastly, Jacine from Roccoco Botanicals (based out of Australia — skincare to estheticians) — she knows so much about healing acne with plants and is incredibly open and generous with helping me and sharing info with me. I can ask her questions — anything from sourcing to formulation — and she will share everything she can.
I love that attitude and it is so rare. In general, people are very competitive and have a scarcity mindset. To find a role model who so clearly has an abundance mindset and so much generosity and true passion is a total dream come true and a HUGE inspiration and guiding light.
SPECIAL OFFER: Receive a free Salvation Mini Balm ($48 value) or Ceremony Mini Balm ($50 value) with any purchase of 2 or more full size MOSS products at Integrity Botanicals.  To receive your free gift, upon checkout enter code: SALVATION or CEREMONY  One free gift per customer while supplies last.