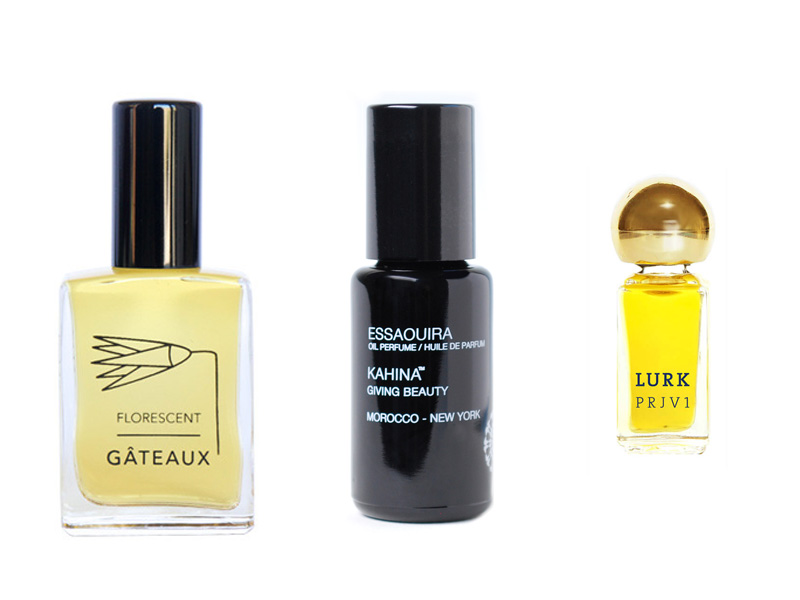 What is it about springtime that makes us crave a fresh new perfume? As the landscape comes alive around us and we shake off our winter wool, the desire to adorn ourselves with the smell of fresh blooms is almost instinctual. Perfume is as seasonal as anything in our beauty routine or wardrobe, and spring calls for light as air scents that usher in sunshine, warmth and new beginnings.
Curious about the best perfumes for spring? Here are the three I keep reaching for…
Of the three botanical perfumes I created for Florescent, Gâteaux is the obvious choice for spring. Gâteaux is a fresh and light garden mélange with a soft, powdery dry down. Gâteaux opens with a dash of mellow spearmint, bursts of sweet blood orange, and jammy rose geranium. The top notes paint a scene of lush and unruly gardens. This blooms on the skin to reveal a soft powdery finish with honeyed notes reminiscent of delicately perfumed teacakes. That's the orange blossom and tolu balsam coming to life. Though the name Gâteaux might make one expect quite a sweet and sugary perfume, it's not at all. Gâteaux is named after one of my favorite paintings, Cakes by American artist Wayne Thiebaud. I first discovered this dreamy painting at the Jeu de Paume in Paris and it left an impression. Gâteaux is an unusual perfume that will captivate you with its charming warmth. It's available in as a spray and a roll-on.
Kahina's beautiful smelling body oils Fez and Essaouira have both inspired the creation of matching perfume oils, with the Essaouira Perfume Oil launching just in time for spring. Essaouira is clean, uplifting and light—perfect for warmer days. While Essaouira has light rosey and woody undertones, the herbal pleasures of lavender and geranium are notably present. Rose and sandalwood add a touch of complexity and heart to the scent while petitgrain lifts the blend with its noble citrus aroma. Essaouira recalls the scent of an airy coastal village town in Morocco, which is where the perfume takes its name. Essaouira smells almost identical to the Kahina Night Cream and body oil. I'm thrilled that I can now wear this gorgeous scent all over. I love rolling it onto my neck and wrists, and I even like to rub a little onto the ends of my hair.
With its rich floral profile and sunny disposition, PRJV1 from LURK smells like a day in late spring or early summer when butterflies are everywhere and honeybees hop from one flower to another. Notes of jasmine and rose intertwine with petitgrain to create something entirely new and swoon worthy. PRJV1 was one of the first LURK scents I fell in love with thanks to the happy jasmine and rose, which manage to be bright and fresh—never heavy, which speaks to its well-balanced nature. The scent stays pretty consistent throughout the entire wear of the perfume, so this is a what you smell is what you get perfume oil that doesn't take any surprise turns an hour into the application. Like most of the LURK scents, this perfume oil stays very close to the body, so it's a personal fragrance that you and those close to you will have the pleasure to enjoy.
This weekend only, through Sunday, 5/1 buy any two Florescent Atomizing Sprays and get a free Roll-On of your choice.  Upon checkout, enter the fragrance of your choice in the discount code field: SUNDAYS, PRETTYBIRD or GATEAUX. Special offer is not valid in combination with any other discount code or offer.