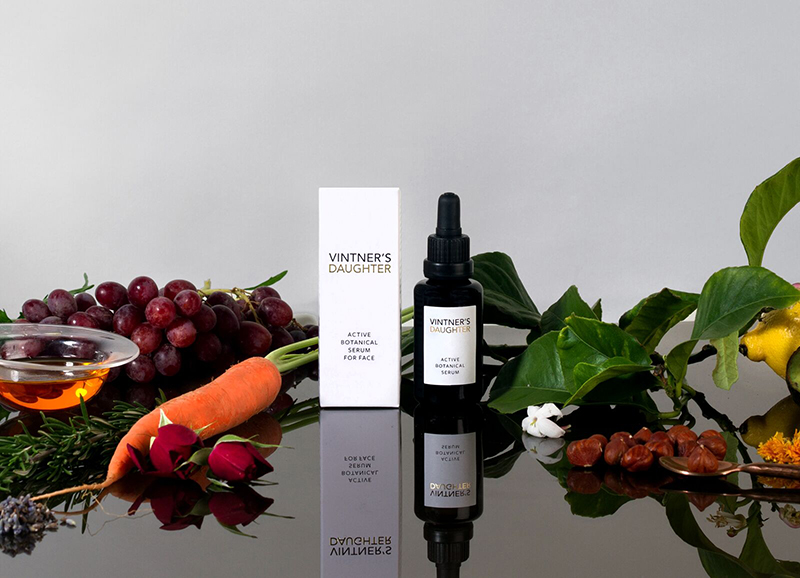 Vintner's Daughter launches today at Integrity Botanicals. To celebrate this beautiful line, we're chatting with the woman behind it all—April Gargiulo—to learn more about the Active Botanical Serum and the vision behind the brand. If you're excited to try Vintner's Daughter (see my review to find out why you should be!) then be sure to enter the Vintner's Daughter giveaway at the end of the interview.
Susannah: I first became aware of Vintner's Daughter when Into the Gloss ran a review about the Active Botanical Serum titled "The Face Oil To End All Face Oils". Why do you think ITG fell so hard for your serum, and how did that early attention impact your business?
April: I think ITG fell hard for our Active Botanical Serum for a couple of reasons. First because it is a very finely crafted product which one understands immediately upon opening and second because it is a face oil that performs more like a multi-correctional serum. We don't have a publicist, so it was a big surprise and had an immediate impact on sales and visibility. I am very grateful to those amazing ladies.
You grew up in and around Napa Valley and actually ran your family's winery for about 10 years, right? How has that experience influenced the direction you've taken with Vintner's Daughter? What edge did your winery experience give you that other new lines might not have?
Yes, Gargiulo Vineyards was my first start-up and taught me so much about how to maintain the highest commitment to quality and expression. At Vintner's Daughter, not only is our philosophy deeply routed in fine winemaking, but our formulation process actually borrows from it.
Can you tell us about the process of formulating the Active Botanical Serum? What were your goals? How did you select ingredients?
Our goal was to make the most active, multi-correctional, toxin-free serum on the market. We believe that in order to do this, you must start with the very finest ingredients and honor these ingredients through an uncompromising formulation process. Borrowed from fine winemaking, our formulation process begins with a temperature-controlled enfleurage that infuses every drop of our targeted foundation oils with skin healing phytonutrients and skin firming phytoceramides. Many products use heat processed extracts because they are less expensive and time intensive. We believe that these off the shelf extracts can't offer the same level of skin nutrition as our gentle, temperature-controlled infusion process does. Skin is able to fully recognize our plant actives as the nutritive building blocks of its own structure, thus becoming more resilient and youthful.
The Active Botanical Serum includes some ingredients that can be photosensitizing like lemon and bergamot. Is the serum appropriate for daytime use or should it be reserved for nighttime use?
I suggest starting with Active Botanical Serum at night using Push /Press and then using during the day as well with proper sun protection (hat and/or sunblock.)
What kind of results can people who use the Active Botanical Serum expect to see?
Brightening, elasticity and clarity are among the most common results. Hormonal, acne-prone and aging skin especially love Vintner's Daughter. I receive emails all the time from woman of all ages who are amazed by the results. I know it sounds too good to be true, but it really is a game changer.
Have you always been into natural skincare? Can you give us a quick snapshot of how you're caring for your skin?
I wasn't born with perfect skin, so yes I have always been into skincare, but not always natural skincare. I've tried everything. It wasn't until I became pregnant that I opened my eyes to the chemicals in my skincare. Today I am very simple. I cleanse, tone and apply Vintner's Daughter using Push / Press Technique. I am a recreational mask user.
Do you expect to grow your line with additional products or are you happy doing one thing really well?
For now I am very happy with one game changing product.
Integrity Botanicals is giving away one full-size Active Botanical Serum! Enter the giveaway to win!