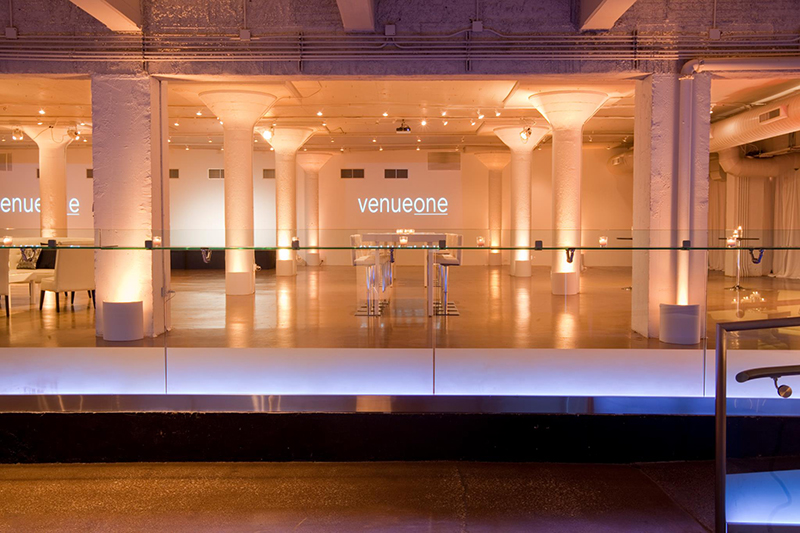 It's hard to believe that after months of preparation and excitement, A Night For Green Beauty has come and gone. ANFGB took place last week at the beautiful Venue One in Chicago. The evening kicked off with The Show, a runway style event that featured all natural makeup looks created by ANFGB retail sponsors (Integrity Botanicals!) in partnership with makeup artists Sheri Stroh and Shirley Pinkson of W3LL PEOPLE. We told you about the incredible swag bags that Integrity Botanicals gifted to Show attendees (I also got my hands on one—talk about generous treats!). Now it's time to announce the 5 lucky Integrity Botanicals swag bag winners. The winners are listed at the bottom of the post, but first we have a recap of the evening with Terri.
Susannah: What does ANFGB mean to Integrity Botanicals? Have you attended the event in the past?
Terri: For us, ANFGB is an amazing gathering of like-minded individuals for a celebration of beauty and a healthy lifestyle.  To be a sponsor at the event was a huge honor for us. We carry just about half of the brands that were represented so we were so excited to meet with all the brand founders that we work with on a regular basis via email and over the phone. They are all really such an inspirational group of entrepreneurs who are super passionate and take an artisanal approach to crafting their products. Working in this business, so many of our interactions with customers are via email or social media, so for us meeting with customers and other people active in the online green beauty community was so much fun! It's so funny when people introduce themselves by their Instagram name. We met a lot of kind and wonderful people and got a lot of great feedback, which was a really nice feeling.
We attended ANFGB last year in LA and had a great time. For us, it was our first time meeting many of the brand founders in person. Although IB had been around for a couple of years at that point, I think we were still off a lot of people's radar. This year felt a little different for us though. Making the leap from a regular guest last year to an event sponsor this year was a pretty cool feeling. I feel like we have come a long way in the past year, after rebranding and adding on many new product lines. It made me realize how many important relationships we have built since the last ANFGB, including you Susannah! 
Were you able to discover any new brands or meet new people from the green beauty world because of ANFGB?
We did discover some new brands that we may have not otherwise known about because of ANFGB. We actually launched with Bottega Organica and Axiology recently and it's because of ANFGB that we were intrigued and decided to try products from both of these brands. Through ANFGB we were able to meet with so many brand founders, customers and bloggers all in one place that we would have not been able to meet with individually on our own since everyone is located in different parts of the country. There are other brands that we've had our eye on, such as Captain Blankenship and Graydon so we picked up a few products from both brands and had the pleasure to meet with the brand founders as well. So far, I have tried the "Ray of Light, Sea Salt Sun Spray" and "Days at Sea Dry Shampoo" from Captain Blankenship and am in love with both of them! We also picked up Graydon's "Elements Sun Cream Complex" and "The Green Cream", which we have yet to try. There were others from Graydon we were interested in trying but by the end of the night, a lot of their products had sold out.
Are there any new product releases that you had a chance to try from going to ANFGB that you are excited to share?
There were definitely a few that we were really excited to try, feel, smell and even test out! Josh Rosebrook released his new Balance Shampoo and Conditioner at ANFGB (for normal to oily hair types) and I just tried the shampoo last night—love the refreshing citrus scent and performance! (It will be available very soon at Integrity Botanicals.) We also received a trial size of Josh's new hair mask that has not been released yet. We haven't tried it out yet, but I'm really excited since Josh has been turning out some amazing products with his recent releases. MUN's new body oil, yet to be released, smells incredible. It has a fresh scent with cucumber notes, feels silky and lightweight and absorbs beautifully. Another winner. We have been waiting for a brand to come out with a natural shaving cream for years and was so excited to see One Love Organics in the final stages of developing one, called the Aloe and Shea Conditioning Shave Balm. (I believe it is scheduled to be released in November.) 
La Bella Figura had a limited edition of their best selling Organic Barbary Fig Seed Oil in a scented version on display. I had a chance to smell it and it had a light and subtle floral scent (cactus flower essential oil was added). Beautiful. I hope LBF brings this to market for those who love all of the anti-aging benefits of Barbary Fig Seed oil but are looking for a more floral scent. We also tried Florescent perfumes from one of our favorite people we work with in the industry;)—I really adore Sundays. It reminds me of a perfume I used to wear all the time and I have not come across anything like it in natural fragrance. On me, it has a warm, light and sweet floral gardenia scent, love. Osmia's new spa series is really amazing too! We just tried Sarah's newly released Himalayan Body Buff, Rosemary Body Mousse and special release Oh So Detox Soap and can't get enough of all of them, so luxurious. We are really excited to launch with Osmia early next month!
What inspired your makeup looks for The Show? How did you decide what makeup to feature?
As far as our makeup looks for The Show, we were working off of the Tango theme, but we largely entrusted the amazing vision of our makeup artists to bring the looks to life. Sheri Stroh, who created our look for Jessica of Bare Beauty, has a celebrity makeup artist portfolio and has been featured in several different well-known fashion magazines. Shirley Pinkson, who created our look for Sabrina of Call It Vanity, is the chief makeup guru/co-founder of W3LL PEOPLE.  A majority of my personal makeup kit is made up of W3LL PEOPLE makeup and I have been very fond of all of Shirley's work.
I loved both of the inspirational looks presented to us before we decided on which makeup exactly to use and what I also liked was that they were completely different looks. One was more of a sultry, neutral look whereas the other was more of a sexy, bold look. 
Jessica's look featured a few of our makeup brands: Vapour Organic Beauty, Antonym, La Bella Figura and Nudus. I helped choose the specific makeup here based on some of our best sellers and my personal favorites, such as Vapour's Stratus Soft Focus Skin Perfector, Antonym's Noir Waterproof Eye Pencil, La Bella Figura's Golden Corrective Highlighter in Brazilian Denise and Nudus Lipsticks. Nudus lipsticks are also the most pigmented lipsticks we carry and that tied in very well to our bold lip. 
Sabrina's look featured all W3LL PEOPLE makeup. I personally had a W3LL PEOPLE makeover in the Austin studio a little over a year ago and loved how it turned out! I got compliments on my makeup all day and night. I knew that creating a full makeup look using all W3LL PEOPLE makeup would come out looking just as beautiful and trusted Shirley to select the specific makeup to recreate this look.
You and Marc put in some long hours planning, coordinating and preparing the deluxe swag bags for The Show (and 5 lucky Integrity Botanicals winners!). Can you tell us about a few of the items you were excited to share? 
We have been excited about preparing these gift bags since the day we became a sponsor for the event! I wanted these bags to represent a variety of green beauty products from hair and makeup to skincare and nails. We were really excited to share all of these because they represent our best sellers, a couple of newly released products, favorites and new brands we just launched. It's so hard to pick out the most exciting ones and I think every woman would love to try a new nail polish, but if I had to pick one or two it would be Vintner's Daughter Active Botanical Face Serum and Bottega Organica's Eye Illuminate Cream. Vintner's Daughter because it's a brand we were just about to launch when these were given out and there has been a lot of recent buzz around the face oil and not a lot of people have tried it yet. Bottega Organica because I think it's the best eye cream that I have ever tried and it's also a very nice deluxe size sample that will last at least a month, if not more.
The Integrity Botanicals Swag Bag winners are Jeanette, Krista, Molshree, Felencia and Brandi. Congratulations! We replied to your comment on the original post, and Integrity Botanicals will be in touch with you. Thank you for all the comments and enthusiasm behind the ANFGB event and Swag Bags!