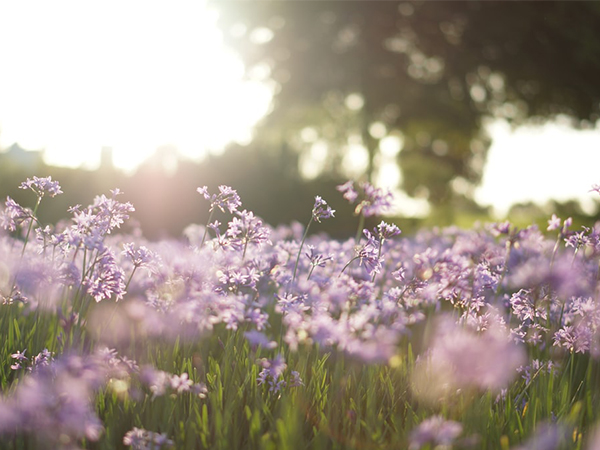 When I was a little kid, for no reason other than wanting some extra attention one day, I decided—and proclaimed— that I was allergic to lavender. I have no idea where I got this concept or the inspiration to choose lavender, specifically. I only know that, at the time, it seemed like a great idea.
I had just received some fresh lavender, so I put it on my dresser, sneezed a few times, and declared that it was the truth: I was allergic to lavender. For the next several years, I avoided it, and it became such a regular thing that my parents and sister all went along with it, and soon, they forgot the origin of my "lavender allergy" to the point that we all just believed it. (Even last year, a good 30 years later, my mom said, "wait, aren't you allergic to lavender?" when I offered her some hand lotion that contained it. I laughed. "No," I said. "I made that up!")
It took me a long time to embrace lavender in my life again. It wasn't until I adopted a completely green lifestyle about a decade ago that I even gave this miracle plant another try. Lavender is so ubiquitous in green beauty products that it was hard for me to avoid it. I even made peace with it— I felt pretty neutral about it, even found it pleasant. I was happy to use products that contained lavender and didn't think much about it after a while.
But I'll never forget visiting Tanja and Max of Max and Me at their manufactory in Vienna, Austria two years ago. Tanja offered me some lavender to smell and I said, "Sure, but I'm not really all that into lavender."
"This one is different," she said, and I took a whiff. It was, indeed, unlike any lavender I'd ever smelled, and I loved it. Tanja told me the story of this particular lavender she had in her studio that day, and while I don't remember the specifics now, two years later, I remember that she and Max had loaded their family in the car and driven to a far-off island to harvest it, and then taken it to a healer who had hand-selected the stalks with the highest vibrations. I was absolutely transfixed. (And you can enjoy amazing, unique lavender in Max and Me's Enchanted Facial Oil, Purity and Grace Cleansing Oil, and more!)
The whole experience inspired me to do a little research, and I quickly found out that there are actually 45 different species and 450 different varieties of lavender— over 20 species of which are in use today. It grows in places all over the world, and the hundreds of variables, from species to location, make it into a complex, diverse, fascinating plant that is used in so many products because of its sundry capabilities.
We all know lavender is used in aromatherapy, but it's so much more than a soothing, sleep-inducing scent. From bug repellant (like this great one from Kosmatology) to herbal teas to meat seasonings, lavender has so many uses. Integrity Botanicals has over 200 products containing lavender, and we wanted to dig into all of its many applications, benefits, and superpowers.
We started by talking to a couple of experts about why they love lavender, and, more importantly, why they use it in their products.
"We love to include lavender in our skincare products because it is gentle and healing for people with sensitive skin," says Tara Pelletier, co-founder of Meow Meow Tweet. "This sweet-smelling herb has been associated with cleansing and calming for thousands of years, with evidence of its use showing up in Ancient Egyptian, Iranian, Greek, and Roman texts. Even its name comes from the Latin "lavare," meaning to wash."
Whether it's washing your body, which you can do using Meow Meow Tweet's Lavender Lemon Body Soap or your hair, with their Lavender Coconut Milk Shampoo Bar and also, Lavender Hemp Conditioner Bar COMING SOON TO IB, NEXT MONTH!), or keeping it fresh with deodorant (available in a Lavender Bergamot Stick or a gentle, baking-soda-free Lavender Cream), Meow Meow Tweet's got you covered.
"While adding lavender to cleansing products is wonderful for just the scent alone, it is actually a powerful antibacterial and antiseptic as well," Pelletier continues. "Lavender essential oil is perfect for applying directly to wounds, bug bites, burns, and acne because it fights off bacteria and keeps the area sanitary, while simultaneously soothing inflammation." Sounds like something I definitely want in my deodorant, right?
Here are a few more deodorants we love that contain the magic power of lavender along with many other helpful ingredients: Soapwalla's Lavender Mint Sensitive Skin Deodorant Cream, (and their Original Cream, too!), Routine's Lucy in the Sky, Like A Boss, and Moon Sisters, Agent Nateur's OG Holi(stick) No 3, and Lone's Bold Creme Sweet Lavender Deodorant.
Dr. Sarah Villafranco grows the lavender that she uses in her Osmia Organics products on her own property in Colorado. "We use organic varieties of Lavandula angustifolia, which is considered to be the only species of "true lavender" from an aromatherapy standpoint. I have a biodynamic gardener who works with me to plant the seeds initially, and we grow it organically on our property, which is about 30 acres surrounded by national forest land. It's not a certified organic operation, but we use all organic and biodynamic plants and practices."
You can find it in Osmia's Lavender Shea Soap, Night Body Oil, Recovery Bath Salt and Serenity Milk Bath, and in their amazing lip balm, the aptly named Lip Doctor. But my #1 favorite Osmia product that utilizes lavender is their Spotless Blemish Oil. It REALLY works. And it makes sense that it would work so well, given how, as Dr. Sarah states, "for the skin, lavender has an anti-inflammatory, antimicrobial effect, so it can be wonderful for mildly irritated or inflamed skin, as well as acne."
But I was also pleasantly surprised to learn more from her about one of lavender's superpowers. "It soothes burns almost instantly," she wrote to me. "If you apply pure lavender essential oil to a fresh burn, it relieves pain instantly, and substantially decreases subsequent inflammation." Of course, I hope none of us ever gets the opportunity to test out this information, but Dr. Sarah, a former ER doctor, would know, and I think everyone should keep some lavender essential oil in the kitchen, just in case!
It's no wonder that Kari Gran uses it in their amazing Hydrating Tonic, a toner that I always have around for soothing my face midday or setting makeup. Nor is it surprising that 100% Pure makes creams built around lavender, their French Lavender Nourishing Body Cream and Hand Butter Cream, or that Zoe Organics uses it in their Diaper Balm.
But I love that lavender is used beyond skincare— lots of cream makeup utilizes lavender to keep things fresh, free of bacteria, and smelling good, like many Rituel de Fille products, such as their Enchanted Lip Sheer, Forbidden Lip Stick, Rare Light Crème Luminizer, Alchemist Highlight Intensifier, and Inner Glow Crème Pigment blush. It's even found in powdered makeup! Hynt Beauty's Lumiere Radiance Boosting Powder, a loose, setting powder, uses lavender oil to help soothe skin, and 100% Pure uses it in their bronzer in the form of powdered lavender flower.  Lavender also shows up in all kinds of unexpected places, like 100% Pure's Brow Builder, Hynt Beauty's Mascara, and Mo Mi's Dry Shampoo, which I love so much.
"I'm not sure how you can harness and celebrate the power of plants without including lavender," says Dr. Villafranco. "Along with rose and jasmine, lavender is an ancient ruler of the botanical kingdom. It's one of the few plants that's been studied extensively by the mainstream medical community, and is actually starting to find its way into some health care settings. It has a truly beautiful effect on both skin and senses, so I'd be crazy to leave it out of the mix!"
And we'd be crazy not to jump on this lavender bandwagon! It's a win-win situation. I'm sad I wasted all those years pretending, and then eventually thinking, that I was allergic to it! And, just in case you have any reservations about the scent or using it in skincare, I will leave you with these wise recommendations from Tara of Meow Meow Tweet: "Lavender's healing properties go beyond skincare, too. The flowers can be used to make a tea to ease indigestion, as certain compounds in lavender work to stimulate bile production and help move digestion along without discomfort or bloating. Because lavender acts as a light sedative to the central nervous system, it can also be used as a wonderful tool to ease headaches, de-stress, and relax into a restful sleep. It is ideal to take lavender as a tea for this purpose, as directly inhaling the essential oil can be too powerful and cause the opposite effect. You can also try putting the oil in a diffuser in your room, burning the flowers as incense, keeping dried flowers in a sachet nearby, spraying a bit of diluted essential oil on your pillow, or rubbing a lavender-infused moisturizer under your nose for a softer sense of aromatherapy."