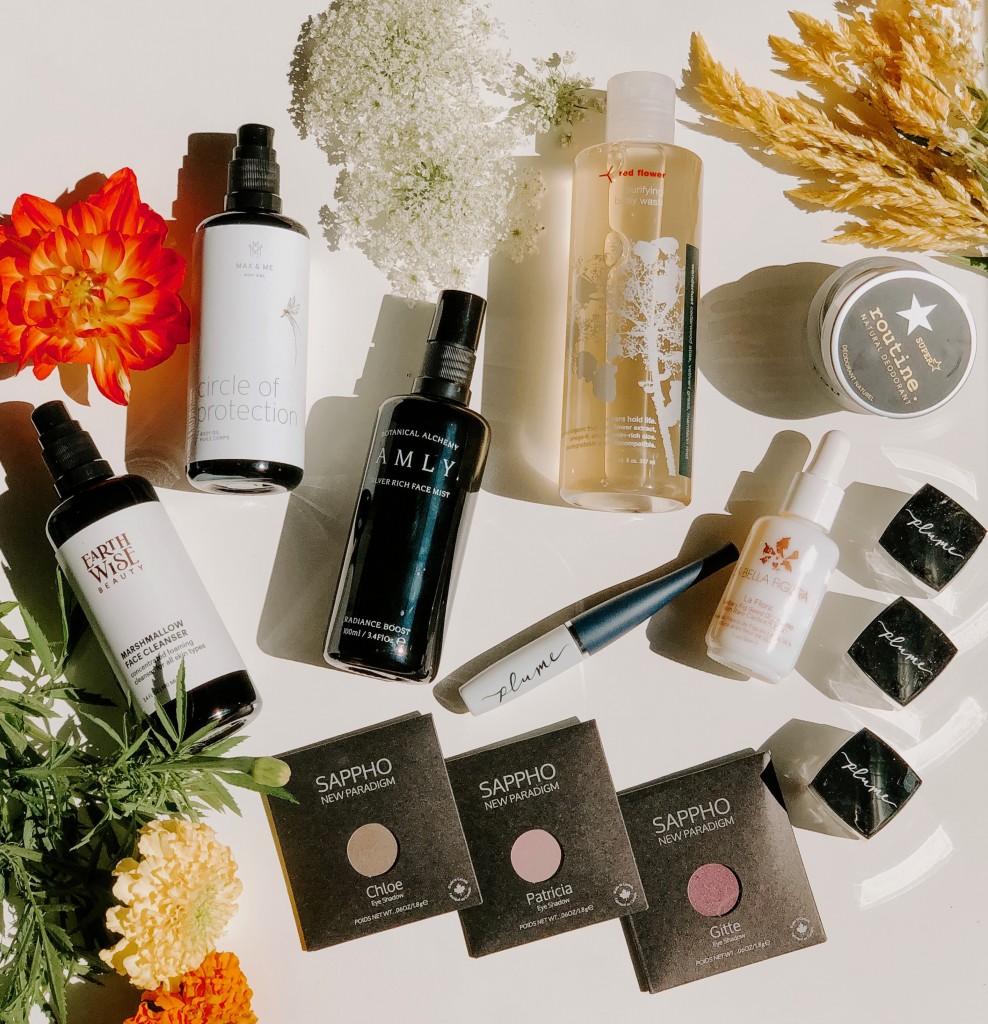 In the beauty industry, we put a lot of focus on the new. What's the hot new product? What new innovations did such-and-such brand incorporate into their products? What is the new color of the season? The new, trendy smell, the new, cool ingredient, the new "it" category. You've seen it all, I'm sure, whether it's the CBD-in-everything trend, or the "bakuchiol is the new retinol" obsession, or the hyaluronic acid craze.
I write about new things all the time, and I'm no stranger to the trend frenzy, so no blame here. I've been on the Palo Santo bandwagon, the new-makeup-is-exciting train, and even written about the new for the sake of new, but what about things that aren't new? What about the dozens— no, hundreds!— of fantastic products out there that are amazing even though they came out a few years back? The tried-and-true formulas that need no update, the classics, the ones you keep coming back to, no matter what else comes out that's new and exciting.
I'm all for innovations and new discoveries, for brands who keep searching and creating and experimenting— that's definitely where some of our best and favorite products come from. But there are also those who just got it right the first time, and no one is talking about them at the moment, because they're not new or different. Some of the best beauty takes this approach, like Vintner's Daughter, which only just this spring released their second-ever product (The Essence, coming mid-September to IB!), because the first one was basically perfect and didn't really need anything else. Or the OG green beauty makeup brands who've been doing it right forever, (or for at least a decade!), like RMS Beauty and Vapour Organic Beauty. And brands like CV Skinlabs that make 4 products because they know who they are and what their customer needs, and simple can be really elegant.
I wanted to shine a light on some of our favorite underrated beauty products, the unsung heroes of Integrity Botanicals' large stock. Maybe new is shiny and special, but I have a soft spot for the products that I still gravitate towards again and again, and especially for the ones that just don't get enough attention, period. These eight heroes are unsung, for sure. They may not be bestsellers, but we think they SHOULD be bestsellers! Bottom line, they're all treasures that deserve a serious spotlight.
1. Red Flower– Wanderlust (scent)
For the longest time, I assumed that Red Flower couldn't possibly be "green" or natural, because it was way too good-smelling and didn't get a ton of the green beauty spotlight. But boy, was I wrong!! Not only is Red Flower super clean, non-toxic, and healthy, those amazing smells are ALL NATURAL! Yes, that's right, no synthetics, and still they're able to make the kind of scents I can't get enough of.
My all-time favorite of Red Flower's is Wanderlust, which comes in a hand lotion, hand wash, body wash, body lotion and room diffuser! I don't know how to describe this scent– I could list for you all the notes in it, like gurjum balsam and cedarwood, but that doesn't capture the mysterious charm of this scent. Part of it is proprietary (but definitely all natural!) and some of it is just plain magic!  You'll have to smell it for yourself to find out how amazing it is and great news is that Integrity Botanicals makes body wash and body lotion samples of this scent. And, if it were easy to describe, it wouldn't be special or unique, now, would it?
2. La Bella Figura–  La Flora
Speaking of all-time favorites and wonderful scents, La Bella Figura makes so many wonderful, unique products, but the one I always come back to is La Flora, the super-simple but amazingly effective and fragrant serum containing Barbary Fig seed oil and the exotic, rare cactus flower oil that smells unlike anything else in the world.
Fico d'India Fiore Oil, or Barbary Fig/Cactus Flower Oil, is not an ingredient you find in many products. In fact, La Bella Figura co-founder Victoria was introduced to it in Italy, through an influential alchemist. And it doesn't just supply the gorgeous fragrance of La Flora; Cactus Flower Oil provides special amino acids to the serum that benefit the skin.
And, not to be overshadowed, the other ingredient in this simple yet complex serum is Barbary Fig Seed oil, which is cold pressed and organic— far more nuanced than other Barbary Fig Seed oils out there. It's anti-inflammatory, mineral-rich, full of antioxidants, and stimulates new cell growth. Reader, I'd bathe in it if I could. This stuff is SO good. I wish it got the rabid, obsessive fan following it deserves.
3. Plume– Brow Enhancing Serum  
It re-grows eyebrows. I mean, this deserves way more attention that it gets, and that's already a lot. But there should be a parade for Plume, because all of us in our 30s and 40s now who over plucked our brows as teens in the 90s can't possibly live without this brow serum! It's truly a miracle— there was a spot on my brows where no hairs had grown for years. Seriously, every time I went to get my eyebrows threaded, the threader would mention how I had a bald spot (thanks, ladies! I know!) and it really bugged me. Enter Plume and I do not have that bald spot anymore.
Plus, Plume's Nourish and Define Brow Pomades contain the magic regrowth formula in addition to really concentrated pigments that won't smudge or fade, and I like the simplicity of applying one product that both masks and corrects my problem. Their double sided brush/spoolie tool is my favorite, too. I never feel like my brows are "painted on" or anything when I'm wearing the pomade— it feels like medicine and glamour all wrapped into one easy-to-use product.
Wow. Just wow. This is one of the mists that convinced me I actually needed a toner. Because, for a long time, I just didn't get it. I thought that it was an unnecessary step, and often one so expensive I might as well just wet my $20 bills and wipe them on my face for all the difference it made. But I was wrong! (And please don't wipe wet money on your face— money is unbelievably dirty and full of germs!)
AMLY makes several mists and they are all magical, but the scent of the Radiance Boost is just incredibly lovely. It smells like the English meadow from which Amly gets its name, full of flowers and plants and the company's natural supply of silver-rich spring water. Add copper peptides, hyaluronic acid, and plant probiotics to the naturally antioxidant-laden, silver-rich water, and you've got a concentrated powerhouse of regeneration. The 19 star botanicals packed into this mist are each a gem on their own, and the fact that they're all put into the silver-rich water where their properties are enhanced makes this such a bargain of a product. You're getting way more from it that you do from single- or limited-ingredient mists.
And, if you love this scent as much as I do, try Amly's new Deep Reveal: Nourishing Cleansing Balm & Mask, which has the same magical fragrance!
5. Routine– Deodorants
Get on this bandwagon, people! Routine is the new superstar deodorant! The Canadian company, founded by sisters, has been making these genius cremes for years and years, but they're relatively new to Integrity Botanicals, and we're assuming they'll be best sellers soon. I know I promised this wasn't about the shiny, new thing, but I had to include Routine! They've been around for many years, but I hadn't heard of them, and now they're my favorite underrated deodorant brand.
What I love about Routine is that they've developed several formulas, all with different ingredients, because they know that natural deodorant isn't a one-size-fits-all-pits situation. There are so many people who are sensitive to baking soda, some who like scented deodorant, some who like unscented, some who find magnesium to be an effective ingredient, some who don't react well to essential oils…. I could go on and on, but the point is that Routine has a formula for each of these people described and more! You can buy little sample jars and use each one for a week or so to see how it works for you, which I highly recommend.
My personal favorite is the appropriately named "Superstar," but I think this whole line is a superstar. I like this particular version because it includes magnesium, prebiotics, and activated charcoal, with just a little bit of baking soda, making it the perfect blend for me.
6. Earthwise Beauty–  Marshmallow Face Cleanser
This super-concentrated face wash foams and cleanses without stripping skin of moisture. It's such a unique product— formulated with blue tansy and german blue chamomile, it is very soothing, and because it's so concentrated, a little goes a long way! It removes makeup without leaving skin tight or dried out, and you can even use it as a full-body cleanser if your skin is sensitive or if you have eczema! I love that you can buy it in travel or full size, depending on your needs, too. I have the travel size with me now as I'm visiting family on the East Coast and love that I can still carry it on the airplane with me, but not have to worry about running out anytime soon because it's concentrated! Win-win!
I think this cleanser is special because it foams, when many "gentle" cleansers do not, and many green cleansers do not. But even with the foaming action, it doesn't dry our your skin and it still offers amazing soothing benefits from its ingredients. Organic marshmallow root, calendula, and chamomile are all good for reducing inflammation and promoting healing, and with pumpkin seed oil, this cleanser is even beneficial for acne-prone skin.
7. Sappho New Paradigm– Eye Shadows
Sappho's eye shadows are some of the most pigmented and long lasting hat I've tried and they don't get enough love or attention. First of all, the shadows themselves are fantastic, and the selection of 19 vivid colors— some glittery, some matte— is impressive and covers my every need. They're really rich powders, so you can layer for more coverage or use a little for a sheer wash of color.
I also really, really love that these shadows come in magnetic tins with no extra packaging— this is absolutely crucial to being "green" and I think that deserves a lot more attention! Each individual tin comes in a little paper envelope that's recyclable and then the tin can be put into a palette, like these from Z Palette. I love this feature because so often when I buy a pre-made palette, I end up loving and using 3 or 4 of the shades and neglecting the rest. Then I feel guilty for wasting makeup, and it goes bad eventually, and the clutter in my makeup drawer is intense. But with Sappho eye shadows, I can just pick a few colors that I ACTUALLY want and make my own palette, thus reducing waste on so many levels.
8. Max & Me – Circle of Protection
I may be biased, because Max and Tanja of Max and Me are friends of mine and I first discovered Circle of Protection in their hometown of Vienna, Austria, as I visited their very own manufactory and garden. #humblebrag alert! But seriously, even separating out my emotional connection to them, I just LOVE this body oil. It's so unique, because it has all the quality and care that most brands put into facial oils, but it's meant for your whole body. Like all of Max and Me's products, you're not just getting the surface benefits of top-notch, carefully selected ingredients that are good for your skin (though you are definitely getting those, in spades!) but you are also getting the high vibrations of the plants' energetic properties.
These aren't just any vibes; Circle of Protection is crafted to be a comforting embrace of energy, conveyed through the vibrations and aromatherapy of the product's ingredients. It all works together synergistically to create a ritual that nourishes you, body, soul, and spirit. I was introduced to Circle of Protection during a time of stress and soul searching, and it helped me to feel supported and grounded. I keep returning to it again and again in times of uncertainty, and it always gives me the extra cradling embrace I need. It's an unsung hero because Circle of Protection is like 35 products in one— it's soothing, comforting, moisturizing, uplifting, therapeutic… you get the idea. So don't hesitate… you seriously need this Circle in your life. Trust me.
*
It's not just about routine or comfort— finding an unsung hero is like having a best friend. You know if inside out, you can count on it, and it makes you feel like the best version of yourself. It's not necessarily the new kid on the block, or the popular one everyone is talking about this particular week, but it's the straight-up best one for you. And that counts for a lot.
What are your go-to oldies-but-goodies? What are the products you keep buying, over and over again? We want to know!!! Not just because Integrity Botanicals wants to carry these products and make them more available to you, but really because we're all just product junkies who want to know the best of the best, the things you can't live without. So comment below, or find us on social media! Because we want to know the products you never forget, the scents that have come to define you, and the bankable wins you rely on.