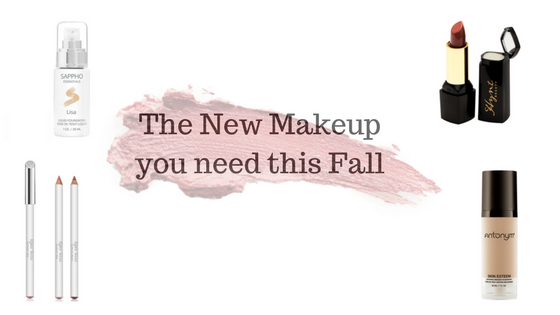 I love a good makeover montage. You know in movies, when the girl goes from being "dorky and ugly" (aka wearing glasses) to being "gorgeous and popular" (aka getting a blowout and some lipgloss)? Well, I used to love those sequences. They make it look so easy to become a new, better version of oneself.
Now, setting aside all of the horrible gender stereotypes, societally-imposed beauty ideals, and movie tropes (hello, glasses can be very sexy!), I still don't feel like I have the time or energy for a total makeover. The movies might make it look easy and like it takes two minutes and forty-five seconds, but in real life, a complete makeover requires days– maybe months– and, not to mention, it would cost a ton.
But I'm still yearning for something new, as summer comes to a close; something to signify the end of a chapter and the beginning of a new one. Something to get me excited about shorter daylight hours and colder temperatures, if that's even possible. And so, of course, I turn to my favorite quick fix: New Makeup. An unusual color, a darker lip, a smokier eye… something to make me feel like I am the "after" girl in that movie makeover montage, and not just the same person I was five minutes ago.
I've rounded up my four favorite brand-new makeup products, all things that have just been released, and I can promise they'll lift your mood, and maybe even make you feel like you've had your own two-minute, forty-five second makeover! Here are the things you need this fall:
1. Lip Pencil. (Seriously!) 
I really did not think I was a lip-liner person. I didn't think it was necessary, or that it was particularly flattering. But I am here to tell you that I was wrong and I've been converted. Kjaer Weis's new Lip Liners are the answer to my lipstick issues! I often struggle with the ephemeral nature of lipsticks and glosses— you apply, and then eat or drink, or, hopefully, kiss someone!, and then they're gone.
Enter these lip liners. Not only is the precision aspect really game-changing— it's much easier to follow my lips' lines with the fine point of a pencil— but the long-lasting nature of these pencils is a delight. They're not as moist as a lipstick or gloss, which is why they really last, and yet they're definitely not drying like other stains or lip pencils can be.
I use the Rose pencil to line and fill in my whole lip, and follow with a dab of Kari Gran Lip Tint in Marsala or Henné Luxury Lip Balm for a tiny bit of shine and moisture.
When I use the Mauve, it's usually for evening or a more dressy occasion, and I fill in the whole lip and either leave it along for a nice, matte finish, or follow with a swipe of Kjaer Weis Lip Tint in Captivate for its subtle, gold shimmer on top.
2. A New Foundation
Fall is an important time to reassess your foundation. Despite our best efforts to slather on SPF in the spring and summer (and, by the way, you should definitely wear it year-round, ahem. Try Josh Rosebrook's Nutrient Day Cream, which is perfect for wearing under makeup all year round!) we sometimes find ourselves a little tanner or more splotchy-skinned than we were in April. So it's time to get a new foundation that matches where your skin is now, not where it was 6 months ago, or where it will be come the dark days of February (shudder. We'll talk bronzers then, don't worry!).
Antonym just released their first liquid foundation, Skin Esteem, and you will love it.  The six shades span a nice range, and the coverage is buildable, from medium to full.
For something a little lighter, Sappho New Paradigm's Essentials foundation is releasing several new shades this fall, and offers light-to-medium coverage. I love to blend it over my face oil (I adore Maya Chia's The Supercouple) for a sheer look, and follow with a little powder to seal it in.
3. A New Lipstick
Sad summer is over? I am. And my favorite way to get excited about Fall is to get a new lipstick as a pick-me-up. It's not exactly life-changing, but I find it's often enough to make me smile, change my perspective, or give me a bit of confidence when I need it most. This season, I'm into Hynt Beauty's ARIA PURE lipstick in Tierra Blush, a shade which is exclusive to Integrity Botanicals. Is it pink? Brown? Nude? Yes, it's all three, and I love how it looks like I'm wearing lipstick, but not screaming "I'M WEARING LIPSTICK" like a summer-bright pink or red does. It makes me feel put-together, even if I'm picking my kids up from school in workout clothes and haven't showered. 
4. Eye Liner
Does it really matter if you use a good eye liner pencil? Does it actually make that much of a difference? Yes, it does matter, and yes, it makes a huge difference! Kjaer Weis's new Eye Pencils are soft, yet long-lasting, and I never realized how nice it is to have a moisturizing pencil so near my delicate eye area. This one is infused with coconut oil, and as a result, it's gentle and non-irritating, plus it smudges easily before setting, to make the smokey-eye of my dreams. It comes in both black and brown, and, having never tried brown eye-liner before, this is opening up new doors for me. I love the variety, and the brown eye-liner is such a nice, soft fall look.
So, those are my picks. Tell me in the comments, below, what you're loving for fall. What makeup makes you feel like the person in the movie montage?