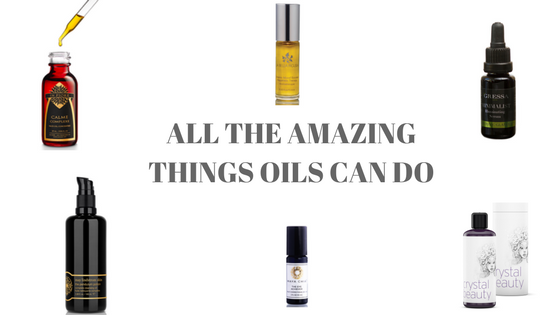 Growing up, I thought of oil as just one thing. You know, oil. You put it on your salad. You bake with it, sauté veggies in it. In my mind, there wasn't a lot of variety— it was just oil, and it lived in the kitchen. You didn't put it on your body, and you definitely never got it near your face.
It wasn't until college, when I saw a friend use olive oil as a body moisturizer, that I started to realize it wasn't just a one-size-fits-all kind of food ingredient. It would still be years before I would get oil anywhere near my face, of course. But now, like many people, I have learned that oil is incredible for skin, hair, and, yes, even on my face! Naturally, not all types of oils are good for all types of body parts, and there's definitely more to oil than choosing between olive and coconut. There are actually millions (okay, that might be an exaggeration, but it's a lot!) of types of different oils from plants and seeds and fruits, and many of them can do absolutely amazing things for your skin and hair and psyche, when used in the right amounts and varieties.
That's why, instead of just buying jugs of oil at the grocery store and slathering it on, we go to the experts. Formulators and aromatherapists study for years to figure out exactly what kinds of oils offer the best results in skincare, body care, perfume, and makeup. Yes— even makeup can utilize oil to magnificent effect!
We've rounded up a bunch of different products that are oil-based to show you the amazing things oil can do for you! 
Face Oil: In Fiore CALME COMPLEXE FACE OIL CONCENTRÉ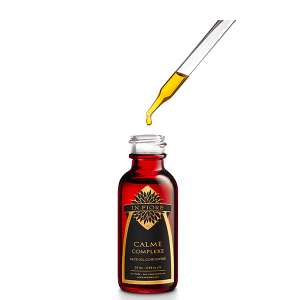 If you've read anything about skincare in the past few years, you've read about facial oils. And you probably know the drill— mix your face oil with a toner or apply to damp skin after cleansing to lock in moisture. But how does one choose a face oil? With so many options making so many promises, one could easily suffer from choice fatigue.
At Integrity Botanicals, we're excited to introduce a brand-new-to-us brand that can solve your choice-fatigue problem: In Fiore Beauty. Their Calme Face Oil Complexe is perfect for all skin types, so it's truly a slam-dunk no matter what you are looking for in a face oil. I love that it contains several potent ingredients to deliver the moisture and nutrients your skin needs, without overloading it with a ton of ingredients, which can be overwhelming for sensitive skin, or can make it hard to layer with other products. Calme Face Oil Complexe is the "just right" oil— not to simple, not too overwhelming, and full of fatty acids, toning florals, stimulating extracts, and soothing oils. I liken this particular oil to a fine wine— it has a rich, multi-layered scent, and a full body.
Cleansing Oil: May Lindstrom Skin THE PENDULUM POTION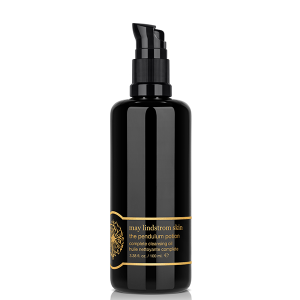 I didn't believe it at first, but yes, oil can be used to clean your face before moisturizing and toning. I know, it's not how we were all raised, but it's true, and it works.
I like to think that this oil is what "Glamping" smells like. (That's Glam-Camping, for those not in the know!). I've never been Glamping, but this is what I imagine it would smell like— what it SHOULD smell like, really. There's the warm, smoky smell of a campfire, an earthy scent weaving in, the smell of flowers nearby, the wind gently blowing… ah, it really makes me feel so relaxed and comfortable and warm all over.
This is exactly what I love about all of May's products. Sure, they smell great— and lots of other brands' products do, too— but they are so unique and evocative, they envelope you and surround you and make you FEEL something. Where else are you going to find a cleansing oil that makes you feel like you're on the most luxurious, glamorous camping trip in an exotic location?!
Body Oil: Max and Me Oils' CRYSTAL CLEAR BEAUTY **launching at Integrity Botanicals later this month!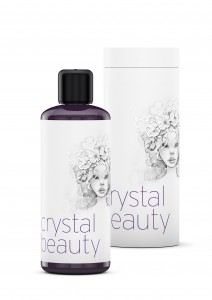 Over the summer, I had the amazing, extreme pleasure of actually getting to visit Max and Me's manufactory in Vienna, Austria, and let me tell you, it is nothing short of magical. I felt like I stepped into a green beauty fairytale, except there was no evil queen or mythical beast— it was 100 percent lovely. Just the great parts of a fairytale.
I felt instantly transported and instantly loved. Stepping into the world of Max and Me is like going under a wonderful spell. I learned so much about energy and oils and ingredients and vibrations from talking to Tanja, and I walked away changed a bit— for the better. Tanja recommended this body oil to me, and it was exactly what I needed.
And I seriously felt the results just a few days after starting to use Crystal Clear Beauty regularly. Like Tanja said, it made me feel a little lighter, a little less stressed. More free. More clear. Max and Tanja are magic, I tell you, and they put a little bit of their own magic in every single bottle of oil they make. You don't have to travel to Vienna to get this magic— you can bring it home and have it for yourself by using their products. I know it's not something we can measure or prove, you just have to experience it for yourself. Try any Max and Me product and you'll feel it. It's just… magic.
Aromatherapy oil: La Bella Figura BOTANICAL MOOD BOOSTER: HAPPINESS THERAPY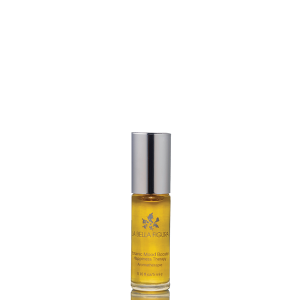 I'm going to be honest with you. The transition from Summer to Fall has never been an easy one for me. I love the change of seasons, and I loved school as a kid (and appreciate it even more so now as a parent!!) but something about Fall still catches me off guard every time. I know it's a necessary part of the cycle of the year, but Fall's shortening daylight and dying leaves get to me. And sometimes, I feel quite sad.
This year, I'm trying something new to help combat these feelings about Autumn, and it's really helping. I'm using La Bella Figura's Happiness Therapy, and it's magnificent. It's a multi-layered scent, so I love the experience of smelling it right at the beginning application, and then smelling it again a few moments later as the scent has given way to different notes. I do feel a sense of well-being and joy from this oil, and I apply it regularly throughout the day to remind myself of all the good around me.
Eye Serum oil: Maya Chia THE EYE ACHIEVER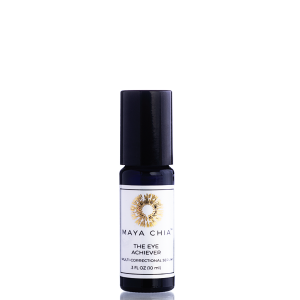 Can I gush for a moment? I'm totally obsessed with this eye serum. I've tried other eye-area products before, and, honestly, never been that impressed. It just felt like one more step in my skincare routine that I didn't have time for; one more thing between me and collapsing in bed for a few hours' sleep. And I never saw much of a difference, so I didn't really "get" eye serums. Like, what's the point?
WELL. Here is the point: Maya Chia's new The Eye Achiever serum is a fine example of how oils can be nothing short of transformative. I swear, the first night I used this magnificent roller-ball of luxury, I woke up and ACTUALLY SAW RESULTS! My eyes looked smoother and brighter. I looked like I'd actually had a good night's sleep (I have a 2-year-old who had a cold at the time, so this is truly a miracle!). The very act of applying this serum is a joy to me. It smells fantastic— there's some sea fennel in there that is just my new favorite smell— and the roller ball is cool and smooth and instantly calming on my delicate eye area. I really can't get enough.
True story: I even asked Susanne, the genius behind Maya Chia and one of the worlds' best women, if it's possible to over-apply The Eye Achiever, because I love it so much. Luckily, she said there's no such thing as too much, and I couldn't agree more.
Makeup oil: Gressa MINIMALIST ILLUMINATING SERUM: HIGHLIGHTER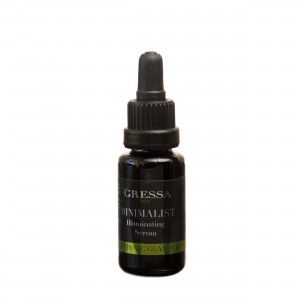 My favorite surprising use for oil is as makeup. I mean, I used to think of makeup as the thing you put on to cover up oil, so the idea of oil-as-makeup was a lovely surprise.
I'm a particular fan of this serum from Gressa, which illuminates while also giving your skin a boost of nutrients– from Gressa's proprietary Healing Complex. It's like a treatment serum, so you're getting makeup and skincare at the same time. A miracle! 
It provides that lovely, dewy glow everyone is seeking, and is subtle enough that you don't look like you've drawn on stripes of "contour" highlighter like an Instagram celebrity (not that there's anything wrong with that!).  As I mentioned above, I get sad that summer is ending, but this dewy serum keeps me glowing even as the humidity falls and my skin gets drier and duller.