Cleanser?  Check.  Facial Mist?  Check. Moisturizer? Check.  You've got the basics down, but now you're probably looking for a more targeted treatment to take your skin care game to the next level.

Welcome to Serums 101 and we're excited to introduce your professor for the day, Victoria Fantauzzi of La Bella Figura, who creates some of the most sought after, high performance skin care products available today.

Make sure to check out the special offer from La Bella Figura at the end of the post!
It's that time of year again. Our skin tends to feel a bit drier with colder weather and loses that summer radiance we all covet. This is when many of us begin chasing the glow and start trying whatever product we can get our hands on. I want to help make it a bit easier for you. As soon as the temperature dips in Chicago I make sure to incorporate highly active serums into my daily skincare. I don't want to suffer from dry skin that is undernourished and more prone to damage so implementing a serum is key to healthy, radiant skin. I want to share two very important points about a serum. What is a serum and how do you use one? These questions are asked so often I thought it would help best to answer them.
A serum is a highly-concentrated performance based product working to deliver active ingredients that penetrate deeper than the surface of the skin. It is a treatment. A serum can be water, gel or oil based. You should use a serum best suited for whatever skin concern you have or whatever concern you want to prevent. We offer four "traditional" serums and two hybrid serums in our collection, Modern Radiance Concentrate, Aria Nighttime Recovery Treatment, Barbary Fig Renewal Serum, Decouverte Under Eye Repair and Crema Supernova and Crema Virtuosa as the two hybrids. Allow me to introduce them to you and help break down their specific benefits to address your skin concerns.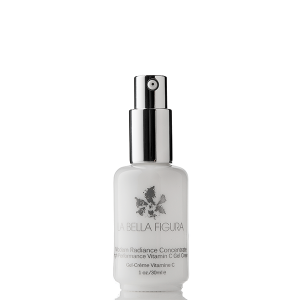 This is a light, gel-based product that should be used on the skin immediately after cleansing. Why? It's a treatment and treatment based products serve the purpose to penetrate the outer layers of your skin. Think of this as your daily vitamin C and what a vitamin it is! Vitamin C is my favorite reparative, as well as preventative vitamin for all skin types. It aids in neutralizing free radicals, improving the appearance of fine lines, wrinkles and discoloration.
How to use MRC: Apply a pea sized (a large pea) amount all over freshly cleansed skin in the am for best benefits. Follow with other treatments and moisturizers. This product does not pill on your skin and glides on like silk. (Note: you can use a Vitamin C product at night as well, however free radical exposure is most often prevalent during the day and Vitamin C is more effective as a treatment during the am.)
ARIA NIGHTTIME RECOVERY TREATMENT: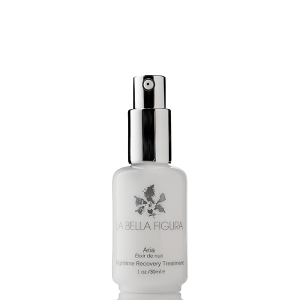 This is my personal holy grail product and truth be told I formulated this product for myself and other women like me seeking immediate radiance. I needed more than a face oil at night and this supercharged serum makes me feel instantly gorgeous. There are 19 active and raw (unrefined and unprocessed) plant botanicals in Aria and some of the most skin worthy antioxidants around. I'm particularly impressed by the richness of mamey sapote oil and its unique properties, which include vitamins B1, B2 and C, as well as iron and phosphorus. Phosphorus helps with acne breakouts and in keeping skin in check and irresistibly plumped. We also highlight saffron flower oil in this product to target degeneration and revitalizes the complexion. I love, love, love…no, I'm obsessed with using this product every night because I wake up radiant and refreshed without having a complete facial.
How to use Aria: Massage 3-6 drops on clean skin before other serums, moisturizers or face oils.
See special offer below.
If renewal is your game you've just found the right player! This serum has a thicker feel to it almost like silicone because of its high broccoli seed oil concentration. Broccoli seed oil is wonderfully suited to sun (or smokers) damaged skin types and active in vitamins A and K. This product is excellent for those seeking brightening effects or for a gentler and natural alternative to Retin A. This product works best as night and is safe for pregnant women.
How to use BFRS: Massage 3-8 drops on clean skin. This can be used alone as a treatment or directly over Aria Nighttime Recovery Treatment or over Crema Virtuosa.
DÉCOUVERTE UNDER EYE REPAIR SERUM: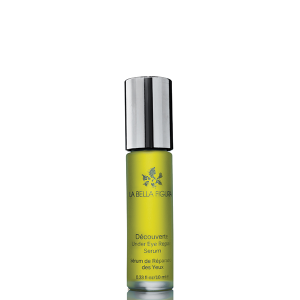 When Découverte first launched, it was a rare product indeed. An oil-based serum for under the eyes? Who would have imagined it? We did because we were certain the delicate area under and around our eyes needed more than a water based cream that eliminated the darkness under the eyes that make us look aged and tired. Ugh, who needs that?! Our eye serum is a perfectly balanced concentration of powerful actives from lycopene rich tomato seed oil, chlorogenic acid active coffee bean oil and our "hero" ingredient, barbary fig seed oil. It's no wonder this has been our best-selling product for six years. All I can say is, if Hollywood insiders vow Découverte as their late-night weapon then you need to give it a try for your eye care.
How to use Découverte: For AM use, dispense a small amount of serum on clean skin and lightly pat in with fingertips allowing the serum to absorb before applying other products and/or makeup. For PM use, dispense a little more serum onto clean skin and allow the serum to absorb into the skin on its own without patting in to work its magic overnight.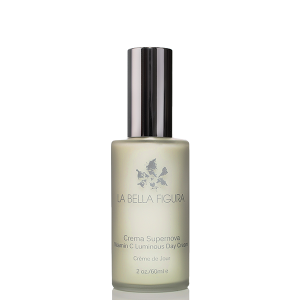 You may wonder, what exactly is a hybrid serum? It's a combination of two products in one and when it comes to performance I want more not less as far as effectiveness is concerned, so we formulated a moisturizer that benefits and targets daytime skin concerns with a built-in serum to deliver potency and hydration. Crema Supernova is super lightweight containing Vitamin C brightening kakadu plum extract, licorice root, cupuacu butter and hyaluronic acid for moisture retentiveness.
How to use CS: Apply onto clean skin during the day. You may use this directly over Modern Radiance Concentrate or in lieu of MRC if you like. Apply a rich face oil like our Barbary Fig Seed Oil directly over Crema Supernova for extra special benefits. (Note: Vitamins C and E are BFFs!)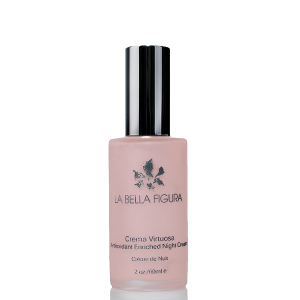 Full disclosure here. This product is best suited for mature skin and acne sufferers, it is supercharged with actives. The star ingredient, Sangre de drago (Dragon's blood) in Crema Virtuosa is simply excellent for skin repair. I studied this ingredient for a quite a while and could not believe how innovative and wonderfully weird it is. A blood red resin that contains a broad range of protective antioxidant phenols and anti-inflammatory compounds tapped from a tree in the Amazon. This resin has been used to treat an array of skin wounds. The syrupy sap applies on the skin fluid, but transforms into an invisible latex-like bandaid. Mafura butter is another wrinkle preventative ingredient incorporated into this thicker cream along with sacha inchi oil and ferulic acid. This is a rich cream and perfect for extra dry skin types.
How to use CV: Apply over Aria or Barbary Fig Renewal Serum at night and use a face mist like Jardin de Fleurs to set and lock in benefits. (Note: the color of this product varies from pink to pinkish brown due to the extracts we receive from seasonal harvest.)
SPECIAL OFFER:

Receive a free deluxe trial size Aria Nighttime Cell Recovery Treatment  ( 5 ml / $32 value) with any La Bella Figura purchase, while supplies last!

Upon checkout enter code: ARIA
Not valid with any other code or promotion, including other free gifts with purchase promotions or reward point vouchers. Not valid on previous purchases.   One free gift per customer while supplies last.