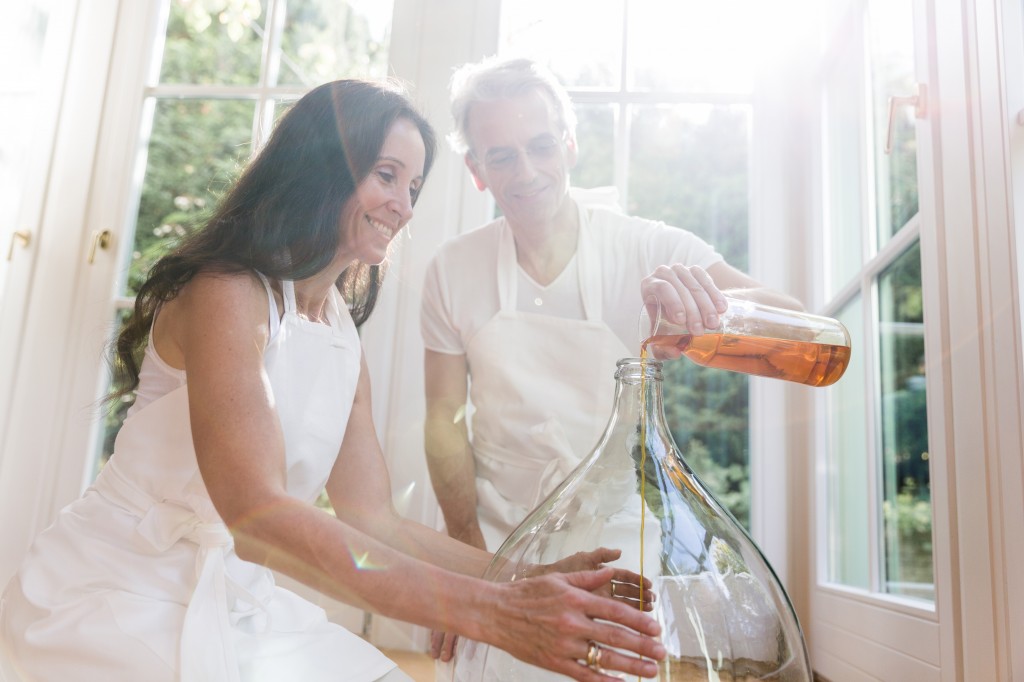 We're excited to share with you the next in our series of guest posts from some of our favorite brand founders.   This next post is by Tanja, co-founder of Max and Me, one of the newest additions to Integrity Botanicals.  In this article, Tanja explains the importance of high vibration ingredients and why it makes their products so unique.
I am Tanja, co-founder of the luminous, delightfully holistic and beautifully organic, high vibe skincare line "Max and Me" all the way from pure, pristine Austria. To celebrate our launch at gorgeous Integrity Botanicals I am reaching out to you all, to give you a glimpse into the beautifulness of high-vibe skincare. In fact this is what I love to do most, connecting with each one of you at heart and guiding you into new powerful spaces within, connecting you with your innate healing abilities, helping you draw abundant, loving energy and intuition from your cores, helping you be in balance – while transforming your skin. So let's delve into the wonderland of high vibrations, how they lift skincare to new heights and why they have all it takes to give you that radiant, magnetic, long lasting beauty inside out.
Born out of our love story, my husband Max and I birthed our award-winning, eco-luxury skincare collection Max and Me" as a very soulful dimension of beauty, never seen before. By actually seeing each other in our wholeness, in our underlying energetic nature we wanted to tune into the body's unique life-energy system.
We yearned to take skincare beyond organic to the next level, with plant materials that boast a very high and rare level of vibrancy – I love to name them: lit-from-within ingredients.
Max and I had a passionate longing for skincare that suffuses you with a most beautiful, vibrant flow of energy, communicating deeply on a cellular & subtle level, bringing about shifts that benefit skin and soul likewise, realigning you with the wholeness that is inside yourself, with your innate self-healing abilities.
This tuning into ingredients from a vibrational point of view, resonating with their energetic values, besides cherry-picking the plant materials according to their organic grade, their allopathic and aromatherapeutic potency is what really sets us aside from other brands.
Having based our skincare-brand on the concept of high vibration, our approach is in the same time avant-garde as it is rooted in millenary traditional healing systems. What strikes me as so beautiful is that from early on, energy, healing and beauty have been inextricably linked. For example, take a look at the vast and profound wisdom of ancient cultures, their Medicine & Beauty Rituals. There the idea of energy fields entwined with the human organism is a fundamental notion and principle.
You may now say: Wonderful read, but I still don't know why high vibrations are such a milestone in taking Green Beauty further.

So how does it affect your beauty when using skincare with high vibes?
Vibration is the energy that permeates each and every cell of a plant, it is its  soul essence. This energy may vary in its quality – so you could say the highest quality of vibration is high vibration. High vibration is generally associated with positive feelings, such as love and harmony – it is an energy of sublime healing and life force recalibrating – a counter to the increasingly toxic environmental, electronic pollutants of big cities and hectic stressed, dense lives. Our bodily systems and rhythms, our emotions and moods, our thoughts and our energetic systems are readily engaged and influenced by the healing, regulatory, balancing impulses of high vibrations.
Highly vibrant ingredients interact with your bodily systems  and your subtle body to go where nothing else can, suffusing all that is you, reaching each and every cell, tissue, organ and energetic center, realigning them with their perfectly balanced, innate structure and rhythm, igniting self-healing capacities. The more you use highly vibrant products, the more of these regulating, harmonizing impulses you benefit from, which shows on your skin from use one on!
The higher an ingredient vibrates, the purer, the more lit from within, the gentler yet the more potent it is in its healing capacities, the better it can target troubled zones, the more efficacious it is on a cellular level, the more it can release blockages and tensions and promote the free flow of energy. We accumulate so much in our bodies, hearts and minds so many emotional patterns, stressful moments, conditioning that creates blockages and immensely influences the way our skin looks like and behaves.
Also the inherent capacities and aromatherapeutic effects of plants are heightened by the high vibrations of the ingredients, which are manifest in their purest and most beautiful form in our compositions.
In so doing high vibrations beautifully and powerfully transform skin's overall beauty, health and appearance  and  also help you to live freer, lighter and in vibrant health – strong enough to face all the challenges to come and flexible in your thinking mind to see all paths open to you.
By changing the way your skin looks like with Max and Me high vibrational skincare you can change your world, too. It is all about the same  –  finding exquisite harmony, shifting that flow of energy, expanding into luminosity, feeling levity, sweet serenity. Being so fulfilled that you can pass it on from here.
SPECIAL OFFER:

Receive a free travel size Purity and Grace Cleansing Oil ( 10 ml / $18 value) with any Max and Me purchase of $60 or more, while supplies last!

Upon checkout enter code: PURITYANDGRACE
Not valid with any other code or promotion, including other free gifts with purchase promotions or reward point vouchers. Not valid on previous purchases.   One free gift per customer while supplies last.