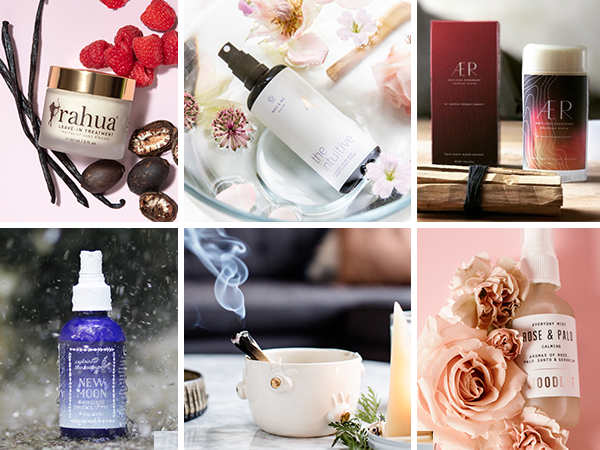 Since I tend to gravitate towards more floral scents, I never gave Palo Santo much thought. Also, if I'm being totally honest, I think I lumped it in my mind with another "P" ingredient used in a lot of natural products, Patchouli, which I do not particularly like. So I kind of ignored Palo Santo until one day, a box arrived at my doorstep, emanating this incredible aroma.
I brought the box inside, and, instead of filling our apartment with a scent that would usually draw complaints from my husband ("that smells… mature") or my kids ("Mommy! What did you DO to yourself? You smell like VINEGAR and PEE!"), everyone had only positive things to say. Cautiously optimistic, I opened the box to reveal some sticks of Palo Santo. They were meant to be lit as incense, but this little bundle (similar to this one) was giving off such a pleasant, gentle, pinch of subtle fragrance that we made it the centerpiece of our table and enjoyed it that way for several days. (Plus, fire + 4-year-olds is not a good lewk, as the kids say).
The package had come from one of my favorite haircare brands, Rahua, and as I used the accompanying shampoo and conditioner, which also contain the scent, I realized that I downright love Palo Santo! What a nice surprise.
Unlike most of the scents I love, Palo Santo is not at all floral. It's earthy, grounding, and calming. Translated from Spanish to mean Holy Stick, it has been used in folk medicine, indigenous medicine, and aromatherapy for centuries. Palo Santo is a wild tree native to Mexico, the Yucatán Peninsula, Peru, and Venezuela, and is now found all throughout South America, including down into the Galápagos Islands.
People love it for it's cleansing and clearing energy. It is soothing, not at all abrasive or overpowering, but quite present and grounding.
This time of year, as we hope winter is abating into spring, I think Palo Santo is the perfect fragrance for cleansing the air in our homes, giving our hair and body a whiff of sophisticated mystery, and clearing out energy left over from so much winter Hygge. Below are my picks for incorporating a little Palo Santo magic into your life.
Like many of their ingredients, the Rahua team sources their Palo Santo from the Amazon rainforest. Known to be precious to Amazonian Shamans, Palo Santo is Rahua's signature scent, and, as mentioned above, is the calming, soothing ingredient in their Classic Shampoo and Conditioner, which I use and love. Lately, I've also been getting my Palo Santo fix from Rahua's Leave-In Treatment, too.  I brought it with me on vacation to Florida, and it really saved my hair from the pool's chlorine and the sun's intensity. I put a dab on each evening after washing my hair, and it left it so incredibly soft, smooth, and less frizzy. Plus, it made it smell wonderful!
In addition to the Palo Santo, this treatment includes the brand's signature Rahua oil for fortifying weakened hair, Quinoa for repairing and moisture retention, and Green Tea and Raspberry leaf extracts, both of which are great sources of antioxidants. And, maybe I'm totally imagining it, but my hair seems longer since I started using this leave-in treatment. It's definitely stronger and healthier!

My love for Max & Me runs deep, and not just because Tanja and Max, the founders, are personal friends of mine. Their products elevate the mundane to the sacred, making everyday life a little more meaningful, and their latest addition product is no exception. The Intuitive Mist has been in the works for years, but I like to pretend it was made specifically for me, because it feels like it was! It is just what I needed.
I first felt and smelled it at Indie Beauty Expo last summer, when Tanja brought a bottle over to New York from Vienna, and since it wasn't for sale yet and she had only one bottle, a bunch of us crowded around the magnetic energy of the Max & Me booth got exactly— and only— one spray each of it to sample. Tanja offered to spray it for me, so I closed my eyes and readied myself for magic. It did not disappoint. The mist hit my face, and I felt instantly calmed and centered, which is quite a task amid the chaos of the IBE exhibition floor! And that was just after only one spritz!
Now that I have a bottle at home, full of consciously-chosen, high-vibrational goodness, The Intuitive Mist has become part of my skincare ritual ( I love to layer it over Max and Me's I Am The Light facial oil, my personal fave!) AND my occasional just-because ritual. When I'm feeling down, frustrated, or stuck, a spray or two of this mist can change my state of mind, thanks to palo santo and a blend of essential oils including neroli and blue tansy, both of which I love. And all of this is in addition to the amazing skincare benefits of The Intuitive Mist; it soothes, increases hydration, balances and regulates your skin, and supports cell and tissue repair! We'd expect nothing less from Max & Me!
Vapour Organics' AER Next Level Deodorant with Palo Santo and Blood Orange
I love and us all three scents of this truly amazing deodorant, but the Palo Santo variety is my favorite. Again, I almost missed out on this one because I'd long ago falsely associated Palo Santo with the dreaded Patchouli, but luckily, I tried the Palo Santo and Blood Orange combo and have found that not only do I love how it smells, it's also very effective at eliminating odor!
This deodorant is so unique and special, with its gel-to-powder formula. It really works, and I've found that it doesn't irritate my underarms, even though it contains baking soda, because of the special formulation. I always recommend it to people who tell me they've tried many natural deodorants and nothing has worked. Nothing is 100% effective for 100% of the people, but this one is pretty close.
Captain Blankenship New Moon Spray
Why do I need a New Moon Spray, you're thinking. Trust me. You just do.
Reason #1: See above, where I asserted that toddlers and burning things don't mix. Want to burn Sage and Palo Santo, but have pesky rules or sensitive smoke alarms or small children? Ta da! New Moon Spray!
This fragrant mist was designed to give the same soothing, cleansing effect as burning its ingredients without actually lighting anything on fire! It's also way easier on the go— when is the last time you tried to bring incense or a candle on a road trip or airplane? Not a good idea. This spray achieves the same room-reset with just a few sprays.
Plus, (here's Reason #2!) it's really great to have if you or someone you know needs to replace those toxic room fresheners people still inexplicably use. You know, the ones full of chemicals? This one is obviously all-natural, non-toxic, and much, much better for your health and for the environment. In addition to the wild harvested Palo Santo and Sage, this spray also contains essential oils of Organic Ruby Red Grapefruit and Sweet Orange to ensure a complex, juicy scent. Wild harvested Cade essential oil gives it that smoky scent, so you won't miss the actual burning too much!
Parents, dorm-dwellers, and travelers: rejoice! New Moon spray is for you.
However, if you can burn something…
By all means, burn this!:

If you're a purist, this is a pure as it gets! This little bundle is made up of small pieces of actual Palo Santo tree branches from Ecuador. They don't cut the branches off the holy trees, rather they harvest the wood from fallen branches, so no trees were harmed in the making of this bundle!
Basically, burning Palo Santo is the O.G. wellness practice; the original, the most pure, the most authentic, the realest. I love a good one-ingredient product, and this is the best. It's just Palo Santo. That's it. The actual wood. You burn it and smell the incredible fragrance of the real thing.
But, once again, if you can't burn things in your home or office (pesky cubicle rules!!), Woodlot also conveniently makes a spray:
Woodlot Everyday Mist Rose + Palo Santo 
This mist can be used as a room-freshener, like the New Moon Spray, above, but it's also a wonderful skin toner, pillow mist, and body spray! Rose hydrosol is the added power that makes it so rejuvenating and toning for facial use.
I've taken to using several bundles of Woodlot's Palo Santo like sachets— putting them in drawers and corners of my desk and shelves— to get just a whiff of the cleansing fragrance. I'm always pleasantly surprised by how much I like the smell! So, in addition to me recommending Palo Santo to you, this is also a good time for my semi-annual (okay, monthly) reminder to all of us: try something new! You just might love it. It might give you a new perspective or a new idea. What have you got to lose?