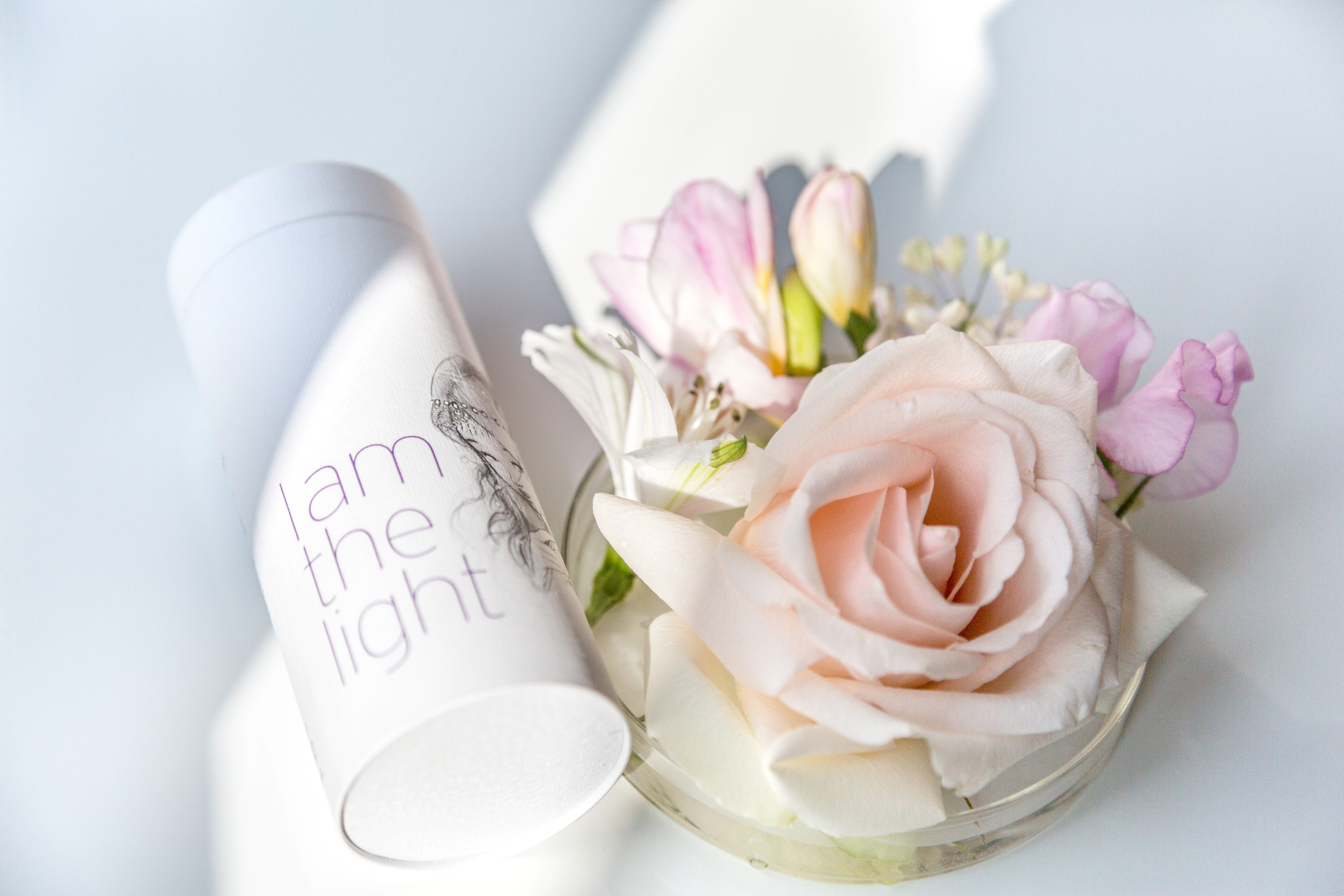 One of many things that makes Austrian brand Max and Me so special is its founders/creators. Tanja (the "me" of the duo) and Max are a fantastically lovely couple who work together to make the products so much more than just skincare. They literally and figuratively infuse their stunningly gorgeous energies into the products, and the result is high vibrational skincare that is unlike any other.
When I thought about writing a Spring Detox blog post, Max and Me was the obvious choice that came to mind. It's not just that they are one of my "desert island" brands— the brands I'd take with me if I could only use one or two on an island for the rest of my days— but also because the spiritual component of these products is not to be underestimated. When I met Max and Tanja at their lovely home, garden, and manufactory in Vienna last summer, I was struck by their kindness, their warmth, and the way Tanja described using skincare as time to also meditate.
We were in her office— a sacred room, decorated and outfitted to be full of high vibrations with carefully selected purple chairs and crystals and a lovely view— and I admitted that I rarely had time to meditate. I was so embarrassed to admit this to Tanja, who radiates the kind of calm and grace to which I aspire, but she soothed me immediately. That is okay, she told me, it doesn't have to take a lot of time. She explained that if I could even take a moment when applying serum or face oil to breathe in the magical scents, to appreciate the textures, to feel gratitude, that would be a good start towards meditating.
It was a true "ah ha" moment for me. The idea of combining meditation and skincare had never crossed my mind before this, but, of course, it makes all the sense in the world. What better time— this lovely moment of self-care and purpose— than to take a moment to be conscious and grateful and mindful?
Naturally, one must have the right products to make this work. The moment might not have the same sacred weight if one is slapping on Neutrogena. But if you have the chance to use Max and Me's exquisite, intention-infused oils, you're already halfway there.
I reached out to Tanja to get a recipe to share with you for a spring cleaning skincare routine, as we all need a little reboot this time of year. What better way than to begin with lovely intention, gratitude, and, yes, clearer skin?
Emily: What does Spring Cleaning mean to you in regards to one's skin?
Tanja: For Max and Me, spring awakening and detox means so much more than just yearning for that new, fresh glow. We believe in decluttering and detoxifying our entire system, as thoughts and emotions have a huge impact on the tone, appearance, health and beauty of our skin.
Also we have to let go of things that we do not need any more or that weigh heavy on our shoulders to make room for something new. Having thus created space our bodies can easily integrate and embrace the goodness to come. We want you to look radiant to glow in all your beauty AND to start into a new lighter, juicier, more vibrant you. Flowing through your days, joyfully and gracefully, embracing creativity and intuition.
Everything is entwined with the skin – mind, body and soul – it's all connected. What we think, how we feel, the stress we carry – it shows up on our skin. Anyone who has experienced hives knows this well.
And what does "high vibration" mean in this context? Why Spring?
We love to take the perfect moment of spring— where the energies are reawakening, leaving you vibrant and eager to start afresh— and introduce a skin care ceremony that also embraces mind and soul when thinking about detox, declutter, about making space for something new. High vibes help so much in doing this: High vibration is generally associated with positive feelings, such as love and harmony. It is an energy of sublime healing and life force recalibrating, a counter to the increasingly toxic environmental, electronic pollutants of big cities and hectic stressed, dense lives. High vibes are a detox for stressful body, mind and soul patterns and a redirection into balance and love. Our bodily systems and rhythms, our emotions and moods, our thoughts and our energetic systems are readily engaged and influenced by the healing, regulatory, balancing impulses of high vibrations.
Essentially, the higher your vibration is, the more in touch you are with your inner light, your true you, your essence, the stronger you are connected to self healing capacities. Highly vibrant ingredients interact with your bodily systems and your subtle body to go where nothing else can, suffusing all that is you, reaching each and every cell, tissue, organ and energetic center, realigning them with their perfectly balanced, innate structure and rhythm, igniting self-healing capacities. Max and Me has a pronounced effect on on all cellular and biochemical processes in the body. And it shows– as your most happy skin ever.
What are the steps for this ritual?
Step 1: Purity & Grace Cleansing Oil plus visualization exercise
An uptick in environmental toxins and ultraviolet rays, pollution buildup, together with high stress levels challenges skin. This calls for a cleansing ritual that is beautifully detoxifying and clearing for body, mind and soul while boosting self-healing capacities and strengthening skin's barrier, while also clearing your energy, all that has accumulated. Indulge in Purity & Grace facial oil cleanser to melt away impurities, environmental toxins and make-up. By boosting microcirculation as well as encouraging the flow of lymph and blood, this skin-transforming, hydrating cleanser beautifully detoxifies, releasing congestion, revealing clear, hydrated and calm skin. All this is done while also clearing your energy with its amazing high vibe talents, thus purifying skin & soul, as well as the mind.
Visualization exercise, which you can easily do by yourself at home while massaging in Purity & Grace to your dry skin or while having it on your face:
Close your eyes … bring your awareness to the natural rhythm of the breath. Now inhale deeply, breathing in all that brings joy and love to your life.
Then take off your oil cleanser with a hot/warm cloth. (Note from Emily here: this cloth is AMAZING! Highly recommend!!)
Step 2: Sweet Serenity Mask & Wash plus exfoliation movement
Our skin is, besides the lungs, our largest detox organ, so spring might also be the time you break out more easily. Multi-awarded Sweet Serenity Mask & Wash can heal and buffer any breakouts from a detox-diet due to its outstanding master healer talents and ingredients. Besides the Raw Manuka Honey and other master healers the white Kaolin clay in Mask & Wash is so good when talking about a healing detox: our Kaolin clay is the finest and lightest clay we could find with natural absorbency properties. Kaolin clay is suitable for sensitive skin types, soothing irritations and complexions prone to breakouts, rashes and redness.
Indulge in Mask & Wash for a minimum of at least 30 minutes, to get the most of it and soak in all of the healing benefits. Unlike most clay masks, Mask & Wash will not dry out on the skin. It stays beautifully humid and moist. You can use it every other day either as a mask or as a wash when you don't wear any make-up. Make sure to mix a cherry-sized piece of Mask & Wash with half a teaspoon of water or more in the palm of your hand until it turns hues lighter to a creamy texture. Play with it until you have found the exact mask-water ratio that satisfies you the most.
EXFOLIATION MOVEMENT:
Before removing the mask, gently massage to exfoliate, focusing on areas that are prone to congestion. Always with a touch as gentle as a butterfly, you do not need to apply added pressure, the organic mangosteen powder does all of the work! The added exfoliation movement helps to unclog congestion, cleanse the skin and stimulate skin turnover. (*But those with rosacea or super sensitive skin should not exfoliate with the Mask & Wash. They can mask with it, but without the exfoliation at the end.) Then either splash your face with water first and then gently take off all what is left from Mask & Wash or swipe the mask off right away with our gentle cloth.
Step 3: I am the Light plus Affirmation/Awakening exercise
I Am The Light is a blend immersed in light, lending its bright radiance to your skin; it suffuses your complexion with luminance. Your face glows! This refined facial oil has a beautiful connection to the third eye— the seat of our wisdom, our intuition, our inspiration, which encourages you to see things differently—  and carries brightening and awakening powers.
I Am The Light application:
Put 2 – 3 drops into the palms of your hand, warm the drops between the palm of your hand by rubbing them together. Cup the hands over mouth and nose and inhale deeply connecting with the special and so beautiful energy of the oil. Now massage it in your damp face with small circular movements. Gently starting from the jaw up to the forehead, from the inside out, tapping the oil softly as a butterfly in, at the eye area. Then let your hand slide back to the curve of your neck.
AFFIRMATION EXERCISE:
When you have finished applying the oil as described above, make this powerful affirmation while looking into the mirror at your radiant, glowing face saying (out loud or silently): "I am the light". The power of these beautiful words will guide you through your day and through each and every encounter you will have.
Step 4: Finish with a full body treatment with Crystal Clear Beauty Body Oil
This body oil is beautiful, detoxifying, cleansing, and balancing. It heals troubled skin that needs detoxifying and, above that, its high vibrational talents also help to release any old patterns of anxiety, fear or thought that we may be holding onto. Massage the oil all over your body, deeply breathing in its aromatherapeutic benefits. Add a touch to the ends of your hair to make that scent linger a little longer. Breathe in the cleansing oils and feel your body and mind free from it all starting into a new lighter, juicier, more vibrant you. Flow through your day effortlessly and gracefully.
Big thanks to Tanja for this gorgeous ritual. I hope you all love performing it as much as I do. I have noticed so much more calm and grace since I've made this a part of my routine!  Trial sizes are available for all of these products, too! A very affordable way to get the whole ritual.
Max & Me and Integrity Botanicals have teamed up and are giving you a chance to win this Spring Detox Ritual (over a $200 value) on Integrity Botanicals Instagram here. Winner will receive a Max & Me Facial Cloth, Full Size Purity & Grace Cleansing Oil, Trial Size Mask & Wash, Full Size I am the Light Facial Oil and Travel Size Crystal Beauty Body Oil.
*Important note: I wholeheartedly adore the ritual above, but if you need something simpler, less expensive, or just need one gateway product to start your relationship off with Max and Me, I highly recommend the brand's Sweet Serenity Balm. This beauty is a one-product detox in a jar. I often use it, on its own, as a moisturizer after washing my face at night. It's truly a delight sometimes to use JUST ONE PRODUCT, and this is my top pick!*