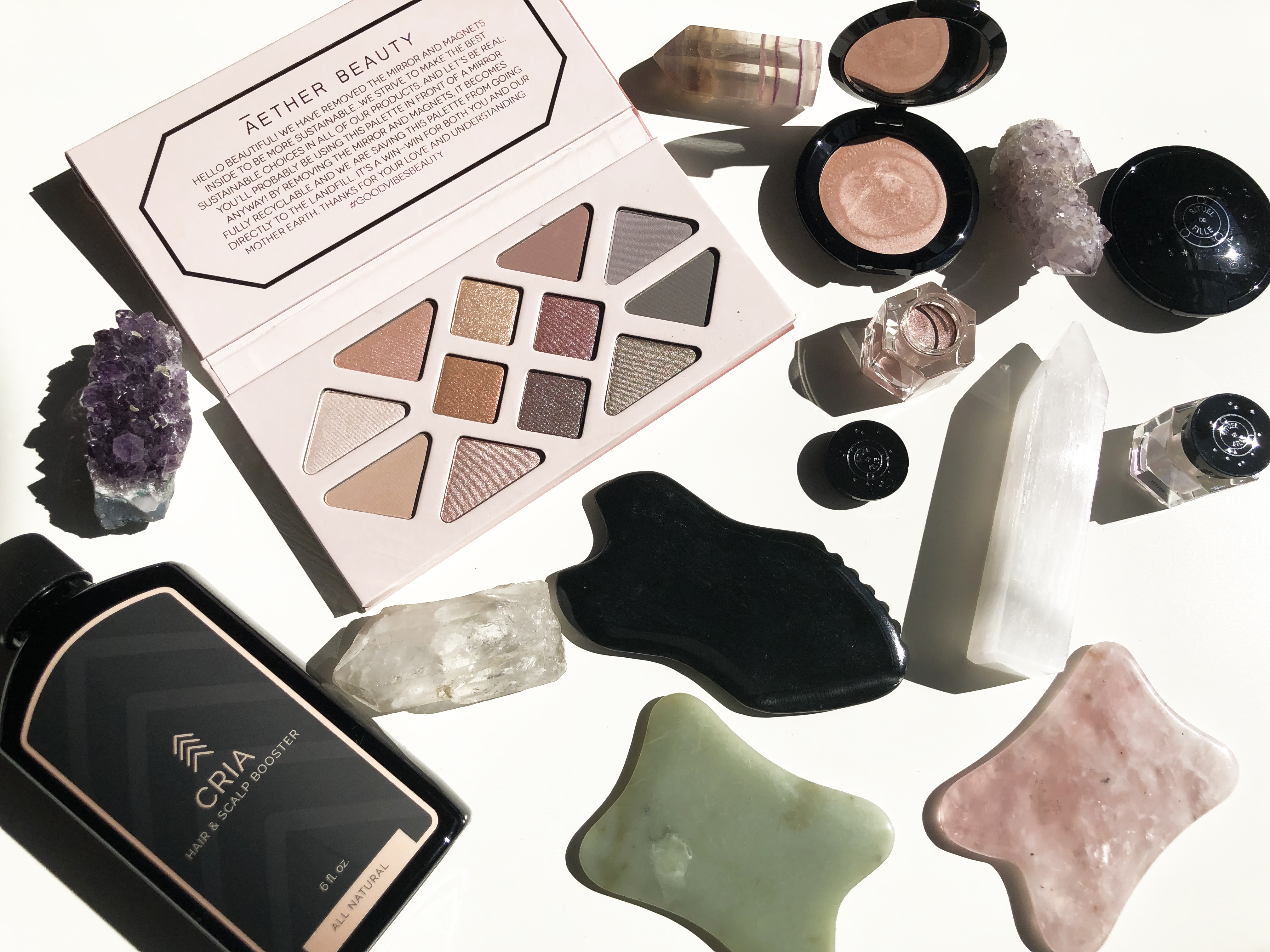 If you've been following me on social media, or reading this blog, you might know that my family and I moved from New York City to Los Angeles, California this summer. Yeah, it was a big move! I'm still pinching myself to see if it's real— it feels like a very strange extended vacation so far, but in a good way— and I don't know if I'm going to wake up one day and think, "Wait. Are we not going back to NYC?" or what.
But I will tell you this. New can be amazing. I'm surrounded by so much new right now— new house, new cars, new schools for each of my kids, new friends, new scenery… the list goes on and on! And I'm finding it so rejuvenating.
If you'd asked me a few years back if I saw us overhauling our life and starting over in a whole new city, I'd have told you there was no way that was ever happening. My husband and I lived in New York City for 18 years. We have amazing friends there. We have family there. We fought so hard to find an apartment in the district of an awesome public school for our kids. And we owned that apartment. We were settled. We had roots.
But we didn't have wings.
We loved it there, but we also knew there was a whole world out there beyond our city, and we were so curious what it was like to live somewhere else. I had personally always wanted to live in California. Every time I had visited LA in the past, I'd felt this connection to it. I felt like I could breathe easier there. I felt like the mountains were calling me. I felt like I needed palm trees in my every day life, not just once a year on vacation. I was wildly jealous every time I heard of someone living in California.
So when the opportunity came up, we took the leap. And friends, we're flying. It hasn't been all easy, and there are definitely moments of stress, doubt, and overwhelm, but on the whole, it's been refreshing and exciting. We miss our friends and family back in New York, but we feel so renewed in our new surroundings.
Why am I telling you this, you ask? Because I have to urge everyone I know to try something new once in a while. I thought it was going to be scary— and it was/is sometimes— but it's also been invigorating! I can't believe how much energy the move has given me, when I was worried it would just take energy away from me.
On a smaller scale, I very much feel that this is akin to trying out new makeup or skincare. There are always fears associated with trying a new product, like "what if I'm allergic or sensitive to something in it?" or "what if it doesn't perform the way my old product did?" but there is the possibility of such great vitality and refreshment from trying something new. I used to think that cream blush would never work for me, but then I tried RMS Lip-2-Cheek in Demure a few years ago and, while I don't want to overstate the significance, it kind of changed my life. I once believed that no mascara could ever measure up to the conventional ones I left behind, but enter Lily Lolo Big Lash, and, just wow. Sometimes the payoff is so good, it's worth the scary feeling you get in the pit of your stomach from trying something new.
Which is why Integrity Botanicals has been busy this summer bringing four new brands into the family! IB now carries Rituel de Fille, Āether Beauty, CRIA, and Treatment by Lanshin Tools. One or more product from one or more of these brands just might be the rejuvenating, invigorating "new" you need in your life right now. It might be the thing that gives you that extra pep in your step or makes it a little easier to get out of bed in the morning, knowing you have something exciting to use or apply.
More so than just trying a new product from a line you've used before,  it's an even bigger risk to try something from an entirely new-to-you brand. I get that. But I can tell you a few things.  1) If that brand is being carried by Integrity Botanicals, well, it's in the name– you can trust in the thorough vetting process of ingredient that IB would never carry something with risky or unhealthy ingredients, so that should make the risk factor seem smaller; and 2) when you're shopping for clean and green cosmetics, you've already made a great choice and given yourself the best shot at products that are good for you; and 3) I have personally reviewed all the new brands I'm about to introduce you to, which means I believe that they work, feel good, look good, and last. I wouldn't write about them if I didn't really feel that way.
Are you ready to meet some new, energizing, innovative products? Here are the four brands we're excited to introduce, and stay tuned at the end of this article for info on the next new brand we'll be bringing to Integrity Botanicals this fall. Spoiler: you don't want to snooze on this one! It's an oft-requested fan favorite.
Speaking of California, not only is Āether Beauty designed and formulated in California, its founder is the first person I met with for work when I moved here. I was still unpacking boxes and jet lagged, and I wasn't planning on taking any meetings for a while, but when I got the opportunity to meet Tiila Abbitt, I jumped at it. I was not going to say no! I've been such a fan of her crystal-infused palettes for the past year, since they launched in summer 2018, that I was dying to meet the brilliant mind behind the glam, innovative, non-toxic magic I use daily. Needless to say, Tiila far exceeded my expectations; she is a true font of knowledge about all things sustainable, plus she opened my eyes to some different ways of thinking about recycling, plastic, synthetic ingredients, and natural product formulation.
Tiila is smart, no doubt about that. And she has experience– she was in charge of product development at Sephora for over 7 years, creating and formulating collaborations and in-house products. Her natural affinity for sustainable and clean ingredients led her to lead Sephora's  R+D for sustainable materials, simultaneously serving on Sephora's sustainability leadership council.
When her wealth of knowledge and passion for creating got bigger than her job at Sephora, Tiila left to create her own company, with the goal of making products that are truly eco-ethical, with more than just sustainable ingredients. The packaging of the palettes is 100% completely recyclable– no plastic, no mirrors, no magnets. It's also made from recycled materials, doubling the impact of the sustainability factor.
I could go on and on about how much I admire Tiila and the company she's built, but I want to cut to the good stuff: THE PRODUCTS THEMSELVES!!! And boy, are they something else!!! These eyeshadow palettes are full of rich pigments, unique colors, and unique finishes, like metallic and duo-chrome.
The four center duo-chrome shades in the Rose Quartz Crystal Gemstone Palette are some of my favorites. There's Reawakening, pink to gold; Divine, pink to peach; Astarte, lavender to silver blue, and Aura, maroon to blue purple. I've never seen natural beauty products with this unique finish. I literally get compliments from strangers on my eyeshadow now.
This summer, Āether released their newest gemstone-infused palette, the Summer Solstice Crystal Gemstone Palette. It is amazing. I love bronzy browns and golden pinks, and Summer Solstice is this California girl's paradise. Prickly Pear oil makes these shades really glow, and I use them as blush (Balance, Energy, and Ruby), lip color (hello, Midsummer and Solstice!) and all kinds of eye makeup (everything– but Citrine, Intrinsic, and Solar Eclipse make a wicked-wonderful smokey eye used together!).
Some other important tidbits about these products:
Tiila told me the palettes will last 3 years if stored properly! How's that for getting your money's worth?! And they're so densely-pigmented, you don't have to use much to get great coverage, so I absolutely see them lasting 3 years even with regular use.

The eyeshadows are formulated with organic oils and butters, making them soothing, enriching, easy to spread, and long-lasting.

I got to see a sneak peek at the upcoming products in development now, and I can only say that they're out-of-this world fantastic. More goodness is coming, but don't wait to get on this bandwagon. Āether is happening, and the eyeshadow palettes are an incredible value for the money. 
I honestly thought this brand couldn't possibly be natural for the longest time, because when I saw photos of it, it looked way too good to be natural! Now, of course, I know better, both about how natural products can be super effective and that Rituel de Fille is, indeed, the real, natural deal. I happily stand corrected!
I love the different textures RdF comes in. The Eye Soots are so unusual– sort of a soft powder cream concoction that blends so well, melting onto the skin without fading or creasing. The Celestial Sphere collection is iridescent, luminizing, and sparkly, while the Ash and Ember collection features both matte and shimmery options in bold, classic colors. The intensity of the Inner Glow Creme Pigments is downright impressive, and, please, let's discuss these lip products! The Lip Sheer can really only be described as magic, which is apt for this brand that was inspired by magic, ceremony, and, of course, ritual! It's way more long-lasting and rich than most lip sheers, and can easily be built to be anything but sheer. I'm partial to Swarm, an earthy red that can go from bright and cheerful (one layer) to deep and mysterious (two coats).
The creators of this line are three sisters, and you can tell that each of them is an artist from the quality of the products, the depth of the pigments, and the names of the shades. Begged to be used for dramatic looks, Rituel de Fille is pure theatre. There are few neutrals in this collection, and each product is hand-formulated to include no fillers and no unnecessary ingredients. The focus is on pigments, and that is evident in the efficacy. Bold colors like Fortuneteller and Narcissus that can really only be attributed to magic.
This is no ordinary makeup; you can certainly wear it for everyday, but be warned that a Rituel de Fille Rare Light Creme Luminizer will make people ask what fancy event you're en route to, and you absolutely cannot have a boring day while wearing Inner Glow Creme Pigment. It's just not possible. So you've been warned. This might just be the touch of magic newness you've been missing in your life. Are you tired of the same-old? Well, enter Rituel de Fille, and get ready for some excitement.
I've written about my love for CRIA in the past, but this new-to-us brand deserves another mention. I've fallen in love with it all over again now that I live in a desert, because my previously kind-of-dry hair has gotten seriously dry in the California heat, and I was fretting over my straw-like ends until I used CRIA all over my hair and woke up feeling like a new person.
This magical oil blend contains just 4 ingredients, Organic Jaborandi Herb Extract, Organic Lavender Oil, Organic Naturally Harvested Grain Alcohol, and Organic Sesame Oil. The lavender oil is great for soothing and nourishing the scalp (see my last post for all the wonderful things lavender can do!), but it also lends its calming scent to this oil that's best left on overnight, making it also a pleasure to fall asleep with!  And I love using the applicator that comes with the starter kit to get the oil right onto my scalp and in the roots of my hair.
Plus, in case you have any restrictions or limitations, this brand will likely still work for you– it's Leaping Bunny certified, vegan, gluten-free, cruelty-free, and chemical-free.
Before I left New York City, I treated myself to a goodbye present– a Gua Sha facial at Treatment by Lanshin. It had been on my bucket list for years, and I was not going to leave NYC without experiencing it. (Unfortunately for me, it was SO GOOD that now I wish I could go there every darn week, but, alas, I live clear across the country!) Luckily for me, and for you, Treatment by Lanshin makes amazing, authentic Gua Sha tools that you can use at home to do your own facial work.
I met Sandra Lanshin through Josh Rosebrook and Dr. Sarah Villafranco of Osmia (see what I did there? Green Beauty name-dropping!!) and have followed her work for years. Sandra is an acupuncturist and Chinese Herbalist, in addition to having founded the Brooklyn gem of a spa treatment center, Treatment by Lanshin, that offers exquisite facials and acupuncture, and sells the finest green beauty in the front room of the shop. Sandra has been doing and teaching traditional Chinese Gua Sha long before it got Instagram trendy. She's the real deal, and she knows her stuff.
I can't fly to New York every week to get a facial at her studio, but I can do the next-best thing– and so can you– buy her Gua Sha tools! And, to make it really effective, Sandra offers video tutorials so that you can learn exactly how to use your Lanshin Pro tools! See this video, below, to learn from the expert. Then, shop Integrity Botanicals' collection of Lanshin tools, from the Intro Gua Sha Tools in Rose Quartz and Jade to the Lanshin Pro, which comes in black nephrite jade, and is tailor-made for getting professional-level results for the more experienced Gua-Sha-er. If you haven't tried this facial sculpting method yet, you'll be pleasantly surprised. Regular users report seeing reduced fine lines and wrinkles, better skin texture, increased circulation, a more relaxed, less puffy face, plus less headaches and congestion!
One important note: be sure you watch this how-to video and follow Sandra and her team on social media for more instructions. It's crucial to learn how to do this technique from experienced professionals if you want to get real results.
And if you were hoping for some new skincare brands, you're in luck, too– we just started to carry Graydon Skincare! I'm excited to try it– I have always heard excellent things about this Canadian clean line. I already love their intentional formulations, sleek, modern packaging, and wonderfully clean ingredients. I can't wait to fall in love with these products!
What else do you want to try out? We just sent out a customer survey, and we really love getting ideas from our readers and customers! In fact, every brand mentioned above in this article came to our attention because customers like you requested or suggested them. So tell us– what products or brands do you wish we carried? (And selfishly, what do you think I should try next? I love finding new products and brands!) If you didn't catch our email with our survey or get a chance to fill out yet, here it is or email us anytime with ideas. What would make our store an even better place to shop?
For me, I'm just glad it's an online store. I may have moved farther away, but I still get my packages from Integrity Botanicals in a few days here in California! That was one of the first things that made this place feel like home. Not everything needs to change in order to get that invigorating new feeling! Some things, like boxes of clean beauty from my favorite store, do not need to change. But if the contents feature a new highlighter, a fresh shade of lipstick, or a serum I haven't tried yet, well, then, I'm all for that! It's probably responsible for the pep in my step.