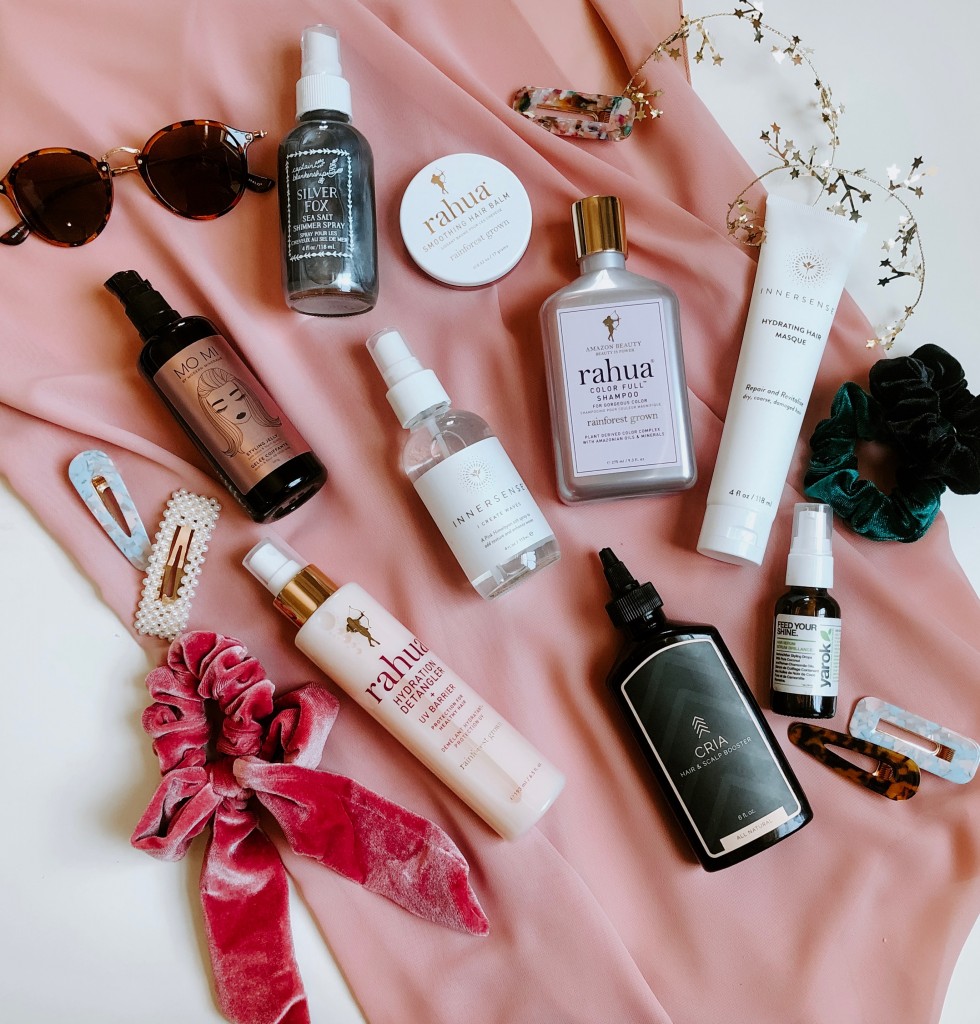 My hair has always kind of been a huge part of my life. I didn't cut or trim it until I was TWELVE! And even then, it remained down to my knees until late in high school when a major chop took it to rear-end length. Only in college did I go shorter, still— mid-back length— until I finally went shoulder length in my twenties.
As you can imagine from the above, my hair has long-been a MAJOR part of my identity. I was "the girl with the long hair" for most of my childhood, and I vacillated between fear that, without it, I wouldn't be "me," and harboring a secret fantasy that if only it might accidentally catch on fire in Chemistry as it swished past the open flame of the bunsen burner, I could see what shorter hair felt like. I didn't have the courage to chop it off myself back then.
When I finally did cut my hair, it was very incremental; I never had that satisfying chop where you go into the salon with a ton of hair and leave 12 inches lighter, looking like a new woman. Regardless, I finally did learn the lesson I so desperately needed to know: It grows back. Very little about hair is permanent— not even getting a permanent! It grows out!
Obviously, finding the appropriate hair care products was a big part of my going-green journey about 10 years ago. I worried that I'd never find the styling products, shampoo, or conditioner that would make my hair feel and look like itself, thus making me feel and look like myself. So I put it off for a long time, choosing to focus first on skincare and makeup, until finally I couldn't delay any longer; I needed to find all-natural, non-toxic hair products.
It was nowhere near as hard as I thought it would be! In fact, it's been fun, successful, easy, and very good-smelling! (You know me by now— the scent of my haircare matters to me almost as much as how well it works!).
I use a lot of different hair products— especially in the summertime, when frizz abounds and sun/chlorine/heat damage is rampant. My hair is naturally curly, but since I often straighten it, I need different products for each style. The end result is a shelf full of things that work for each desired outcome, and a ton of advice from me to you about all the best hair lotions and potions for almost every potential need.  Here are all my secrets, favorites, tips, and personal picks.

The basics: Shampoo and Conditioner
Regardless of how I plan to style my hair, washing and conditioning it is always the same. I like to use a really rich, moisturizing shampoo and conditioner for my somewhat coarse, thick hair, and I find that formulas for color-treated hair seem to work really well for me, even though mine is not dyed. I find that they're gentle and offer the right amount of moisturizing. I alternate between these two combos: Innersense Organic Beauty's Color Awakening Hairbath followed by their Color Radiance Daily Conditioner, and Rahua's Color Full Shampoo followed by their corresponding Color Full Conditioner.
Sometimes, I add a hair masque— a deep conditioner— in place of the regular conditioner when I feel like my hair needs a little extra loving, like Innersense's Hydrating Hair Masque or Rahua's Color Full Hair Mask.
For curly hair
In the summer, I'm more likely to let my hair be its natural, curly self, because when it's already a million degrees outside, who wants to spend half an hour with a flat iron or blow dryer? Even though I'm letting my hair be in its natural state, it actually requires a little more work (and a lot more product!). I start with freshly washed, towel-blotted hair, and add in a little bit of Innersense I Create Lift Volumizing Foam, full of volumizing ingredients like honey and sugarcane, concentrating on the roots.
Then, to keep frizz at bay and make everything as smooth as possible, I love this Styling Jelly from Mo Mi. It also happens to smell incredible, with a scent I've named "Good Memories of Old Boyfriends." You have to try it to see what I mean, but I promise you'll love it.
Last, I use Josh Rosebrook's amazing Hair Spray Firm Hold, which locks in the curls and makes my style last for a few days at a time, even in the heat and humidity. It's made from organic, non-GMO corn so it never damages or dries out my hair, and it also has vegetable glycerine and vitamins A, C, and E to add shine and moisture.
For straight hair
Ironically, I've found that when I straighten my hair, less is more— less product, that is. The more stuff I toss on my tresses, the more greasy they get after a day or two, and I really like to try and make a good straightening or blow out last up to a week, when possible.
That said, when you straighten naturally curly hair, it does need a little help. I recently fell in love with the new Rahua Smoothing Hair Balm because it's not as heavy as an oil, and a tiny bit really does the trick to smooth flyaway and make the ends look less fried, thanks to the nourishing Rahua and Sacha Inchi oils. The scent of Gardenia Enfleurage Oil is so intoxicating I wish I could apply this balm hourly, but that might be a little excessive, even as lightweight as it is!
If I feel like my hair looks a little too straight or flat after using a hair iron, which it usually does, I'm loving Innersense I Create Waves which really brings my hair back to life, with Pink Himalayan Salt and aloe vera adding a little bounce and a little texture, so that it's not just hanging there limply.
As I mentioned, I like to try and make my blow outs or flat iron style last almost a week, if possible, which requires some serious dry shampoo by day 5 or 6! I love Mo Mi's dry shampoo so much, and the pointed tip makes it so easy to apply directly to my scalp and to target the exact areas where I need a little extra help with oil. The combination of baking soda, corn starch, powders and clays absorb oil, and it's also infused with Lotus Wei's aromatherapeutic essences, making it good for the hair and for the spirit!
To treat thinning or weak hair
I wish I'd known about CRIA hair after the births of each of my kids. Anyone who's survived postpartum or known someone who has has likely heard about the thinning hair that can follow a pregnancy and birth. It's alarming when you see a ton of hair circling the drain one day, and then even more on your pillow, clothes, floor, and shedding just about everywhere. But it's totally normal— and not just after giving birth! Anyone who has low iron, thyroid disorders, or any number of other hormonal or autoimmune issues might experience temporary or longer-term hair loss. First of all, check with your doctor or healthcare provider and make sure it's not the symptom of a bigger problem. But then, use CRIA Hair and Scalp Booster. CRIA is launching at Integrity Botanicals 1st week in August so stay tuned for our newsletter announcement!
This amazing potion feels like a luxe spa treatment, with an earthy, lavender scent. It contains only 4 ingredients, one of which is star ingredient Jaborandi, a herb indigenous to the Amazon Rainforests, is a powerful regenerator that combats hair loss, and another is sesame oil, known to be good for boosting circulation. As recommended, I started applying it before bed a few times a week, when I know I'll be washing my hair in the morning, and I really see the difference. My hair feels stronger and glossier. 
CRIA is also coming out with a brow roller soon, and I am REALLY excited about that one. Also coming 1st week in August! My brows are alums of the over plucking trend of the '90s, so they need a good serum like this one!
Bonus points: Style AND Protect
Since it's summer, and, let's face it, we should probably do this all year round, I've gotten into protecting my hair from the elements. Rahua's new Hydration Detangler + UV Barrier protects from too much sun (thanks to Buriti oil), the drying nature of pool chlorine (thanks to Rahua oil), and the annoying frizzes that come from heat and humidity (courtesy of Sacha Inichi and Organic Mango Sugars). It's basically a miracle product.
I also rely on Rahua's other leave-in product, the aptly and recently renamed Leave-In Treatment to keep my hair smooth and silky in the summertime, despite the harsh elements. It's specifically formulated with ingredients that get activated by heat styling tools, and really helps prevent damage. This one has a great palo santo scent, and if that weren't enough to make you want to slather it on, it makes hair noticeably shinier.
For extra credit in the summer, a little glitter is my number one way to get a little fancy or festive. My go-to is Captain Blankenship's Sea Salt Shimmer Spray. I adore the golden or rose gold formulas to add a little dimension to my dark brown hair, and I recently gifted my mom the Silver Fox shade, to add serious shine to her silver-grey hair. She's as smitten as I am with the results. And it's not just about the looks of this product; organic Aloe Vera adds moisture and organic Sea Kelp Extract nourishes both hair and scalp.
Kids of all ages
I'm basically in charge of a lot of people's hair now— my kids both inherited my thick locks, so I have to help them avoid dry ends, tangles, and sun damage in the summer, too. I love this Babo Botanicals Swim Sport Conditioning Spray because when I apply it, they scream less when I have to comb their hair out post-shower. I also often put it on their hair right before going to the beach or pool, just for good measure. They may complain, but they always thank me later.
And I like to put light oil in their hair in-between washings to help it stay soft, smooth, and tangle-free. This Feed Your Shine Hair Serum from Yarok is perfect for my kids because it absorbs really fast and acts like a deep conditioner without having to sit around and then wash it out. Clary Sage and Atlas Cedar help relieve any itching from dry scalp or sun exposure (note to parents to remember to put sunscreen on kids' parts or exposed scalp areas!!), while sesame and coconut oils make hair much softer.
Whether your hair is long, short, thick, thin, curly, straight, dyed, or wavy, you need to take extra care of it in harsh conditions like extra summer sun and pool exposure. And now this doesn't have to feel like a chore! Find the product or products that are fun to apply, smell amazing, and make you feel pampered. For me, that's all of the above, but I know not everyone likes to use quite as many products as I do! That's okay– one or two hair products can make all the difference.