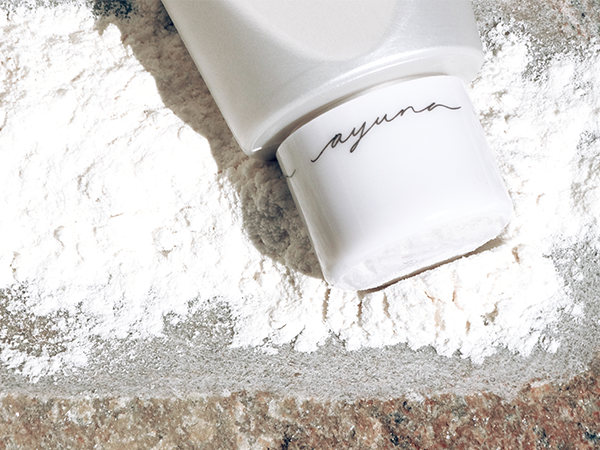 This may sound strange, but I'm a BIG fan of aging. I love it! I love birthdays and getting older and celebrating another year completed. I mean, not to get too dark, but consider the alternative! Aging is living— there's no way around it!
But just because I love living and I feel lucky to get older each year doesn't mean I love looking in the mirror and finding that I just don't quite look like myself, or at least like the 25-year-old version of myself that I keep expecting to see.
In a perfect world, we'd all idealize wrinkles and age spots, we'd worship our elders and honor their experiences as well as their appearances. In a perfect world, we'd look forward to wearing the signs of aging like a medal, our lines hard-earned badges of the things we've accomplished and the years we've survived. But that's not exactly our world, is it?
Now, I am not a fan of plastic surgery or Botox, but I do plan to cover up any grays as soon as they appear in my hair. So what's a person to do? I really love getting older, but does that mean I have to completely embrace every wrinkle and just resign to the fact that my skin is losing elasticity and brightness? No! Of course not. I firmly believe there has to be something between completely erasing all signs of aging with surgery or botox, and just letting oneself go entirely. Something in the middle, something we like to call "Well-Aging."
I was first introduced to the term "Well-Aging" via Ayuna, one of my favorite all-natural brands that also embraces high-tech science and research. Enamored of the idea of embracing aging, but committing to doing it gracefully and taking care of myself in the process, I decided this sounded like the perfect middle ground.
"Ayuna is striving to change paradigms in the beauty industry, beginning with the "anti-aging" concept, which implies an intrinsic war against aging, and instead transforming this struggle into a positive move, replacing it with the concept of "well-aging", a new approach to beauty that promotes positive, harmonious and elegant aging," the brand founders told me when I interviewed them for this blog in 2018.
As a beauty writer, I get asked tons of questions all the time— by friends and strangers alike!— and the number one question I get is "what do I do about these lines/wrinkles/age spots/under eye issues/insert aging skin concern here?" And I totally get it! I have the same concerns and questions, believe me. But I also have the best resources to get the answers: the founders of some of my favorite Green Beauty Brands who have worked hard to develop the products that can help us age well. They have chosen the most effective ingredients, used the best methods to source these potent plants, and embraced scientific innovations to create the serums, creams, and oils that become for us the map and the tools of our well-aging journey.
I've chosen to highlight my favorite brands and products for aging well. These products aren't just formulated with the most well-aging-friendly ingredients, but they come from brands that really know how to nurture skin as it changes with age. We've chosen to highlight these brands because their formulators have put so much energy into the plants, science, and research about how to fortify and replenish your skin as it evolves with time. Translation: they get results, without any harsh toxins or harmful chemicals.

Ayuna's entire product lineup is beneficial for well-aging, as it's their mission. I'm particularly partial to a fairly recently-released product, The Facial, which is, as the name suggests, like a fancy facial in a bottle. Made in two strengths, High and Low, this powder-in-lotion formulation isn't like other chemical exfoliant treatments. In addition to containing gentle Alpha Hydroxy Acids (AHAs), it also contains probiotics to ensure that your skin's microbiota stays perfectly balanced and healthy.
Ayuna's unique blend of high-tech science and natural ingredients is such a unique treasure. I like to follow The Facial with the brand's rich Cream II for a soothing, moisturizing finish. Both the company's Creams are non-greasy and leave your face nice and matte, the perfect canvas for makeup. But don't forget sunscreen— Ayuna's new Velo is fantastic.

If you've ever read a beauty magazine, talked to another human being, or been on planet earth for more than a year or so, you've heard someone wax poetic about Vintner's Daughter's Active Botanical Serum. And that's because it's Actually. That. Good! This liquid gold contains more active ingredients than most serums, packed with potent botanicals each with a unique, driven purpose. Nothing is in there just to smell good or look nice; the Active Botanical Serum is all business— delicious, decadent business! I've loved this serum for years, and seen the results on my own face.
So of course, I had to try VD's new, second-ever product, the Active Treatment Essence. And, while I thought that the Active Botanical Serum couldn't possibly get any better, any more glow-inducing, I was wrong. The Active Treatment Essence is the perfect compliment to the oil-based serum. The Essence contains acids, enzymes, and micro-exfoliators, plus being full of hydrating ingredients like coconut water, aloe, and hyaluronic acid, it combines with the Serum to lock in moisture.
I love this two-part ritual after cleansing. The Essence's Pat/Press application method is certainly part of this magic mix, and followed by the Serum's Push/Press method, and before you know it, you've given yourself a little facial massage in the process.

There is no master like Josh Rosebrook. His skincare and haircare are masterful, luxurious, and packed with potent herbs. Josh, himself, is a font of knowledge about plants and what they can do for our skin, and I learn something every single time I speak with him, and even just from reading his fantastic posts on Instagram!
He recently released a new product called Hydration Boost Concentrate, and I absolutely adore it. This bottle is full of rich ingredients like hyaluronic acids, plant antioxidants, and phytonutrients. It's so powerful, you only need two drops per application, and it is expressly formulated to slow the decline of skin. It's free of oil and essential oils, and is applied between toner (Josh's Hydrating Accelerator is truly my favorite mist in the world!) and oil or cream (or both— I like to use first the Active Infusion Serum followed by my holy-grail, the Vital Balm Cream to seal it all in!)
In creating all these products, Josh Rosebrook has captured several tools to aid in well-aging: hylauronic acid from Indian Senna Seed, anti-inflammatory ingredients like calendula, collagen-boosting items like goji berry, hibiscus flower acid to improve elasticity, and plenty of other important nutrients that speak directly to well-aging. And, again, don't forget the importance of sunscreen in the well-aging process! Josh's Nutrient Day Cream is one of my all-time favorites.

It is really hard to single out just a few La Bella Figura products to highlight for well-aging, since they're literally all incredible, but since we haven't covered vitamins or cleansers yet, let's spotlight LBF's incredible products in those two categories.
I fell in love at first use with La Bella's Crema Supernova Day Cream because it was the first Vitamin C product I'd tried that I felt actually produced results.  Vitamin C from Kakadu Plum Extract boosts collagen production, which means better skin recovery and more elasticity, making it a very important well-aging ingredient.
Vitamin D is found in the brand's Vitamin D + Ergothioneine Deep Serum, along with adaptogens; two supplements my doctor is always telling me I need more of. If I take vitamin D and adaptogens internally, why wouldn't I want to put it on my skin, too? This serum is all about protecting the lipid layer and encouraging new cell growth for firmer, more resilient skin.
And cleansing! Don't forget that your cleanser plays a roll in well-aging. So many cleansers are harsh or tough on skin, with little exfoliating particles or intense soapy agents. LBF's The Clean Slate is the most decadent, gentle, but truly-effective cleanser. It removes makeup and sunscreen and any dirt, grime, and sweat from your face without stripping it of its natural oils or disrupting the skin's barrier. It's buttery and creamy, yet rinses off after dissolving your makeup and grime. Truly a well-aging miracle.

Max and Me is another brand where it's difficult for me to choose just a few products to highlight for well-aging because I love them all, but I think their Sweet Serenity Collection is particularly good for this purpose. Co-founder and formulator Tanja Gruber explains why. "The Sweet Serenity Collection with its Manuka Honey and Immortelle surely knows how to boost collagen naturally. [But] we think that it takes more to keep that youthful, radiant, juicy look and feel. Each and every emotion and thought counts and initiates a biochemical process deeply influencing the health of our tissues and cells. This is the secret of our cells they take on our attitude, our convictions, our philosophy about aging and reflect that to the outside world."
Tanja brings up such an important point in this statement, that our attitude about aging matters. If we think of it as a bad thing, that message is carried through our cells and it shows. If we learn to embrace it and work with it, we are more likely to age well. Of course, ingredients that, as Tanja mentioned, boost collagen are also helpful!
The Sweet Serenity Collection includes the Mask and Wash, Beauty Balm, and Rescue, all of which are in heavy rotation for my personal routine. Each of these includes the aforementioned Manuka honey and immortelle, along with dozens of other thoughtfully chosen, high vibe ingredients. As Tajna continues, "high vibe skincare, with its regulating and balancing talents, can help you turn your inner dialogue into a nurturing, positive voice." And what could better exemplify well-aging?

May Lindstrom is probably best-known for her decadent balm, The Blue Cocoon, and it's no mystery why. The Blue Cocoon is a spectacular soothing, healing, correcting powerhouse. There is literally no skin concern it can't help with. Got acne? Blue Cocoon. Wrinkles? Blue Cocoon. Inflammation? Yes— Blue Cocoon that!
The Blue Cocoon was out long before everyone was putting Blue Tansy in everything, it's the original blue balm. It smells amazing, and can be used anywhere on your body, but, if you're anything like me, you'll hoard it and save each little pearl for your face where you can bask in the lovely smell and see the results.
Use it with the amazing Jasmine Garden for best results. This toner will add in antioxidant protection and stimulate circulation, rounding out this dream skincare duo.

Laurel is a true plant-whisperer, and she works with local farms in Northern California to grow the best ingredients. She is a master esthetician, and her masks are unrivaled. But for right now, I'm going to focus on something else Laurel does incredibly well, which is to translate her wisdom for facial products to body products, as well.
It's very important to remember that the practice of well-aging doesn't— and shouldn't— stop at your neck or décolletage! Our whole body is covered in delicate, sensitive skin that is all susceptible to change because of aging. So don't ignore the majority of this very important organ! You must treat your body with the same considerations as your face and neck to fully practice well-aging!
Laurel has made a body oil that is as good as, if not better than, many facial oils, but specifically targeted to the skin on your other 90%. Her California Body Oil: Bare Heart recently underwent a formula change, and it's even more magnificent than ever. With a base of nutrient-dense raw oils grown locally in California, and a new essential oil blend for more harmony, Bare Heart is a circulatory and lymph mover, meaning it helps fend off stagnation in the body and puffiness. It's not just about moisturizing your skin, but also about making sure your whole body is taken care of and that your circulation is good.
I also love to use Laurel's Recovery Balm: Soothe + Mend on parts of my body that need a little extra healing power. It's great for rashes or irritation, as well as acne, swelling, cuts, and any skin condition that causes redness or inflammation.
And keep reading below for info on two of Laurel's other superstar products, both to help with the delicate under-eye area.
Eye Treatments
We couldn't talk about well-aging without addressing the eye area, the part people ask me most about! There are a few eye serums and balms I especially love to reduce puffiness and dark circles, and they're made to be especially gentle for this delicate, thin skin.
Maya Chia's The Eye Achiever is, as its name suggests, an over-achiever in under-eye care. Formulated to include five macro and micro-algae extracts (astaxanthin, sea fennel, sea lavender, wakame, algae extract), it is fast-absorbing, nutrient-dense, and, of course, moisturizing. The silver rollerball adds an extra dose of de-puffing, with it's cool application.
Fitglow's Eye C Firm Cream covers two important bases in well-aging, Vitamin C and targeted under-eye care. With botanical hyaluronic acid and CoQ10, you can store it in the fridge for an even more soothing application. Follow with Fitglow's Eye Bright to illuminate dark circles and add a little pep with caffeine and peptides.
One Love Organic's Vitamin E Eye Balm is rich and waterless, yet can be worn during the day thanks to the way it melts into the skin so easily.
Laurel Skin makes both an eye balm and an eye serum, so you can choose your preferred method of delivery and get a lot of the same potent, soothing active ingredients— all twenty-five of them in the balm and twenty-two in the serum!
Tools by Lanshin for Gua Sha
Even the best product can't work its best magic without the right tools. Gua Sha can help products penetrate the skin better, and can also help on its own to relax fine lines and wrinkles, reduce puffiness, restore elasticity, and promote collagen production. I've become a religious Gua Sha practicer, and I couldn't be more pleased with the results.
Sandra Lanshin is the master of Gua Sha, and her tools and videos are the best there is. I'm personally obsessed with her Pro Gua Sha Tool, because it's designed to work on every kind of muscle and tissue with all its different corners, textures, and curves. I couldn't love it more at the end of an exhausting day, or before a special event, to make sure my face looks revived and lifted.
Whatever products you choose from the above list of well-aging assistants, I recommend fortifying it with a Gua Sha practice. If you're new to Gua Sha, Lanshin makes two intro tools, one in Jade and one in Rose Quartz. Sandra's video tutorial is the best way to learn this stunning act of self-care and well-aging.
There is one last important ingredient for well-aging, and it's a little harder to come by, but completely free to acquire. It's acceptance. We are all constantly aging— it's the only way to continue living. Whether you're turning 3 or 83, you're growing a little older every day. So be patient with yourself. Be loving to your skin. Embrace the fact that it's been around a long time and served you well. I mean, where would we be without it? I shudder to think!
Our society has spent so much time bombarding all of us with messaging that older is not better or wiser, that it's somehow less-than, that it's not beautiful, sexy, or elegant. Remind yourself that this is a social construct, and the truth is that aging is an accomplishment. Aging is the sign of a life well-lived.
So, gua sha to your heart's content, and apply your Vintner's Daughter ritual religiously, but don't forget to also step back, take a deep breath, and practice being okay with some signs of aging. All we can ask is to age well. It's better than the alternative.