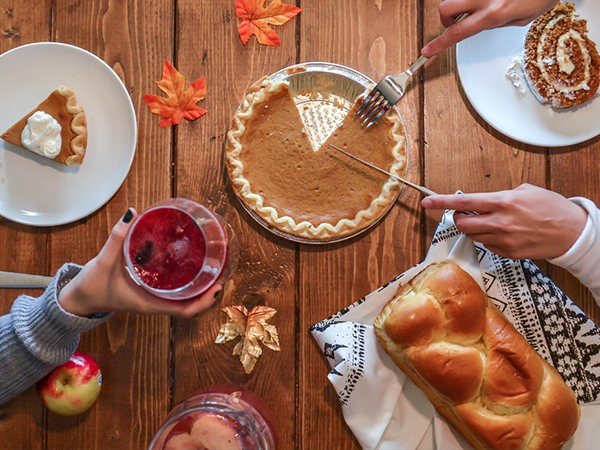 Thanksgiving is probably my most favorite holiday — the family gatherings, seeing old friends, watching kids jump in the leaves. You'll notice that the food part of Thanksgiving didn't rank on my list, and it's because, until recently, I wasn't really into Thanksgiving food. I mean, I'll eat turkey, that's fine. And if there's a salad, I'm happy, because I love green vegetables. But I have to admit that I don't actually like cranberries or cranberry sauce, mushroom stuffing, apple pie, and/or pumpkin pie. I only tolerate marshmallows on top of sweet potatoes because I forget every year that I don't actually like either of those ingredients, but seeing them together makes me think I should, so I put them on my plate. Then, of course, I always try again, with blind optimism, only to be disappointed and end up eating it anyway because it's on the plate.
So how, you might ask, did I get on board with all this Thanksgiving fare recently? Well, I didn't start liking to eat it, that's for sure. I started putting it ON MY FACE.
[You are now picturing me slathering mashed potatoes and gravy on my actual face.] That's not exactly what I meant. Allow me to explain.
If the ingredients of a traditional Turkey Dinner are so great, in most people's opinions, I figured maybe I should look to this American food orgy for skincare inspiration! I deconstructed Thanksgiving and found that the individual ingredients that everyone (else, besides me) seems to love are also things that are great for your skin. Cranberry sauce? What about Cranberry Seed Oil! Apple Pie? How about Apple Fruit Extracts! Pumpkin Seed Oil, Marshmallow Root— if you stop and think about it, Thanksgiving food is full of popular and effective skincare ingredients!
So while I fully support stuffing your face with Thanksgiving food, if that's your jam, may I also suggest putting those ingredients on your face, for healthy, glowing skin? And since the holiday season also happens to be cold weather season in many parts of the country, there has never been a better time to use Thanksgiving food ingredients to keep your skin healthy and happy.
Below I will break it down for you, by Thanksgiving feast item, to help you enjoy the spirit of the holiday in a whole new way. For each food, I'll identify how it's used as an ingredient in skincare, and what the benefits are, and then name some of my favorite products that utilize that magic ingredient. And if, after reading this, you want to buy ALL the things, that's okay– we're getting ready to announce our BIG Black Friday/Cyber Monday discount! See the end of this post for more details!
Bonus: this Thanksgiving ingredient information will give you a few extra conversation starters at your family feast that promise to be less awkward and/or explosive than arguing about politics with your uncle! So when he starts to talk about something that you know is going to end in screaming, you can distract him with a fascinating fact about the skin-glow-inducing powers of the foods on your very table. You're welcome. (And don't forget to read allll the way to the end for a special treat– you don't want to miss this info!)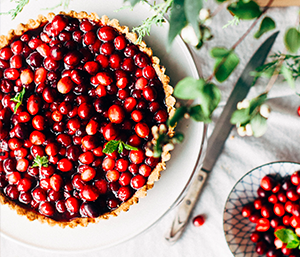 Favorite Thanksgiving Food #1: Cranberry sauce = Vaccinium Macrocarpon (Cranberry) Fruit and Vaccinium Macrocarpon (Cranberry) Seed Oil
Cranberry Seed Oil is known for its high concentration of omega fatty acids and for its amazing antioxidants. This means your skin will love it for being anti-inflammatory, fast-absorbing, moisturizing, and protective.
100% Pure Fruit Pigmented Lip and Cheek Tint uses pigments of Vaccinium Macrocarpon (Cranberry) Fruit to make that all-natural, synthetic-free color we all love so much. The oil from cranberry seeds is a much more common ingredient, found in tons of natural products we love, including Live Botanical Balancing Whipped Oil, Henné Lip Mask, Maya Chia The Eye Achiever, Laurel Skin Antioxidant Serum: Vibrancy Revival, and Max and Me Sweet Serenity: Beauty Balm.
Cranberry Seed Oil is very popular for use in hair care; the Rahua Color Full line uses Cranberry Seed oil in both the shampoo and conditioner for a double dose of goodness, and it's also found in Innersense Organic Beauty's I create Lift Volumizing Foam, Quiet Calm Curl Control, and Sweet Spirit Leave In Conditioner.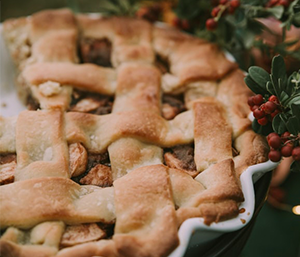 Favorite Thanksgiving Food #2: Apple Pie = Pyrus Malus (Apple) Fruit Extract, Sodium Cocoyl Apple Amino Acids, and Apple Seed Oil
Apples are so amazing and dynamic that we found their extracts, fruits, amino acids, and seed oils in green beauty and skincare products from haircare to makeup. Apples can be used in so many different forms, and you'll notice that it is particularly popular for use in cleansing products.
Pyrus Malus (Apple) Fruit Extract is the moist popular, found in One Love Organics' Easy Does It cleanser, Kypris Clearing Serum, Innersense Hydrating Hair Masque,  Vintner's Daughter Active Treatment Essence (which, in addition to Apple extract, also utilizes Apple Cider Vinegar!), and in Red Flower's line of Purifying Body Washes which come in multiple, amazing scents.
Malus domestica (Swiss apple) callus extract is used in Ursa Major Force Field Daily Defense Lotion SPF 18, while Sodium Cocoyl Apple Amino Acids make Live Botanical Gentle Cleansing Gel so amazing and purifying. Apple Seed Oil is the magic apple component in Amly Deep Reveal: Nourishing Cleansing Balm and Mask.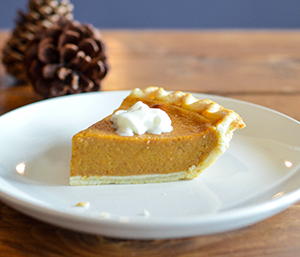 Favorite Thanksgiving Food #3: Pumpkin Pie = Pumpkin seed oil cucurbita pepo (pumpkin) seed oil
Pumpkin seed oil cucurbita pepo (pumpkin) seed oil is great for moisturizing, but it's also really good for clearing up congested skin, as you'll see from its use in two of our favorite clarifying serums, Live Botanicals Awaken Clearing Oil and Moss Illumina.
It's soothing moisture is an important component in three great body oils we love: Maya Chia's Revitalizer,  One Love Organics Gardenia and Tea Antioxidant Body Serum, and Zoe Organics Belly Oil.
And it is found in cleansers, too, like Gressa Balancing Cleanser and One Love Organics' new Vitamin B Solid Cleansing Oil. 
The "most authentic" award for pumpkin goes to Osmia Pumpkin Facial Soap, whose star namesake ingredient is actual pumpkin, not the oil from the seeds!!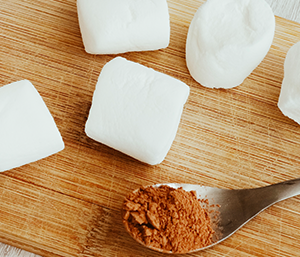 Favorite Thanksgiving Food #4: Marshmallows on Sweet Potatoes = Althaea officinalis (marshmallow) root and Yams (Dioscorea Batatas Root)
This constant source of disappointment for my mouth has become very much a favorite source of soothing moisture on my face. Marshmallow root is so calming and soothing that I first learned about it when researching products for my kids when they were babies, like Zoe Organics Cream and also their Nipple Balm. It's used in many, many of Josh Rosebrook's beloved products, like his Active Infusion Serum, and in several cleansers, such as Earthwise Beauty Marshmallow Face Cleanser and May Lindstrom The Clean Dirt.  Marshmallow is in several Yarok hair products, like Yarok Feed Your Volume Conditioner, and in body oils, such as de Mamiel Salvation. It really shines in products developed for sensitive skin, like Blissoma Pure Sensitive Care Complex and Laurel Skin's Recovery Balm: Soothe and Mend.
No self-respecting Thanksgiving table is going to have marshmallows on the table without yams, right? Otherwise, they're just… marshmallows. Even though I'm not in love with the combo, I do like the ingredients in skincare!
Dioscorea Batatas Root, also known as Chinese Yam, is the magic ingredient in lush, luxe makeup and skincare brand Kjaer Weis' The Beautiful Oil, their silky Powder Bronze, and the brand's new toner. Yams have never been so chic!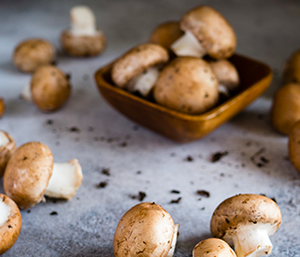 Favorite Thanksgiving Food #5: Mushrooms in stuffing = Ganoderma Lucidium (Mushroom) Extract
They're not called Magic Mushrooms for nothing– known for increasing cellular turnover, providing antioxidants, and being soothing for skin, mushroom extracts are especially popular in products designed for sensitive skin.
CV Skinlabs Calming Moisture is just one of the brand's products that contains it's patented Tri-Rescue Skin Complex. It's in everything they make, and it really soothes and repairs fragile skin with turmeric, alpha-bisabolol and reishi mushroom.
La Bella Figura Gentle Enzyme Cleanser contains both Marshmallow Root AND Mushroom Extract, making it the ultimate Thanksgiving combo!
One Love Organics Vitamin D Moisture Mist is a longtime favorite of mine that utilizes mushroom extract, and now there's a new product on the block that also does, Kypris's Puff of Love, a lightweight, cloud-like cream.
So now that we've discussed the Thanksgiving Meal in detail, what about some dessert?? My favorite dessert definitely involves shopping for beauty products, getting major discounts, and a fabulous Gift With Purchase, so let me tempt you with our Black Friday deals.
Like last year, our newsletter with discount details will go out on Thanksgiving Day at 8pm EST/5pm PST, so get your carts ready now!  We always have an amazing gift with purchase for Black Friday– last year's sold out within a few hours!! This year we upped it from the first 25 customers to the first 50, but we still expect them to go fast, so be prepared to shop!
Like I said last year, this GWP isn't just icing on the cake, it's also actual cake itself (metaphorically– there's no cake in the GWP. You still have to make due with pie at Thanksgiving dinner)! It's not just a small token reward, it's a hugely valuable, desirable prize.  This GWP is worth $200! That's huge!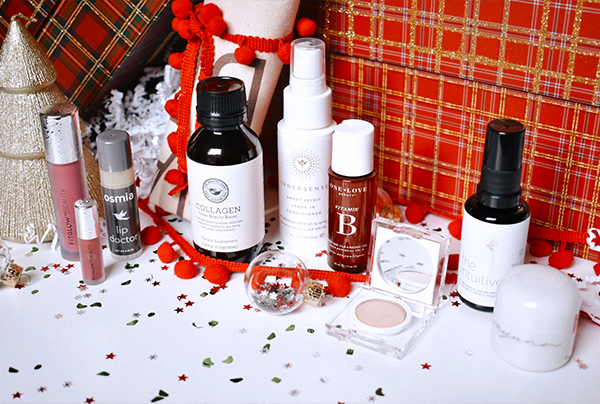 Here are the details: The first 50 customers who spend $300 at IntegrityBotanicals.com once our newsletter goes out on Thanksgiving evening at 8pm EST/5pm PST  (after discounts have been applied– yes, there will be discounts!!) will receive the following:
Yes, it's a $200 value! It's so great ahead of December holiday travel, where all those mini sizes will really come in handy, plus two actual full-sized products, all for free with your purchase. But, like I said before, we do expect these GWPs to sell out fast. There are only 50 of them… er, make that 49, because I'm definitely going to get one myself.
Whether you like to spend your Thanksgiving eating, shopping, or slathering an autumnal bounty of produce-infused products on your skin, I hope it's a happy one, filled with family or friends, or even nice, relaxing solo time. Just know that I am thankful for you, dear reader, because I love getting to write about skincare and all things green beauty for you. I can't imagine anything more fun or delicious.