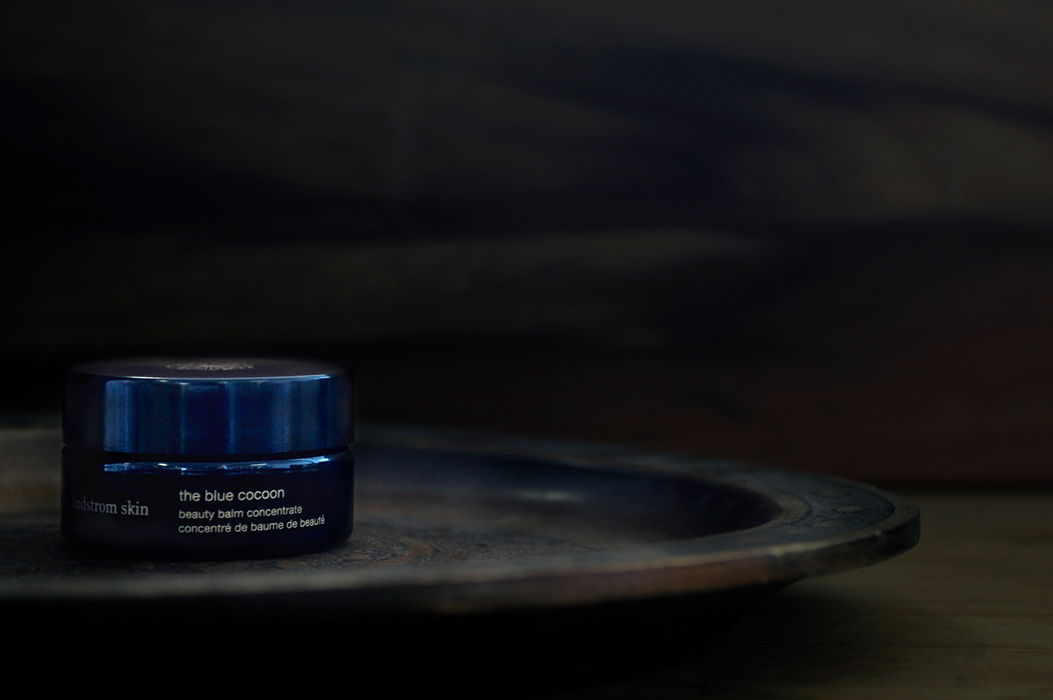 There's something magical about Blue Tansy, starting with the name, which sounds whimsical and mysterious on its own, and continuing on to its properties— Blue Tansy is known to be anti-inflammatory, among other attributes— and ending with its remarkable scent. It's not surprising that Blue Tansy has been a very popular, buzzy ingredient in green beauty for the past several years. In traditional medicine, it was used as an antihistamine, to reduce nasal congestion. It's often used as a (wonderful-smelling) insect repellant. In 19th century Ireland, it was common for people to bathe in a mixture of Tansy and salts to alleviate joint pain. To this day, some people still use Blue Tansy as an ingredient to treat fevers, colds, and jaundice.
Whether these uses are scientifically-backed or traditional folklore, there is definitely proof that people LOVE Blue Tansy in their skincare.
The first time I ever heard of it or tried it was in May Lindstrom's Blue Cocoon. May began developing her cult-status blue balm back in 2009, but it was years before that when she first discovered the magic of Tansy. "I first stumbled across the mention of this powerful plant as a teenager, twenty years ago. I initially read about blue tansy in a library book while studying plant medicine and aromatherapy. Blue tansy kept popping up as a hero for trauma— offering its gifts for both emotional and physical pain," she says.
Leahlani Skincare founder Leah Klasovsky also recounts her introduction to Blue Tansy. "The first time that I encountered this beautiful, blue oil was during a waxing mishap during esthetician school. Flashback to 13 years ago, I was so excited to get my very first eyebrow wax, but the second the wax strip came off, my skin began to burn like no other- immediately turning red and inflamed. One of our instructors came running over with this tiny bottle of deep-blue, sweet-smelling bliss and gently dabbed it around the area and instantly, like magic, the burning dissipated and the inflammation was gone. I was shocked at just how effective one tiny drop of oil could be at helping to alleviate the burning. Needless to say, in that instant, I fell in love with Blue Tansy and it remains one of my all-time favorite essential oils (on par with Neroli)."
We interviewed some of our favorite skincare founders about their love for Blue Tansy, and one more favorite founder, Laurel Skin's Laurel Shaffer, about her love of a similar ingredient, German Chamomile (or Blue Chamomile), which comes from Matricaria chamomilla, a different plant that is also rich in azulene. Azulene is the compound that gives both Tansy and Blue Chamomile their rich, blue hue, and is also one of the things that make both plants good at treating inflammation in the skin. There's a lot to love about these blue potions, whether you like them in your facial skincare routine or in your aromatherapy. Even if you've never tried anything with a blue hue before, read on. You'll likely want to after reading about how magical Blue Tansy (and Blue Chamomile) can be!
"The Blue Cocoon is my twice-a-day, every-day magic for maintaining my skin that has finally found its best and healthiest state. It has changed my world and that of many thousands of others. Designed with the intent to calm and soothe the inflammatory conditions of eczema, psoriasis, dermatitis, rosacea, and acne, even normal skin types see incredible benefit. Thanks to the hero ingredient, Blue Tansy, it effectively calms and relieves inflammation on a magical level. It's like a meditation and spa vacation for your skin— in aromatherapy, blue tansy is used to reduce anxiety, heal sleep disorders and soften the feeling of being out of control. Total bonus: The Blue Cocoon doubles as my favorite eye and lip treatment of all time."
— May Lindstrom, founder 
If you're new to Blue Tansy, I'd definitely recommend starting what will become your love affair with May's Blue Cocoon. I first tried it in 2016, when it was already a bonafide cult hit among green beauty enthusiasts and conventional beauty connoisseurs alike. I remember thinking the scent was intoxicatingly wonderful, and then marveling at how great it made my skin feel. A few weeks later, I saw the results of how much better it made my skin look, and I was completely sold. I found it very helpful for breakouts, and still use it on them to this day.
Another product that I love for treating breakouts is Moss Skincare's Zen Psychic Botanical Spot Treatment which also contains Blue Tansy.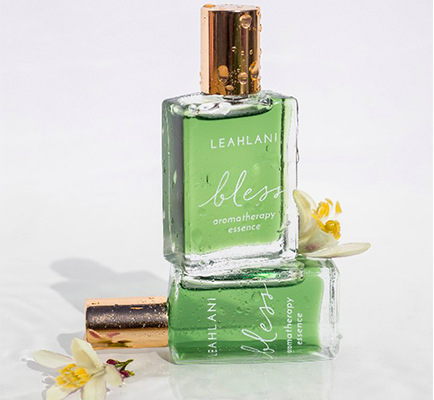 Bless Beauty Balm and Bless Aromatherapy Essence, Leahlani Skincare
Anyone who wants to experience the aromatherapeutic magic of Blue Tansy must turn to Leahlani Skincare.
"Blue Tansy Essential Oil, also known as Moroccan Chamomile, comes from a seasonal crop in Northern Morocco and it requires optimal conditions to grow- making it quite rare and costly to obtain. It has a thicker viscosity and a rich and dreamy indigo blue color, reminiscent of the deep blue sea. The blue color comes from the natural chamazulene that is formed when the plant material is exposed to heat during distillation. Chamazulene is what makes Blue Tansy so magical at helping to calm and soothe skin irritation, reducing inflammation and redness almost instantly. It has a very distinctive scent, sweet like apples with a strong herbaceous aroma that immediately evokes a sense of peace and relaxation. I have noticed the variations in scent over the years with each new crop that I am supplied with, sometimes the warm and herbaceous scent overpowers the sweet, middle notes. The most recent crop, in my opinion, is the sweetest and most gorgeous one I have smelled yet."
— Leah Klasovsky, Leahlani Skincare founder and esthetician
You can find Blue Tansy oil in Leahlani's Happy Hour Balancing Serum, Honey Love Microdermabrasion Exfoliator, and, of course, in their Bless Beauty Balm and Aromatherapy Essence. The Bless Essence is not intended for use on the face, but these other Leahlani products with Blue Tansy work well on sensitive and delicate skin types and to soothe redness and irritation.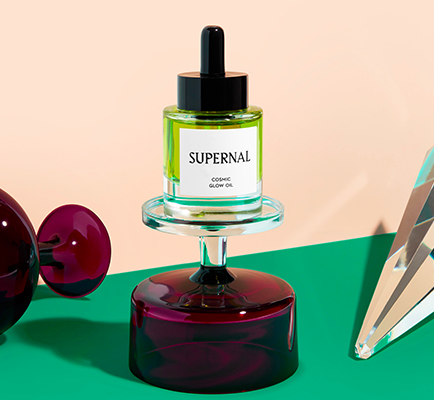 "I chose this precious ingredient for Cosmic Glow Oil for its characteristics that can help to calm and soothe skin as well as the mind. Studies show that chamazulene, one of the chemical components of blue tansy that is released during the steam-distillation process, possesses strong anti-inflammatory properties in addition to being an antioxidant. From an aromatherapeutic perspective, blue tansy has an herbaceous, relaxing scent. Smell is of course so subjective, but I have found blue tansy to generally be a fan-favorite. Visually blue is a super calming color so I was also drawn to this oil instinctually. The beautiful sapphire color of blue tansy blended with the golden yellows of other ingredients such as camellia and baobab create Cosmic Glow's celestial green hue."
— Melissa Medvedich, certified aromatherapist and founder of Supernal
Supernal is a relatively new brand, but it immediately became a favorite of every skincare fanatic I know, myself included! Medvedich, a former creative director and graphic designer, went on to study aromatherapy and brought her minimalistic approach and stunning aesthetic to her first product, Supernal's Cosmic Glow. Cosmic Glow is the epitome of Green Beauty— it's clean, effective, natural, and it's actually Green, thanks, in part, to Blue Tansy!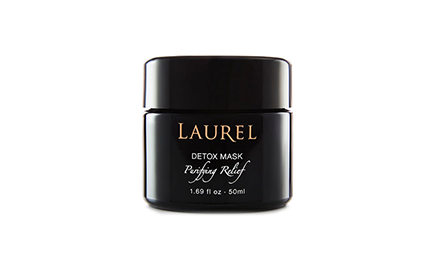 "German Chamomile is so well-suited to extreme skin sensitivities. Since we work with so many spas and estheticians, we see a lot of reactive and sensitized skin that has significant barrier damage.  Because of this, we need our sensitive skin products to be extra extra gentle – which goes beyond treating inflammation alone. German Chamomile has absolutely no contraindications or possibility for further sensitization.  It is even recommended for small children."
— Laurel Schaffer, Laurel Skin founder and esthetician
Laurel introduced me to the other popular azulene-rich oil, German Chamomile or Blue Chamomile. Similar to Blue Tansy, this essential oil is blue, soothing, and great for helping inflamed skin. You can also find German Chamomile in Laurel's Blemish Treatment and Unburden Serum.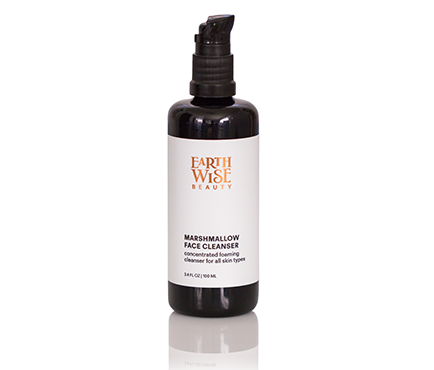 Earthwise Beauty's Marshmallow Face Cleanser is one of several products on IntegrityBotanicals.com that utilizes BOTH of these azulene-rich Blue oils.
"We use blue tansy (Moroccan chamomile) oil in Marshmallow Face Cleanser, along with two other chamomile essential oils, blue chamomile and Roman chamomile. Blue tansy is one of the top anti-inflammatory essential oils due to its high content of azulene. Blue tansy is also anti-allergenic and very safe for topical use. There are a few other essential oils that are high in azulene that give them a stunning dark blue color along with their healing properties – namely blue chamomile and yarrow. What makes blue tansy special is that its scent is more floral than cool and herbal, rendering it easy and appealing to use in formulas. Although the quality of the blue tansy oils on the market varies tremendously, and only top artisanal growers and distillers achieve that floral edge to the scent."
— Ava Zhan, founder, Earthwise Beauty
And wait! There's even more!! Blue Tansy is so popular because it's so effective, which means it's used in a lot of our favorite products. This is only about half of them, but here are some Blue Tansy-rich things we also love:
Josh Rosebrook's Blue Tansy-rich Vital Balm Cream and Advanced Hydration Mask both have Blue Tansy, plus the Advanced Hydration Mask also contains Blue Chamomile! 
Kypris' Cleanser Concentrate and Cerulean Mask are both treats for the skin and for the senses.
I love La Bella Figura's Decouverte Under Eye Repair Serum and, for aromatherapy, their Travel Therapy Botanical Mood Booster. Both smell amazing!
Honua's new Māhealani Moonlit Glow is wonderful and utilizes Blue Tansy for its calming, soothing properties.
Kahina Giving Beauty's Oil Cleanser, Lip and Face Balm, and my personal favorite, the Moisture Mask, all contain Blue Tansy.
Sometimes, when things get super-trendy, it's not for any good reason other than great marketing. But the Blue Tansy (and other azulene-rich) ingredient craze is not just a fad or the luck of great PR. Azulene is the real deal, and Blue Tansy is popular because it works. Whether you like to use it as aromatherapy, as skincare, or as both, there's always a way to incorporate it into your skincare routine if you are interested in trying it out. Luckily, Blue Tansy plays well with other ingredients, so you don't have to completely overhaul your skincare routine to start enjoying its benefits. A little dab of Bless Aromatherapy Essence or a touch of Blue Cocoon on your lips and eyes is a great way to start. I can almost guarantee you'll fall in love and want to add more of the Blues to your life.