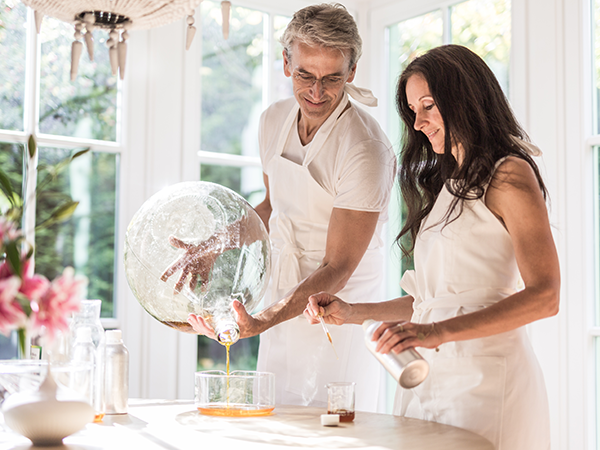 Many of you who read this blog regularly will remember that I was lucky enough to be in Vienna, Austria in 2017, and to visit the manufactory of one of my favorite brands, Max & Me. Tanja and Max invited my family and me into their home, their garden, and into the studio where they made their magical high-vibration products.
It was like a dream– Tanja and Max exude the same energy their formulations do: calm, loving, thoughtful, warm, gentle, powerful, and soothing.
I so wish that I could visit there again right now to see the new office space, to meet the new team members, and to sit in the healing garden; and also, I would hug my dear friends, Max and Tanja!– but the pandemic has made this impossible for the moment. Instead, I decided to reach out to Tanja and Max and find out more about what's going on since I last wrote a dedicated post about the brand in 2018! So much has changed. Max & Me has introduced new products, including their foundational and essential mist, The Intuitive. They have built a new office and shipment house with a healing garden right across the street from the one I visited four years ago, they are working on creating a new website, and they have enlarged their team globally.
For more details on all these exciting new developments, and a deep-dive into their hero product, The Intuitive (the Master of Ceremony, as Tanja calls it!), I interviewed Tanja over email. I am thrilled to share her infinite wisdom and generous spirit with you all.
Emily: Tanja! I miss you! Tell me about all the new things that are going on with Max & Me!
Tanja: Since we met in Vienna – I just cannot believe how time flies – we have kept on doing what is our mission in this life: creating wildly luxurious, potent, and organic skincare combined with energy work. This coming year will be pretty special and very celebratory, we will soon launch our brand-new website with so much precious information on energy work, and I am currently working on new products, as always many formulas are dancing in my head.
Emily: What is the brand's most popular/successful product these days? Why do you think that is?
Tanja: We celebrate two heroes side by side at the top of our community's love list. One of them being our Master Healer Mask & Wash, multi-awarded and passionately swooned over by so many. The other is The Intuitive, our botanical facial mist, which evolved in light speed to bestseller status.
Emily: I can completely see why each of those is at the top of the love list!! They're both amazing products. Tell me what customers love about Mask & Wash!
Tanja: What people clearly swoon over is the healing potency of Mask & Wash, the quick results it delivers, the hydration it offers, the glow it bestows upon your face. This truly is a beauty hack leaving skin serene, radiant and silky soft to the touch. While I formulated it for troubled and traumatized skin – it gained such reputation as a teenage and adult acne salve – every skin loves its hydration and collagen boost, as well as the glow getting results.
Emily: I couldn't agree more! Now, tell me more about The Intuitive! I remember when you first sprayed it for me when you visited New York the summer after I visited Vienna! It remains a really special product for me. Tell me why you think people respond to it so well.
Tanja: The Intuitive delivers what we all need so much right now: decluttering our minds, dissolving our fears and focusing on wellbeing as our deepest vitality. The Intuitive is an inspiring guide to return your attention to your calm center while calling forth your highest vibrancy, hearing your inner voice. Its vibrancy offers energy clearing, releasing trauma and insomnia, bringing about emotional tranquility and peacefulness, unlashing inner knowing and centeredness, sparking intuition in that stillness that may arise. All the while quenching skin with delicious hydration and also caring gently for sensitive, finicky and inflamed conditions with ingredient healers calendula, blue tansy, immortelle and yarrow.
Emily: YES! I do love that centering feeling I get when I use The Intuitive! I keep mine next to my bed, to spray before sleep and when I wake up– to center my mind at the beginning and end of the day! What is your personal favorite thing about The Intuitive Mist?
Tanja: The Intuitive is my Master of Ceremony as it so brilliantly transforms even just one minute into a ceremonial pause, calling forth the highest and finest vibrancy and knowing. Creating a space for deep rest. I can clearly feel its mastery in energy clearing, whenever I mist it around my head I can literally feel how it takes everything off that weighs heavily. I feel lighter, softer and refreshed. All the while my skin drinks in the flavorful bouquet of hydrosols, beauty oils, and essential oils. The Intuitive is my muse and guide to radiance and a deep calm throughout the day. Also I love its fragrance, to me this is aromatherapy: a warm, woody spiciness, mingles with tangy notes of sweet freshness, cut with an uplifting cheerfulness, altogether bringing about a sacred space, a healing aura.
Emily: What is the super star ingredient of The Intuitive Mist, if you had to pick just one?
Tanja: What sparked the formulation of The Intuitive was Palo Santo. I fell in love with this sacred wood at first sight. Its warm fragrance that is like medicine, its spiritual meaning, its ability to support heightened energy in the body deeply resonates with our high-vibe philosophy. Palo Santo has long been worshiped by indigenous cultures for its purifying, energy clearing and protecting powers.  Additionally Palo Santo oil will assist in slowing down and decluttering the overly active mind and supports tranquility and peacefulness. Equally captivating are its emotional benefits, Palo Santo helps alleviate anxiety as well as feelings of being overwhelmed.
Emily:  I feel all of that. I think that's why The Intuitive speaks to me– the Palo Santo. Okay, so we know I like to use it at the beginning and end of the day; what is your ritual around using the Intuitive Mist?
Tanja: The Intuitive is all around the house! One sits at my desk to continuously refresh and counteract blue light, bringing about clarity and calm. Another pretty bottle is on my nightstand to ease me into a deep and restful sleep. Yet another bottle has a permanent spot in my handbag to clear the energy, wherever I am.
I always open and close my skincare ritual with this one by starting to mist The Intuitive around my head luxuriating into some deep intentional breaths. Like this I clear the energy and create a space of stillness, an awareness stepping into the moment of the Now before starting my Max & Me ritual.
As The Intuitive is the hydration ribbon tying the whole Collection together I love to really soak my skin wet with it before applying any oil or balm and also it is so good to refresh Mask&Wash with it.
And then, one of my favorite concoctions, my secret sauce is made with The Intuitive: For an extra up-level in moisture and rejuvenation you are welcomed to try this: first mist your face with The Intuitive until soaking wet, then mix Rescue Balm with 1-2 drops of the I am the Light face oil and some generous pumps of The Intuitive in the palms of your hands. Your thirsty skin will drink this concoction in, happily. To close off satisfy your skin one more time with The Intuitive and massage. Heavenly.
Emily:  Oooh, these are such good insider tips! I love it. What is special about the high vibration energy and all the healing/aromatherapy we can get from these types of products, especially during this time? How have you and your friends and customers found solace and healing from the energy of the products and the aromatherapy during the pandemic?
Tanja:  Looking at the world right now as it is reinventing itself, struggling to find the way to a brighter and better future, I am convinced that energy work is now needed more than ever to extend its gifts of steadiness, balance, softness, love and calm to us all. We need something very deeply healing-ly beautiful. This is where our Collection with its high-vibe focus steps in.
This moment is the perfect moment to go beyond skincare and extend curated pieces of our Collection as a vibrational tool to your hands. And it is becoming a little more urgent to hold our tools in our hands and really work with what we got. Each and every piece with its high vibe focus has a profound effect on internal shifts of energy, of consciousness, on refining you, on guiding you on your journey to inner peace. Our Collection with its energy focus also nurtures and touches the soul and the spirit behind the skin. 2020 showed us that we need to put a focus on self-care and self-love, on conscious and mindful living, and also on tools like energy work more than ever to stay steady and grounded, inspired and courageous. To be anchored in positive thinking, softness and love. To be a catalyst for transformation.
This is not only to the time of the pandemic but to everyday: My skincare ceremony, practiced as a ritual each and every day holds space for conscious breathing, cultivating positive thoughts, deep nurturance and high energy. This sweet self care sends reassuring impulses to my every cell, boosting my immune system, helping me to stay strong. And yes, during the pandemic we got so many messages telling us how our products helped people to stay centered and steady, positive and confident. By changing the way your skin looks like with high vibrational skincare you can change your world, too. That is the thing I love so much about this. It is all about the same – finding exquisite harmony, shifting that flow of energy, expanding into luminosity, feeling levity, sweet serenity. Being so fulfilled that you can pass it on from here.
Emily: I'm so glad to hear that your products and their/your high-vibration energy helped people during this really difficult time. I know they did that for me. I'm so lucky to have had the opportunity to actually meet you and feel this energy you talk about, and experience the magic! What do you wish consumers understood/knew about high vibration energy and your products in general?
Tanja: What I wish everyone to know is that the body speaks in the language of energy. We are all energy. Your body is tuned to look for the signals of high vibrancy. It feeds and nurtures your body. It literally is skin food. It regulates and harmonizes your body. Each and every cell hungers for these signals. Our Collection is celebrating high vibrancy in a luscious, colorful and perfumed expression. This is to the fullness, the luminance, the most beautiful version of you. Once immersed into the Collection — into these silky drops, luscious balms and fluffy mask — you will see where the gift is there for you.
I hope that Tanja's gifts of warmth, healing energy, and vibrancy come through to all of you reading this! She and Max are truly special, unique people. While I wish you could each meet them, as I did, I think that using their lovingly-made products comes pretty close to experiencing their energy! We are lucky they've decided to bottle up that high-vibe energy to share with the world. Big thanks to Tanja for taking the time to answer all my questions.
Speaking of things they are sharing with the world, Max & Me is doing a special gift with purchase with The Intuitive Mist right now! When a customer spends $100+ on Max & Me, they will receive a FULL SIZED The Intuitive Mist for free! Use code: INTUITIVE
| | |
| --- | --- |
| | |