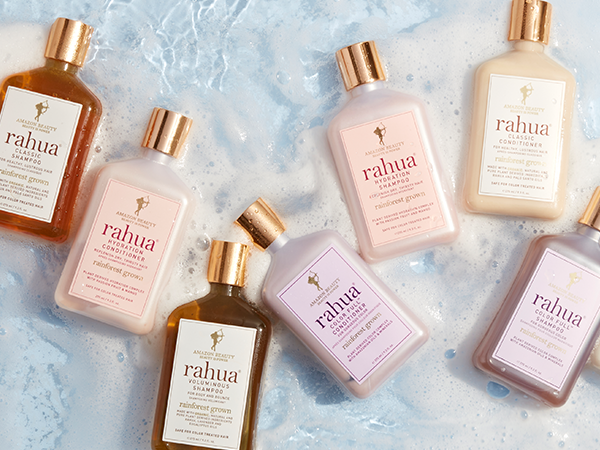 Recently, at the dinner table, one of my kids asked me why we have hair– as in, what is the biological purpose of hair on our bodies and heads. My husband and I started brainstorming possible ideas of why– warmth, protection from the sun, eyebrows to keep sweat out of our eyes, etc.– but it got me thinking… beneath our hair, there is skin.
When people talk about skincare "from head to toe," they often don't really mean that. We think of our skin starting around our forehead, but our scalp is skin, too! So why don't we treat scalp care like skincare?
I, personally, am guilty of having thought of my scalp as not mattering– for me, it's covered with hair: out of sight, out of mind. But many people are without hair on their heads for all sorts of reasons, raging from choice to illness to genetics, and for a large part of the population, scalps are quite visible! Whether you can see it or not, your scalp is there, it's skin, and it needs some TLC!!
During the pandemic, many, many people have started to experience hair loss and scalp issues– some as a side-effect of Covid-19 itself, but the vast majority simply from the stress of the past year. Even the New York Times has written about this phenomenon! According to the article, "Google searches for hair loss increased by 8 percent in the last 12 months, according to the data science firm Spate, with the topic being searched an average of more than 829,000 times a month in the United States."
This particular kind of hair loss has a lot to do with scalp health. According to the co-founder and CEO of one of my favorite hair care brands, Anna Ayers of Rahua, this goes not just for hair loss, but for many common hair issues.
"Healthy hair and scalp start at the root. Nurture your scalp as you would a garden and your hair will flourish. Scalp care is an extension of skincare."
Rahua's Founders Blend Scalp and Hair Treatment is a wonderful product for helping with these issues. If you want to try it, Integrity Botanicals is automatically including a sample sachet of the Founder's Blend with ALL orders for the month of April!
I spoke more with the team at Rahua about rethinking scalp care as skincare, and here are some basic tips they gave me to share!
Scalp/Hair Education 101: 
Healthy hair starts with a healthy scalp. The oils that the scalp naturally produces are a fantastic treatment (protecting the hair and scalp). Brush the natural oils throughout hair as a treatment before shampooing. Especially during the upcoming summer season, the scalp can get dry, so it's important to maintain a healthy scalp microbiome.
Do not over-wash! Rahua co-founder Fabian Lliguin recommends every two days, and ideally once a week, though this isn't an option for everyone. When you do wash, massage your scalp with your fingertips while shampooing/exfoliating. Finish with a cool water rinse to stimulate blood circulation (also for smoothing the hair cuticle and added shine). For daily shampooers alternate with co-wash (Voluminous Conditioner) which will keep hair top-notch shape from root to ends.
Choose plant-based shampoo, like Rahua for a healthy and balanced scalp. Avoid sulfates and parabens in your hair products (This is easy when shopping at Integrity Botanicals, especially when using Rahua). Do not use harsh shampoos on the scalp, this will irritate the scalp creating dry and/or oily patches that can lead to dandruff.
Hair treatments should be applied with a concentration on the tips which is normally the driest part of the hair shaft. Always apply protection to the hair before heat styling (for example Leave-In Treatments, Hydration Detangler, or Control Cream Curl Styler)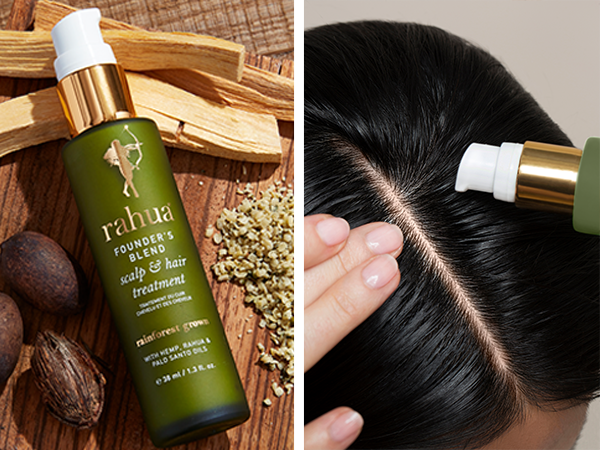 The Rahua team also recommended a SCALP RITUAL to try:
Once a week before bedtime, give yourself a gentle scalp massage with Founder's Blend. Leave this deep treatment in overnight, while you sleep.
The massage part is important; massage activates the scalp and helps the ingredients penetrate. This nourishing cream can be used to soothe dryness, and balance the scalp's microbiome with the help of Palo Santo and Hemp oils which have anti-inflammatory and anti-irritant properties.
BONUS TIP: Pair your Founders' Blend overnight scalp treatment with Rahua's Omega 9 mask on the rest of your hair for a full scalp and hair revitalization.
Another reason why I love Rahua is the brand's environmental initiatives and activism, which also makes it the perfect brand to feature on the blog this month. April is Earth Month, and Rahua is a leader in sustainability and climate positive plant-powered beauty that honors nature. The brand features Symbiotic® Certified ingredients that are Rainforest-grown and botanical. Rahua donates 10% of their proceeds from the Enchanted line, which includes this magical salt spray I love to use to give my hair some texture, as well as this truly innovative moisturizing lotion mist, to environmental causes affecting the Galapagos Islands, like The Pink Flamingo Project, "created to defend and protect the untouched natural areas of the world from damage, pollution, and further destruction, with a special focus on the Amazon Rainforest, its people, and ancient culture." Through Rahua, founders Fabian Lliguin and Anna Ayers are now helping to clean more areas and protecting more precious Galapagos species including iguanas, penguins, sea lions and their nesting grounds.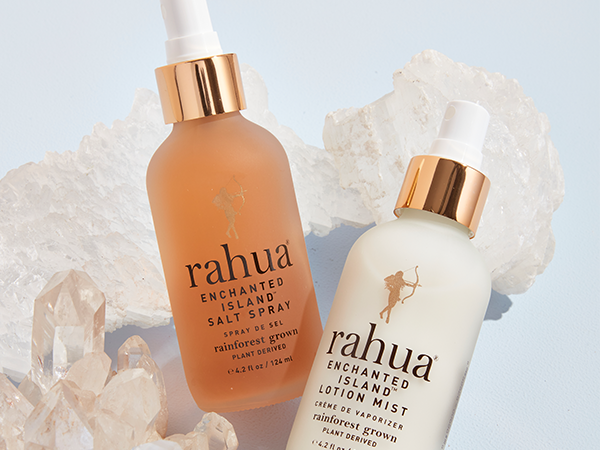 With their efforts to become carbon-neutral, Rahua has also preserved 37,500 hectares of pristine and biodiverse tribal lands deep in the Amazon Rainforest. The brand's commitment to the environment also includes water conservation, philanthropy, and recycling initiatives.
This month is a great time to try Rahua if you haven't done so before, or to try something new from the brand if you're already a fan, because, as mentioned above, Integrity Botanicals is giving out a sample of the Founders' Blend Scalp and Hair Treatment with EVERY. SINGLE. ORDER! You have to try it! I personally love how it makes my scalp feel cool and tingly (it contains a little peppermint!), and my hair is noticeably more soft after using it.  I've written before about my hair and my relationship to it, (click here for a picture of when my hair went down past my knees!!!!!)  so many of you who read the blog regularly know how important hair care is to me, and now this (seemingly-obvious) realization about the importance of scalp care, not just hair care, is really changing the way I think about mine. If you, like me and many, many Americans, are feeling like the stress of the past year has been rough on your hair, start healing with a focus on the scalp. After all, your roots are the future of your hair; the ends are just the part we cut off regularly (when it's not during a pandemic!). Start at the top, and you just might find the secret to better hair.