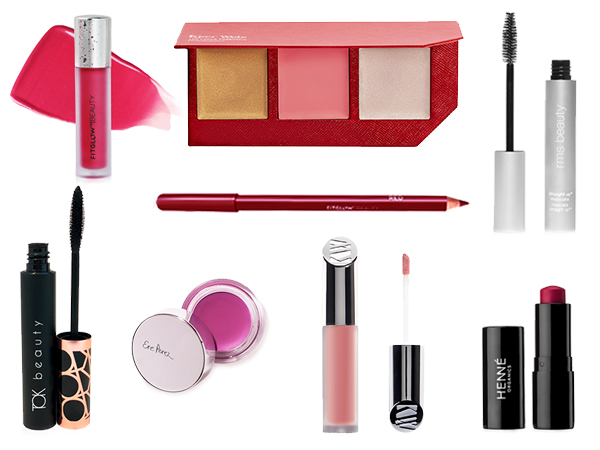 The pandemic is over!
Okay, it's not over, but you can stop wearing masks!
Well, you still should wear masks in some places, but not if you're vaccinated!
Hold on, there's another variant, let's see what it does….
So are masks… over? Are we still wearing masks????
Ah, the rollercoaster ride of the beginning of the end of the pandemic!
Confusing? Yes! Exhilarating? Sure! Strange? Always! Exciting? Definitely!
Every phase of the pandemic has been somewhat confusing, but there is one thing we know for sure right now: there are more and more occasions where fully vaccinated people can be without a face mask! Yay! And that means…. Makeup is back, baby! I mean, for me it was never gone, and a lot of people discovered a whole other look thanks to "zoom makeup," but the good old fashioned I'm-putting-on-mascara-and-lipstick-to-go-out look is back, and these new launches from several of our favorite brands are making it incredibly fun to create.
The creativity factor is a huge part of why I love wearing makeup. I love trying new products, or trying new things with products I already have, or trying to create looks that utilize products in a different way than I've been using them previously. I almost don't want to find "the perfect lipstick" or "the perfect mascara," because I would hate for the search to be over! It's the thrill of the chase, the promise of the next, new, best thing, that keeps me going.
So, as challenging as it has been (ha, ha) I've made a huge sacrifice for you, dear readers, and tested out all the buzzy, new beauty we have in stock. From Ere Perez's purple blush to Kjaer Weis' not-at-all-drying liquid lipstick, I've tried it all, and am here to spill every detail! So get your makeup brushes ready, the pandemic is… something, and we're all eager to get out there and take these new lewks for a test drive! (Wait, has the pandemic made me younger and cooler? I think so!)
I've long been a fan of Ere Perez's Carrot Colour Pots— they're vibrant and sheer and very easy to apply. I love how buildable the color is, because you can use them for everything from a subtle, daytime look to a very dramatic party look depending on how you layer it. That said, I was skeptical when I saw the brand's new shade of Colour Pot. I mean, it's gorgeous, truly, but I thought to myself, "I can't possibly pull off that shade of purple!! I am old and I have olive skin! Two strikes against me and purple!" But guess what? I tried it and, wow, it turns out that this shade is incredibly versatile, flattering, and gives me this truly natural-looking, just-came-in-off-the-beach feeling flush! I never realized how the tones in my own natural blush are actually more purple than I thought, and "Hey" really mimics that! Now, if you're aching for a dramatic look, this color works for that, too– just swipe on a few more layers on cheeks or lips, and you have a really unique, unexpected pop of color! All that from one tiny pot! I love it.
RMS is a brand I always recommend to people who doubt that a natural brand can do what a conventional brand can do– and more– because makeup artist founder Rose-Marie Swift has always created products that outperform the standards, and does so with all natural ingredients. But the one thing I was really craving from the brand was a stand-out mascara, and it has arrived! This is the one you've been waiting for: it lifts the lashes, it adds volume, it doesn't flake off or smudge after drying, and it contains peptides to strengthen and fortify lashes while you wear it. I use it when I want "fluffy" lashes– that full, lush look that makes me feel fresh and pretty but not too done-up or severe.
Speaking of mascaras, this new-to-Integrity-Botanicals brand is making some serious waves– waves in your lashes, that is! If you like a bold, dramatic look, TOK Beauty is for you. The silicone wand allows for mascara to truly coat every individual lash, and the pea protein and horsetail plant strengthen and fortify the lashes while you wear it. Best of all, bayberry wax provides hold (the waves) and also makes this formula water-resistant, so no smudging, flaking, or caking. At this phase of pandemic life, in those cases where you do have to put a mask on, it's good to have really great eyelashes to stand out, so mascara is key.
If you're anything like me, you have a few Fitglow Lip Colour Serums going at any given time. I keep one downstairs in my house, one upstairs in my bathroom's makeup area, one in my most-used purse, and one on the desk in my office. If you can't relate to this, it means you just haven't tried Fitglow Lip Colour Serum yet, because once you do, you won't want to be without it! These two new shades, Beam and Cheer, are no exception, and offer something for everyone. If you love sparkle, Beam is an amazing topcoat for any lipstick, or a perfect look on its own. It's a sheer, golden shimmer, and it looks good on absolutely anyone and everyone. Cheer is equally universally flattering, but in a very different way! A vibrant magenta, this is a fantastic choice for a post-mask summer! And, be sure to check back soon for the newest shade coming to Integrity Botanicals, called Rise – a vibrant coral!
Fitglow Beauty Vegan Eyeliners in Bronze, Starlight and Mulberry and Fitglow Vegan Lip Liner in Red
You know from reading this blog that I am a rebel. No, seriously– I often like to "misuse" my products, meaning I use them in ways they weren't necessarily intended. Nothing truly crazy; I just like to use eyeshadow on my lips or body butter in my hair sometimes, you know? So I was very excited to hear that these new liners from Fitglow Beauty use the same formula in the pencils for eyes and lips, because I was definitely planning to use some of the eye shades on my lips regardless!!! Bronze is the lipstick color of my dreams! I use it to fill in my lips completely and then pop a coat of shimmery Fitglow Lip Colour Serum in Beam, and I'm good to go! And of course, I use it as eyeliner, too, so last week when I took a day trip, I was able to bring one product instead of two.
Buying a Henné Luxury Lip Tint is like getting many products in one! I love how versatile these balms are. If you want a really subtle look you can apply on the go, without a mirror, and one coat of any shade will give you a polished look. If you want something more dramatic, add a few coats and you'll see a punch of color or a sultry stain, depending on the shade. In a pinch? These tints work on your cuticles (and I ALWAYS need something for my cuticles on the go!), as blush when a few coats are layered, and as an overnight lip conditioner if you're traveling and need moisture for dried-out lips! The new colors, Sunlit and Blissful are as different from each other as can be, but you're going to want both of them. Sunlit is a pinky-peach with subtle gold highlights– perfect for daytime on lips. Blissful is a deeper berry color that can be layered to be a bold lip or, with one coat, give you a just-kissed look. And I like both for cheeks as well, of course.
I think the last time I tried to use a long-lasting liquid lipstick, it was a Revlon product, and the year began with a 19, so suffice to say it's been at least 20+ years. I remember that the Revlon liquid lipstick was very drying, and by the end of the day, I'd have streaks of it in the creases of my lip skin, and it was not a very comfortable or glamorous look! But I had no hesitations when I saw that Kjaer Weis was making a Liquid Lipstick; not only has technology changed, but Kjaer Weis is absolutely the best when it comes to formulations that are vivid, wearable, and comfortable. This one feels moisturizing going on, but it sets and stays like a stain. As the name suggests, it is matte, which is fun because I usually wear lip gloss or lipstick with shimmer, so this Matte, Naturally Liquid Lipstick really fills a hole in my makeup collection. And if I do have to wear a mask for a bit, this lipstick doesn't get all over it in the way a gloss does.
These small-but-mighty quads launched in March, and I've been a fan ever since. I love anything Kjaer Weis, and it's in no small part thanks to the ultra-chic packaging, though honestly, it's what's inside that always counts for me. KW's makeup is simply amazing, and I will try (and usually love) anything they produce. I'm only recently big into eye shadow, but now that I'm hooked, I'm always looking for a good palette. No one uses one shade at a time, right? So if you're on the go, it's nice to have multiple shades on hand to create a smokey/bold/subtle eye. Enter Kjaer Weis' quadrants, a stripey version of the usual four-square palette, with an array of colors put together to compliment one another. I'm super into Spellbound, because I love to use that neutral grey color, Divine, as a smudgy liner, but I also could fall in love with Wanderer, honestly, because those earthy, cool neutrals are my go-to for daytime. Put either one in a Red Edition refillable compact or in a keep-forever, Iconic Edition silver one, and it's pure magic that you can fit in your pocket. Basically, a whole look in the palm of your hands.
Kjaer Weis Midsummer collection: 2 Cheek Collective palettes and 4 new Cream Eye Shadow shades
Speaking of palettes and collections, I am completely taken with Kjaer Weis' Midsummer Collection! I was at the launch party of a previous KW Midsummer Collection in 2018, on a warm, humid New York night that was full of the soft promise of long daylight and sultry summer nights. It was there I got to test out Kjaer Weis' Cream Eye Shadows for the first time. Now, three years and what feels like several lifetimes later thanks to a cross-country move (mine) and a pandemic (global), KW has reformulated their Cream Eye Shadows. What I thought was already perfect has gotten even better! These four new shades plus the original four are all in the new formula which is a little creamier and easier to blend. In addition, the thing I'm most excited about, is a limited edition Cheek Collective palette, which comes in two color combos, Sun Touched and Blossoming, and which contain combinations of new colors and bestselling shades of blush and highlighters. Oh, they are just so delicious and so completely "summer" to me– I love the warm pinks and the new golden hues– check out Delight from the Sun Touched palette and Gilded from the Blossoming palette for the ultimate summer glow. You know I love anything golden and/or shimmery, plus all things blush, so how could I resist these?! 
I leave you with these wishes for all of us, as we contemplate this new phase of pandemic summer. I hope this summer is better than last summer was for all of us. I hope that the social unrest of last summer is leading to sweeping social change this year and onwards. I hope that last summer's pandemic restrictions are distant memories thanks to this summer's vaccines. I hope that you find some joy in the ability to wear this new makeup out into the world of restaurants and gatherings and all the places that weren't accessible to us this time last year. And I hope that by next summer, the social change we seek has fully bloomed into true and lasting equity for all, and that with children hopefully getting vaccinated soon, we will be back to pre-pandemic summer normal in terms of travels, parties, and fun. Tag Integrity Botanicals in all your summer fun photos online– I love seeing how everyone uses these vibrant new makeup shades and formulas to feel confident, glowing, and fresh!