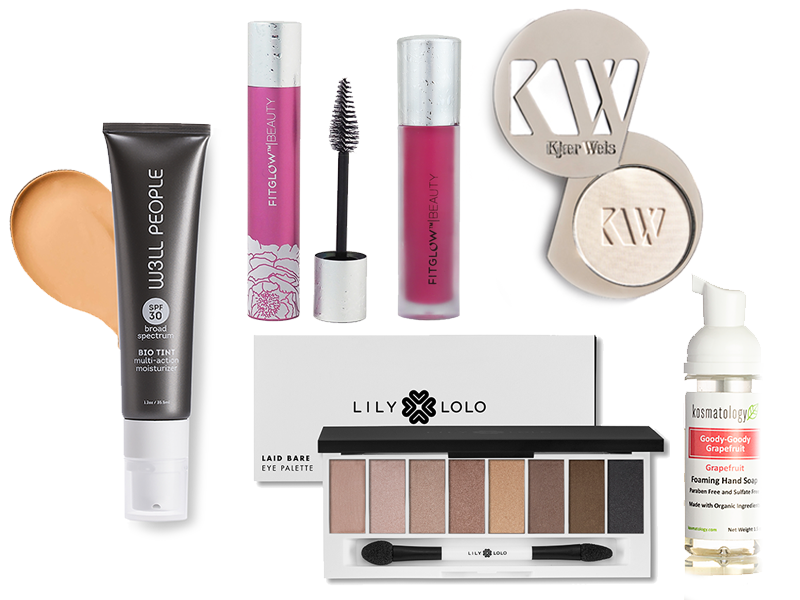 I really love to travel.
Wait, let me rephrase that: I really want to love to travel. And I really love the idea of travel.
But the actual reality is that travel kind of stresses me out! For example, right now as I write this, I am preparing to go on a trip for over three weeks! That is a long time to be away from my beauty products! I mean, that is a long time to be away from my friends and family!
But seriously.
That is a long time to be away from my huge array of beauty products I simply cannot live without! So how does a serious product junkie like myself pare it down to the absolute musts and pack for a big trip? Well, I'm not totally sure, but I am trying, and I'm happy to share my attempts with you all.
Here is what I can't live without for summer travel, the Makeup Edition Top 5, along with my tips for packing your most essential makeup for ease of use and maximum enjoyment.

Tip 1. Go for the ultimate multi-tasker! W3LL PEOPLE's Bio Tint Multi-Action Moisturizer SPF 30 
You may have guessed this about me, but, well, I can be a little high maintenance with my makeup/skincare. I like a little bit of color on my face, and my skin gets dry; plus I always want to be wearing SPF. That sounds like several products, right? Or a very tall order! Luckily, W3LL PEOPLE is up to the task and has created one product that does all that (hydrate, protect, sheer color) and more. Their Bio Tint Multi-Action moisturizer SPF 30 is the perfect makeup/skincare combo plus SPF that I can't live without. Thank goodness it's so easy to travel with, too— it's in a tube but it also has a pump and comes with a top that covers it to make sure it doesn't get all over my other cosmetics. Basically it's perfect design meets ultimate function, and it saves me from bringing three additional products. I wear "medium" in the summer, and it's just enough color to make me look like I have flawless skin (even when I don't!) without looking like I put on a full face of makeup to go to the grocery store. Pro tip: Wear this on the airplane. High altitudes means more sun exposure, so you need SPF on the plane. Bio Tint will also keep your skin hydrated through a flight, and you'll look put-together thanks to the tint.
2.  Go with what REALLY performs. Fitglow Beauty Vegan Good Lash+ Mascara  
Travel is not the time to mess around with some new experiment. I have to bring the things I KNOW FOR SURE will get the job done. Fitglow mascara is the only one that doesn't make me look a mess after a plane ride or time on the windy beach. It has a huge brush that deposits the right amount of mascara on my lashes and it doesn't flake off. And it doesn't irritate my eyes, which is really important to me since I insist on wearing mascara on long flights. I just feel more like me with mascara on! And this one survives me napping, which is also key for surviving long flights!
Fitglow mascara is a really good multipurpose mascara. It defines my lashes, but not with the huge drama that just screams "I'm wearing so much mascara!" because, again, I'm often just going to the grocery store or onto an airplane! Yet, when paired with a nice eyeliner or shadow, plus a great eyelash curler, it can be a special-occasion mascara and provide the va-va-voom I like for my eyes in photographs. Basically, you can use this mascara for a wedding or a PTA meeting. Like a little black dress, it's all about the accessories— dress it up or down, you only need one.
3. Go for something versatile. Lily Lolo Laid Bare Eye Palette  
Like the mascara above, the Lily Lolo Laid Bare Eye Palette is not only universally flattering and great for everyday, but can be used to make a more dramatic look for nighttime. For the more flashy, dressy looks, I get a completely different effect from this palette by wetting the brush and intensifying the colors. In general, I think palettes are so great for travel, but I definitely don't have the space to bring two eyeshadow palettes. I need one that answers all my needs, and this delivers, day to night. My upcoming trip includes multiple stops, and spans work meetings to family reunions and vacation activities. Basically, I need an eye palette that does it all.
This one has a lot of really universally-flattering shades that can look very natural and understated for daytime use, but that can also be layered for really exciting, dynamic looks when the occasion calls for it. For example, take Shy Away (smokey taupe with shimmer) and Skinny Dip (golden beige with shimmer), both of which can be used as daytime neutrals— one swipe, blended well looks incredibly natural, like my-skin-only-better, with a very subtle gleam— and then for nighttime, if you wet the brush and layer it on a little thicker, both of these mild-mannered by day shades can turn into glittering-yet-wearable alternatives. It's like magic. And then, my two personal favorite shades in this palette, Lady Godiva (a rich, shimmering gold) and Exposed (demi-matte charcoal, almost black), are my no-fails for both day and night. I put Exposed right into my lash line before applying mascara, which gives my lashes a fuller appearance, and then use Lady Godiva like a highlighter close to my brows.
4. Embrace vivid colors and skincare ingredients in your makeup. Fitglow Beauty Lip Color Serum
Fitglow Lip Serums could be called medicine for your lips, but they go on like makeup. It's not just the natural plumping agents contained within— and those are nice!— but what makes me truly love this lipgloss is the fact that it contains vegetable collagen, which strengthens the delicate skin of your lips for fullness and for the reduced visibility of those little lines we all get around the lips as we age. Add some antioxidants from pomegranate sterols and beet extract for improving circulation to promote lip cell detoxification and plumpness, and you've got a powerhouse that also happens to look pretty. These glosses are high on shine, low on stickiness, and provide the kind of moisture I usually only expect from a serious, colorless lip balm. Honestly, I often put the Fitglow Lip Serum on before bed, even though I really don't need the pigment or gloss at that hour, but just because I know it's going to moisturize and plump my lips while I sleep. So, when traveling, this is even more key. That's one less product I need to pack (and unpack for TSA and repack after security, on repeat) and keep track of. One product that gives me moisture, color, treatment, and shine.
This summer, FitGlow introduced two new colors: Liv, which is a very wearable magenta, and a lovely coral called Koi. Both these bold summer shades are perfect for the one-product-packing because they deliver a lot of color and the kind of statement you could wear for a night out on its own, no additional lipstick required. Just reapply as necessary for added color, plus, every time you put it on, you're giving your lips a dose of medicine to plump, repair, and reduce the appearance of fine lines. Home run!
5. Think mess-proof. Kjaer Weis Powder – Translucent  
Have you ever tried traveling with your favorite loose powder? You know how it works: by the time your bags have been through airport security, tossed around by you or hotel staff, tossed in and out of a rental car, etc., there is so much powder that has gotten loose(r) and all over your makeup bag, and you've lost half of the powder and the bathroom looks like a drug crime scene. So enter pressed powder! Honestly, I hadn't used a pressed powder in a decade… until I found Kjaer Weis Translucent Powder. Now, I'm hooked! I use it to set makeup and to tone down heat-induced shine and oiliness from too much sun. I love it for the light coverage that makes it perfect for summer. No one wants to completely mattify away that summer glow! It's great over Kjaer Weis foundation, which blends in so smoothly, making it look like I'm not wearing foundation at all. Neither the foundation nor the powder settle into fine lines, which is really the ultimate test of good makeup.
And while we're talking Kjaer Weis, the entire brand is just made for travel ease. I recently learned that their Collector's Kit is perfect for traveling. Did you know that the whole kit, filled, weighs about the same as their foundation compact?  The Cream Foundation is about 186g and the Collector's Kit is about 200g.  I know! It's amazingly light-weight, and the kit holds foundation, blush, bronzer, lip tint, and two eye shadows! Add your pressed powder compact, and you're set. I am so in love with this whole line, and the Collector's Kit just puts it over the top. 
I'm particularly obsessed with Kjaer Weis' new cream blush shade (you know that I, super-fan of blush, could not possibly go through this article without mentioning one!), called Reverence. It's a slightly cooler-toned version of another popular Kjaer Weis blush, Blossoming, which I also adore. I previously thought that cool toned colors weren't for me, but Reverence has taught me that a blush with blue undertones looks so natural, especially in the summer! I've seen it used on many different people with many different skin tones, and I can assure you that Reverence is universally flattering.
Bonus Tip: 6. Keep it Clean. Kosmatology Foaming Hand Soap – Travel
My last makeup must have is not even technically makeup. It's just a general must-have that will ensure you stay healthy and germ-free on the go. Kosmatology's travel-sized foaming hand soap is an absolute necessity for travel, and good to have before applying makeup out and about. Ever tried to get your hands clean enough to apply makeup in an airport bathroom or hotel lobby after a long flight? The commercial hand soap situation is gross, full of chemicals and artificial scents, and I never feel like my hands are really clean after using it.
With Kosmatology's hand soap, I know I'm really getting my hands clean before dipping a finger into my gorgeous Kjaer Weis blush or dabbing on powder from that Lily Lolo eyeshadow palette. The natural scents are from essential oils, of course, and the Botanical Bliss scent– lavender eucalyptus– is my favorite for travel because it calms me down.
I love that I can refill the little hand soap throughout the trip, too, because I use a lot of it! I pack extra Kosmatology liquid soap and just refill the foaming container, which fits into my TSA-approved baggie of carryon plane items, thank goodness, so I don't have to worry about ever being without it.
I'm trying to embrace packing as an opportunity to figure out what I REALLY love, and to bring only that.  Instead of the clutter most of us (okay, myself, especially) have around. I'm always trying new things and using up the things that didn't work so much but maybe cost a lot or have great ingredients I feel like I SHOULD use. For a couple of weeks, I can focus on just a few things I truly love, without all the guilt I often feel about wanting to use as many things as possible. And who knows, maybe my skin will even thank me for the simplicity! I know my back will thank me for the slightly-lighter, pared down suitcase.