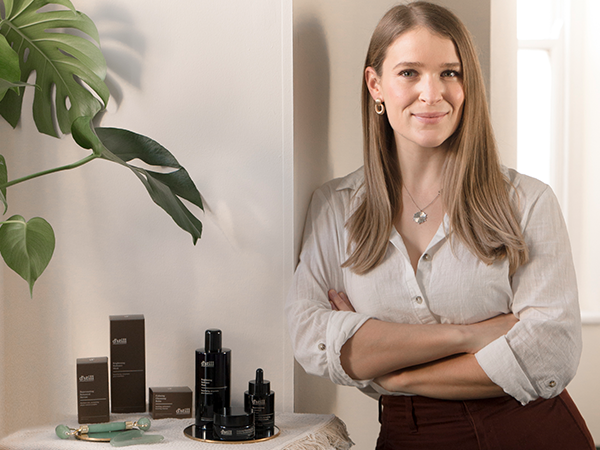 (Read all the way to the end for details on how to win your own 3-piece d'still travel set!)
Three time zones.
Two cameras.
One fantastic conversation!
On Tuesday, I had the pleasure of talking to Ula Blocksage, founder and formulator of d'still.
I have written about the brand in the past, here in this piece about all of our wonderful UK-made brands and my fantasy trip to England to meet all of them, and I have been enjoying using d'still products since I got a sample set this past fall. I listed the brand's Cleansing Balm as one of my favorite products of 2021, too:
d'still Calming Cleansing Balm – This UK brand is new to Integrity Botanicals and it didn't take long to become a stand-out favorite. I love this cleansing balm because it encourages me to sloooowwww doooowwwwwn and enjoy cleansing. The smell is amazing, the texture is perfect, and it actually rinses off quite easily!
…as did Integrity Botanicals co-founder Marc!:
d'still Calming Cleansing Balm –  I fell hard for the d'still Calming Cleansing Balm.  Why?  There is so much to love about this cleanser.  It is calming, soothing, anti-inflammatory and hydrating while at the same time deeply cleansing with white willow bark to decongest pores.  It smells amazing and feels amazing.  A little goes a long way.  Need I say more?
So I knew I really loved the brand. But getting to talk to Ula Blocksage really cemented my "superfan" status!
As I talked to Ula, I was reminded how the best part of my job as a beauty writer (in addition to all the new products I get to test out!) is getting to know the people who actually make the skincare, body care, and makeup we all love. It adds this dimension to beauty products that I usually can't share directly with you all, but try to convey when I write about why I love the brand. I love knowing why the founders decided to create the products, what they love about their job, all the "why"s behind the scenes. Having this IG LIVE conversation with Ula Blocksage of d'still meant that I got to share some of that experience with you all! You get to see firsthand Ula's passion for her work, hear her talk about the skin concerns that led her to study herbalism and organic skincare formulation and cosmetic science.
I'm so pleased to share this video conversation with you– I hope you enjoy it as much as I did!
Head over to our Instagram feed to enter the giveaway and you could be one of THREE winners who will get to discover the d'still ritual through this awesome Travel Set. Experience the product scents, the textures, performance and see how your skin feels even after the first application! Each deluxe sample is lovingly prepared and filled by hand in the U.K.
Each winner will receive Deluxe trial sizes of the following in a beautiful d'still branded bag:
Giveaway ends this Sunday, March 13th. See this Instagram post for all the details, and good luck! I know you're all going to love d'still!