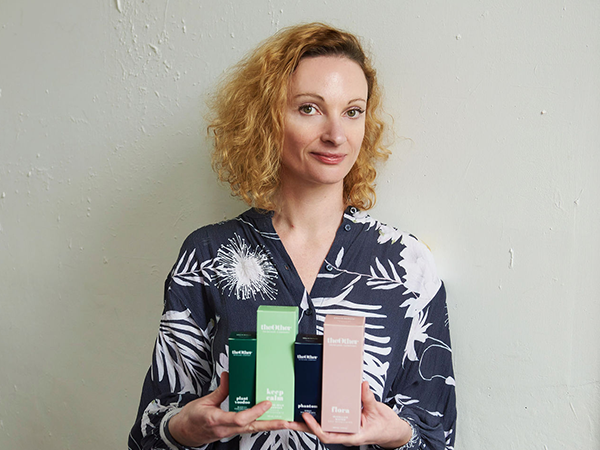 One doesn't usually expect a skincare line made for sensitive and acne-prone skin to also be luxurious and rich, but such is the beautiful paradox of The Other Skincare Company. The brand was created with the goal to establish and maintain a healthy skin barrier, which is one of those concepts that a lot of brands throw around because it's buzzy and popular, but upon which The Other Skincare Company truly delivers. The sleek, chic brand is as science-savvy as they come, while still utilizing the gorgeous potency of herbs and botanicals like chamomile and blue tansy.
I learned so much from the Instagram Live video interview I got to do with Elitsa Milanova, founder of The Other Skincare Company, and while I could gleefully recap it all here for you, the beauty of video interviews is that I can share it with you for you to experience yourself, in Elitsa's own words.
Before you watch the video, though, I want to share a few things I learned, so that you can keep an eye out for them in the interview:
1. The Other Skincare Company only launched in 2020! Which is incredible, considering how they have amassed dozens upon dozens of testimonials on their website and instagram that the products have transformed users' skin! With fans like that, it's no wonder they are catching the attention of beauty editors and awards…
2. Look out for when Elitsa talks about "skin-identical" ingredients– I found this very interesting.
3. The Other Skincare Company is launching a new product soon! See a sneak peek on the video, and then keep an eye on Integrity Botanicals to be the first to know when it's available!
4. Check out the part of the conversation where we talked about synthetic ingredients vs naturally-derived ingredients. I think this is one of the most important topics in "clean" beauty right now, and Elitsa's take is right on: sometimes synthetics are better than naturals! Seriously!
5. Similarly, look out for the part where we talk about how harsh treatments aren't always better for skin! Too much exfoliation is not good – watch our conversation to hear why!
6. Watch all the way to the end, because we're doing a GIVEAWAY! You could win ALL 4 THE OTHER SKINCARE PRODUCTS by entering on Integrity Botanicals' Instagram! One winner will receive the FULL collection, approximately a $200 value! The prize Includes full sizes of the following:
+ Keep Calm Oil-to-Milk Cleanser (such a pleasure to use, easy to rinse off, not at all drying!)
+ Flora Micellar Water (the cleanser/toner hybrid I didn't know I needed!)
+ Phantom Spray Moisturizer (my personal favorite– I can't help it!)
+ Plant Voodoo Clarifying Concentrate (spot-treatment or all-over treatment for acne, depending on your needs!)
The giveaway will end on Wednesday 4/27 at 11:59 pm PST. Winners will be announced on Thursday 4/28 on the entry Instagram post and in stories. U.S. entries only. All entries must be on Instagram.
Even if you don't personally have acne-prone skin, The Other Skincare Company is likely a good fit for you for one reason or another! It's moisturizing and hydrating, soothes rosacea or irritations, and it gently minimizes signs of aging by making skin appear more smooth and supple. Skin barrier function is the root answer to so many skin issues, and that is the specialty– and magic– of The Other Skincare Company. Enjoy the video, and be sure to enter the giveaway so you can experience the magic yourself!