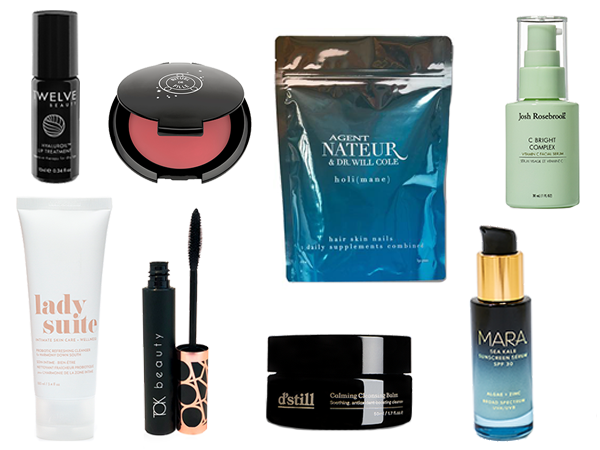 You all. I think I'm finally growing up.
This assignment, which used to be my least favorite because it's so challenging has, this year, become my *most* favorite BECAUSE it's so challenging! I might really be an actual adult at last!
This is our FOURTH Annual Staff Picks Best Of roundup and I'm finally embracing having to choose some favorites. It helps that this year, everyone gets to pick 5 things. In the past, we were all supposed to choose three things, and I always cheated by picking 5 (or 10!!) anyway. I'm glad to be able to follow both my heart AND the rules this year.
Let's recap for a second. For the best of 2018, I listed a bunch of "honorable mentions" to include more than my allotted three picks.
For the best of 2019, I chose products only released in 2019 to narrow it down.
For the best of 2020, I cheated and chose five instead of three (as per my usual) and also, two of my picks were ENTIRE BRANDS– Tata Harper and Organic Bath Co.— as is indicative of how hard it is for me to only choose a few products I love.
But this year, I'm a grown up. I'm putting on my big-girl pants and choosing my five products like the middle-aged lady that I am. I'm a MOM. I make decisions. I am responsible. I CAN DO THIS! … But I'm going to let the rest of the team go first.
Lives in New Jersey. Skin Type: Normal/Dry/Sensitive
1.) MO MI Beauty Gua Sha Comb – I never knew I needed a gua sha comb in my life until I tried this! The comb is so relaxing and calms my nerves. I love to use it with MO MI's Scalp Essence (which is really soothing for an irritated or dry/itchy scalp) but I also love to use this just on its own when I want a relaxing treatment at nighttime to wind down. The effects are instantaneous.
2.) TOK Beauty Mascara – Finally, a mascara that doesn't budge! I can wear this mascara without having to worry about raccoon eyes or setting my under-eye makeup for fear that my mascara may smudge. It's not totally foolproof so if you get teary-eyed this may transfer but it's minimal. This has been my holy-grail mascara for the last 9 months!
3.) Cleo + Coco Charcoal Deodorant in Sweet Surrender (Lavender Vanilla) – Another holy grail product that I've been using consistently for at least the last 6 months. I love the Lavender Vanilla for its warm scent during the cooler months and loved the Grapefruit Bergamot for its refreshing citrus scent during the hotter months. This deodorant really does the job! I don't need to re-apply or have to worry about this deodorant being effective. I'm definitely a gal that feels like she needs to apply more than needed for extra protection just in case. I also love the convenience of the tube and the best part – you don't need to rub in any excess with your fingers since it applies clear.
4.) Mount Lai Gua Sha Facial Lifting Tool in Amethyst – I've never been that much into facial tools until this past year. I wasn't totally sold on the idea since we can also use our fingers to get a deep massage. This tool is different though and I can see a difference in how plump and lifted my skin looks – the results are immediate. I'm 41 now and will be 42 in February (hence my liking for the Amethyst stone for being an Aquarius, plus it's different and pretty) and I've noticed my skin's elasticity is not what it used to be anymore. This tool makes me feel and look more awake and alive at the start of my day – love and can't live without!
5.) Agent Nateur holi(mane) – Last, but certainly not least, my can't live without daily supplement. I use this every day in my protein smoothie. It's tasteless so you can really add it to any drink. I've also added it to coffee but find it easiest to add to my shake every morning. I noticed a difference maybe a few weeks after using this…my hair felt stronger and my nails started to really grow. My hair dresser even noticed a difference without telling her anything new I was using. When I stopped using the product for a few weeks or so because the product continually sells out I also noticed a difference, more particularly with my nail growth. As soon as I picked it back up again, my hair and nails were flourishing again. Our customers love it too and keep coming back for more.
6.) I'm going to sneak in an extra lol ;)! Lady Suite Probiotic Cleanser for Harmony Down South – I know this is a topic that most women steer away from in talking about which products they use in the shower for our most sensitive areas BUT…this is a game changer and women need to know about this! This is the only cleanser I've been using for the past year and will continue to do so. It's the one product I can trust that won't leave me irritated. It's perfect in every way.
Lives in New Jersey. Skin Type: Combination/Oily/Acne Prone
1.) d'still Calming Cleansing Balm –  I fell hard for the d'still Calming Cleansing Balm.  Why?  There is so much to love about this cleanser.  It is calming, soothing, anti-inflammatory and hydrating while at the same time deeply cleansing with white willow bark to decongest pores.  It smells amazing and feels amazing.  A little goes a long way.  Need I say more?
2.) MARA Algae + Zinc Sea Kale Sunscreen Serum SPF 30 – This was a product that I was really excited to try when I heard it was in the pipeline and it lived up to all of my expectations.  Everyone knows how important a daily SPF is, but until now I haven't been able to find one that left me with a healthy glowy finish.  Finally, a SPF without the matte finish or white cast.
3.) Evolve Miracle Mask – I really like the simplicity of this mask.  It's easy to apply, easy to remove, no mess, no fuss and it only takes 5 minutes.  A fast and easy way to get your glow on.
4.) Live Botanical Hyaluronic Acid Hydrating Serum – This product is a staple in my routine.  It is lightweight, absorbs nicely and is not sticky or tacky in the way some other HA serums can be.  Super hydrating and leaves skin looking a little plumper.
5.) The Other Skincare Plant Voodoo Clarifying Concentrate and Phantom Spray Moisturizer – Okay, I am kind of cheating here, but I feel like these two are an inseparable dynamic duo in the fight against breakouts and inflammation.  Black cumin, watermelon seed oil, and salicylic acid bring the fight to breakouts. But, don't be fooled into thinking these two are a one trick pony for battling acne.  They are packed with anti-aging ingredients like ceramides, hyaluronic acid, resveratrol and bakuchiol.  My go-to for breakouts.  Leaves skin looking healthy and glowy.  I've been really impressed with this whole line.
Lives in Florida.  Skin Type: Normal/Dry
1. Rituel de Fille Color Nectar Pigment Balm in Bee Sting – This watercolor-esque formula completely stole my heart! The shade Bee Sting is the most incredible warm pink that can brighten just about any skin tone. Since these are multi-use products you can also throw a little on the lids and lips for a tonal complete look. It is easy and goes with any look.
2. Twelve Beauty Hyaluroil Lip Treatment – Ok, I definitely chose this last year but it just HAS to be chosen again. The ultimate hydrating lip treatment that is plush and intensely hydrating. A forever staple in my beauty arsenal.
3. Axiology Lip 2 Lid Balmie in Champagne – Is it becoming clear that I love a hydrating multi-use product yet? This is no exception. The most beautiful everyday highlighter for the cheeks and eyes. It is incredibly travel friendly and ZERO WASTE! Chose any of their amazing 14 shades but this is the one I am always reaching for!
4. Rituel de Fille Enchanted Lip Sheer in Whitethorn – The older I get the more I become a total creature of habit with my lip products. This one from Rituel de Fille is so comfortable, and the most beautiful warm peach toned nude. Gives just the right amount of color and a perfect shade to throw in your purse!
5. MO MI Protect & Nourish Hair Nail Serum – 2021 was the year I tried to be more kind to my hair! I love a blow out, but I loved all the long term maintenance quite a bit less. Cue this Mo Mi launch! I loved this product so much because it's hydrating and smoothing for frizzy hair. Best part? Whatever is left over on your hands just rub on your cuticles and they will be looking at good as your hair!
Lives in Arkansas. Skin type: Normal/Sensitive
1. Kypris Beauty Moonlight Catalyst – I love this overnight serum! I've found that every time I use it, I wake up with glowy, dewier skin. It is such a great multi-tasking product and I love that it does all of the work as I sleep!
2. 100% Pure Coffee Bean Caffeine Eye Cream – This has been a holy grail for me every morning! I tend to be a bit puffy when I wake up and this cream always does the trick. I love to store it in the fridge so that it is cool when applying it.
3. TOK Beauty Mascara – This is my daily mascara and it is by far my favorite for lengthening and separating my lashes. I've tried so many mascaras and this one continues to be a top contender. It never clumps and I love the formulation as well, it is not irritating in any way!
4. Agent Nateur Holi (Oil) Ageless Face Serum – This face oil/serum is so lovely as the last step before makeup or to seal everything in during my nighttime skincare routine. It feels so nice on my skin but it isn't too heavy.
5. Josh Rosebrook Hydrating Accelerator – The Hydrating Accelerator continues to be a favorite of mine time and time again. It is so refreshing, smells amazing and I always pick it up when my skin just needs an extra boost. It is simply the best!
Lives in Los Angeles, California.  Skin Type: Normal/Dry
Here's a refresher of what I picked last year (and I stand by all of these as continued favorites!)
For 2021, here are my favorites:
1. d'still Calming Cleansing Balm – This UK brand is new to Integrity Botanicals and it didn't take long to become a stand-out favorite. I love this cleansing balm because it encourages me to sloooowwww doooowwwwwn and enjoy cleansing. The smell is amazing, the texture is perfect, and it actually rinses off quite easily!
2. Josh Rosebrook's C Bright Complex  – Josh always knows exactly what I need. Like, before I know it. But this has been working out well for me for years– Josh Rosebrook releases a new product, I try it, I realize it's exactly what had been missing from my skincare routine, I fall in love with the product, and it becomes a new staple! This Vitamin C serum is no exception. I love the texture and the results. I put it on in the mornings under my tinted SPF and makeup, and sometimes at night under my moisturizers.
3. Axiology Balmies – Axiology has been one of my favorite brands for so long, and it is truly exciting to have it here at Integrity Botanicals! The formulas of the lipsticks,  lip crayons, and Balmies are all so great, but the zero-waste packaging of the Balmies is especially amazing. I really love the Balmies, especially this set, Fire and Spice.  It has two shimmery shades (and you know I love some shimmer!) and one, Chestnut is a bronze (and you know I love bronze!) and the other, Caramel, a nice highlighter, plus a peppy red, Strawberry, that is my new favorite blush! And zero waste packaging!!! The cherry– er, strawberry– on top!
4. TOK Beauty Mascara – I am not the only one to choose this mascara for my list this year (see above: both Terri and Ashley S. chose this, too!)! There's a reason we all adore it: It's perfect! It makes it look like I'm wearing false lashes if I put on several coats, or, if I go lighter on the coats, I get a nice, natural lifted, curled, and separated look (without having to actually curl my lashes!).
5.  Maya Chia The Super Blend is not new, nor has it changed (thank goodness) or been updated (there is no need to), but I'm writing about it because it's one of the rare products I keep coming back to. I sample new things all the time, and really enjoy the excitement and constant change that comes with trying new things. But sometimes, a particular product just keeps calling me back– nothing compares to it. This describes everything Maya Chia, honestly, but especially the Super Blend, here in dry California. It's a really amazing multi-tasking serum plus balm, and I love it.
6. Osmia is another brand I just keep coming back to. You know the expression, "East, West, Home is Best"? That is what Osmia feels like to me. It feels like home. My two favorites: the brand's Body Oils (they're all terrific, but I'm highlighting Night here– it's so soothing to put on before bed!) and the new-and-improved-but-thankfully-not-much-different-in-the-best-way Purely Simply Face Cream (which I have to buy in bulk because my husband also loves it and I am not good at sharing skincare!). The Purely Simple got a nice packaging upgrade, too, with a beautiful glass bottle.
7. Ursa Major Golden Hour Recovery Cream is so underrated. It's SO GOOD and I think everyone should be talking about it all the time and everywhere, so I'm posting about it here, just for you! Every time I use it, I'm amazed at how long-lasting the moisture is– my skin still feels hydrated and moisturized hours later. *Chef's kiss!*
Don't say it. I chose seven products. I don't want to talk about it. We're just going to pretend I only chose five, and don't make a big thing out of it.
Oh, man. Maybe I'm not all grown up. Maybe I'm still a kid, wanting "five more minutes, please!" or, in this case, two extra products to write about! I can't help it. Skincare and body care and makeup all make me feel like a kid in the best possible way, and in that regard, I guess I hope I never grow up. Adulting is overrated. We have to do it all the time in real life; we should all get to be kids when it comes to things like our skincare! (Except when it comes to Retinol. Because if you're an adult, you need some kind of Retinol. And SPF. Every day– even when it's cloudy. And wash your face every night, even if you don't wear makeup. And apply a moisturizer or oil. And with an oil, you'll need a toner, don't forget!).
Oh, there it is. I am a grown up, after all. Happy 2022, everyone. Wear sunscreen!