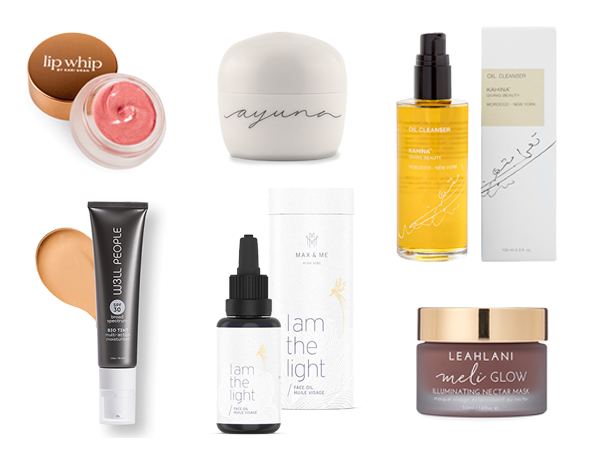 I've been writing the blog for Integrity Botanicals for a while now. This is my 17th blog post here, and, since it contains entries from all my co-workers, it's the one where I have to do the least amount of writing. AND YET. This is the hardest assignment I've ever been given. Those absolute monsters, Terri and Marc, have asked each member of our team to do something so completely difficult: choose our favorite products. AND WE CAN ONLY CHOOSE THREE. Yes, they are monsters, I tell you! Monsters! (I'm kidding, they are, like, literally, the best people ever. Aside from this assignment. Here's a photo of us at Indie Beauty Expo this past summer).
I've been up late at night worrying about this. How can I possibly choose only 3 things as favorites?! It's like telling me that I can only choose one favorite of my two children! (I always tell them that they are both my favorite– my favorite first-born and my favorite last-born! Or my favorite son and my favorite daughter! Basically, I'm always looking for ways to cheat the system, because they are both awesome.)
How am I supposed to narrow my beloved beauty products down to only three favorites? I suggested three favorites PER CATEGORY (3 favorite mascaras, 3 favorite oil cleansers, 3 favorite body moisturizers, 3 favorite cream eye shadows, etc.) but I am told that no one wants to read that long of a blog post (YOU are the monsters!) and I totally (only kind of) get it.
So I'm being forced against my will to choose just 3 things. And it's rough, you guys. I love my beauty products like some people love their children (and I love my kids EVEN MORE, so don't worry) and this choice is tearing me apart.
I will put off having to choose as long as possible, so I'm making my co-workers go first. If you've ever wondered what products people would use if that had access to literally ALL THE BEST products, this is your chance. Everyone who works at Integrity Botanicals has had the amazing privilege of trying out all the coolest goodies, the things that everyone else wishes they could try.
Here are their top picks, and, at the bottom, I will find a way to whittle my list down to at least 475 items. Okay, 238. Okay, I'm working on it.
Lives in New Jersey. Skin Type: Normal/Dry/Sensitive
1.  Leahlani Meli Glow Illuminating Nectar Mask — I've gone through 4 jars of this Hawaiian magic in the past year! It's my go-to mask whenever my skin is looking dull or feeling dry. It's also a must for me to apply this mask anytime we are going to an event or catching up with friends or family. This product does what it claims and really gives me a glow – I've gotten compliments on my skin and how 'glowy' it looks when using it.
2.  FITGLOW BEAUTY Conceal + — I can't leave home without this product. It's a must-have for me ever since having our second child, who was born this past June. I have many sleepless nights(still!) and have had to battle puffiness and dark circles daily. This product applies smooth without any mess (thanks to the wand applicator), covers extremely well with one application and does not cake or settle into fine lines. When I have time, I love to use this on top of FITGLOW's Eye Bright.
3.  W3LL PEOPLE Optimist Semi-Matte Lipstick — These lipsticks are so pigmented!  I can't believe how long these really last on the lips, I'm talking hours.  My favorite lip color is the shade called "New Mystic."  It's a pretty berry that matches my lips perfectly but is deeper and goes so well with my skin tone.  (In fact, I'm wearing it in my pic above! And, this is after having a full meal.) This lipstick instantly pulls my look together.  I also love to wear it with Vapour's Multi-Use Stain in Lure on my cheeks – it's the perfect match.
Lives in New Jersey. Skin Type: Combination/Oily/Acne Prone
1.  Ayuna Cream I — I have long been a face oil / face balm person, but the Ayuna Cream has made me a convert. The Cream I leaves my skin feeling perfectly hydrated, balances my complexion and evens out my skin tone. It is simple yet luxurious and I love the signature scent of the Ayuna line.
2.  One Love Organics Love + Charcoal Masque — This is my sleeper product of the year. This launched last February and never seemed to get the attention it deserved. It has a nice creamy, almost whipped texture and feels cool on the skin when you apply it. There's no messy powder to clean up at the bathroom sink. It clears and decongests pores and the lactic acid leaves your skin with a healthy glow. It's probably my favorite mask right now.
3.  Routine Superstar Deodorant — I have to admit that I almost overlooked this product altogether since we weren't really looking for another deodorant in a pot to carry, but this line is amazing! It is super creamy, applies easily and smells fantastic. Everyone I have given a sample to has gone crazy for it. (Coming soon to Integrity Botanicals February 2019.)
Lives in New Jersey.  Skin Type: Normal/Dry
1.  LILFOX Sandalo Sandalwood Toning Mist — Aromatherapy is very important to me when choosing skincare products, and sandalwood is one of my favorite scents. This mist smells amazing and is infused with smoky quartz, which is an added bonus.
2.  Max and Me "I am the Light" Facial Oil — It's lightweight and absorbs into your skin quickly, leaving just the right amount of dewiness behind. I also love the thought and energy that is put into Max and Me products.
3.  Leahlani Skincare Bless Beauty Balm — The scent is completely intoxicating, and it just so happens to work amazingly well for year-round use. Bless Balm is just as effective on sun-drenched skin after a day at the beach as it is in the dead of winter, when my skin is at its driest.
Lives in New Jersey.  Skin Type: Combination/Sensitive/Acne Prone
1.  Kari Gran Lip Whip in Rosie Gold — This product is extremely moisturizing and I think the color would be suitable for any skin tone. The slight shimmer is very pretty on the lips and I've found that the moisture really sinks in and keeps your lips soft and smooth all day! It feels like you're putting butter on your lips, and just leaves a shiny, plump sheer pink shimmer.
2.  Leahlani Skincare Kalima Coconut Cream Cleansing Powder — I love that this product is very versatile and you can use it in many different ways. Some of my favorite ways are to mix it with a creamy cleanser or mask to add some extra exfoliation, and on its own mixed with just a little bit of water. It comes with a lot of product and the bottle lasts a long time. My skin feels smooth and happy after I use this product. This also is one of the best smelling skincare products I have ever tried!
3.  Mahalo Balm — I have honestly seen a difference in my skin ever since I started using it. I like to use it after a serum/oil both day and night and I feel like it locks all of the moisture into place. You need the tiniest amount of this product, a little really goes a long way. I have acne prone skin and I haven't broken out at all ever since I started using this. I feel like it evens out my skin, while providing a lot of moisture and smoothing out the texture while also keeping my acne away. It also has a beautiful color and smells nice!
Lives in Florida.  Skin Type: Normal/Dry
1.  Fitglow Beauty Lip Colour Serums — These glosses are the most comfortable, cushiony soft option on the market. Not only that but the shade range is so wearable and includes something for EVERYONE.
2.  Aster & Bay Avo Eye Serum — This is so intensely hydrating yet sits beautifully underneath makeup. I love the simple, easy to apply roll on applicator as well.
3.  Kahina Giving Beauty Oil Cleanser — I love many oil cleansers, but this one particularly stole my heart. It is a water soluble formula so you don't need a hot cloth to remove it, it breaks down the heaviest of makeup with ease, and leaves no sort of residue on the skin once you rinse it off. It's perfect!
Lives in Brooklyn.  Skin Type: Normal/Dry
Emily's Top 30 products. (Oh, look at that— an extra zero there made 3 into 30! That's convenient. Okay, okay, I will list 3.)
1. Maya Chia Supercritical Chia Waterless Wonder Balm
It's a moisturizer, it's a lip balm, it's a solid perfume. I love how it smells, how it feels on my rough elbows and knees, and how it makes my lips soft and sweet-smelling before bed. Is there anything this balm can't do? No. There's nothing it can't do. I've put it all over my body when my skin is particularly dry, and even on my face. I've used it to get gum out of the hair a kid at a playground. I've used it as "boo-boo cream" on my kids' cuts and scrapes. I am serious, there is nothing this balm can't do.
Only 2 more?! I can't do this, It's too hard. Don't make me. Okay, I can do this. Two more. Deep breath.
2. W3LL PEOPLE Bio Tint Multi-Action Moisturizer SPF 30
It's hard for me to force myself to wear SPF year-round, but this moisturizer makes it easy. It delivers just the right amount of pigment for medium coverage, and simplifies my busy mornings into one step. I love how the broccoli seed oil makes it feel slick and soft in just the right way, and the pump dispenser is so convenient. I don't look like I'm wearing a full face of makeup, but I do look subtly polished, and the same shade (medium) miraculously works for me year-round, whether I'm tan or not. It doesn't settle into my fine lines. It's basically a miracle!
3. Red Flower Softening Hand Lotions 
This is the first year in a long time that I haven't had cracks on my hands from winter cold and too much hand-washing (necessary with toddlers in the house). It's thanks to this hand lotion, which is light enough to absorb easily, but heavy enough to deliver moisture and keep my hands from cracking. The Wanderlust scent is one of my favorite things in the world. I was particularly ticked when my dad, visiting a few weeks ago, was impressed by this lotion. He couldn't believe it was all natural, and I was so happy to say that it was!
4. I know! I'm sorry! I have to list a few honorable mentions:
La Bella Figura La Flora face oil and The Clean Slate 
Leahlani Skincare everything. Seriously, just everything.
One Love Organics Skin Dew Coconut Water Cream 
Josh Rosebrook Vital Balm Cream 
RMS Beauty Eye Polish (which I use all over my face as lip color and bronzer/highlighters!) 
Okay, I have to stop. I could go on all day and end up probably listing every product on Integrity Botanicals, because they're all great, or Marc and Terri wouldn't carry them! Every single product is special, and I feel badly singling out my favorites and runners up, because I know I left out so many truly spectacular brands and founders and products! Oh, this was so hard! I have to go take a nap to recover from the stress of trying to choose 3 favorite products. It was intense.
I hope you all love reading about our picks, and please know that if there's a product we didn't pick, we probably still love it, and we definitely want to hear from you about what it is you love so much. And to all the products out there I didn't mention, you're each a special flower, and I love you all like my own children! (Okay, I love my own children just slightly more than any products, but don't tell the products that.)