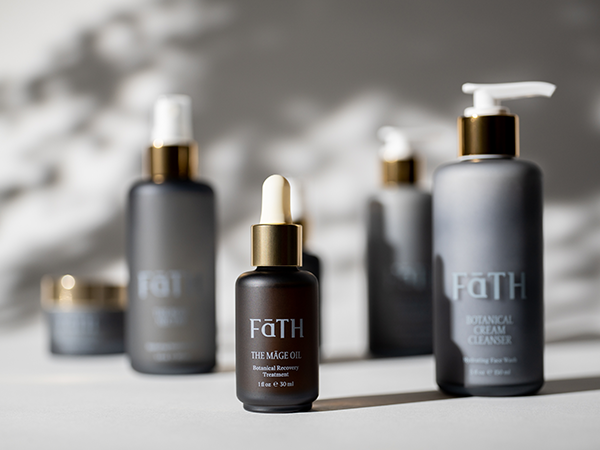 I thought I never needed to "meet" another new skincare brand– what could one offer me that I don't already have and love from Maya Chia, Josh Rosebrook, One Love Organics, Leahlani, Tata Harper, etc.?
It turns out that my capacity for loving new skincare brands is like my feelings about my kids. When I had just one, I thought I could never love another human being as much. Then I had a second kid, and realized that I could love another person just as much in a different, unique way. Love grows, and there's always room for more. The heart's capacity for love is ever-expanding. And with skincare, just like with multiple children, there's no need to love one "more" or "better"– there's always room for something new and different.
This is how I came to understand my love for FāTH Luxury Skincare. At first, I will be honest, I thought, okay, another skincare line with a farm, I get it. But I was too hasty. I couldn't quite imagine what would make this new line so special that I'd make (counter) space for it in my life (and bathroom).
But as I researched and learned more about FāTH, I fell hard and fast for the unique ingredients, the brilliant formulations, and the impeccable sourcing.
I was lucky enough to get to interview FāTH founder Faith Appleton, and I wanted to share her answers with you. Keep reading after our conversation for my impressions of the brand and what product I think you should try first! Plus, there's a special offer there for our readers! (Spoiler alert, it includes a Free Deluxe Sample with any FāTH purchase and it's amazing!)
Emily Barth Isler: When did you first become interested in skincare?
Faith Appleton: As a girl I spent my summers on my family's island off the coast of Maine. In a totally off-the-grid cabin with no electricity or running water, there was little to do for entertainment. Born out of boredom and my love of wading off the rocky coast, I made my first skincare product — a muddled seaweed mask that I lovingly slathered on family, friends and self, not knowing that would eventually become my lifelong passion.
EBI: When did you decide to launch your own line?
FA: My background is in policy, but I have been researching and working with botanicals for as long as I can remember. As part of homeschooling our three children, we explored permaculture and biodiversity and the farm experiment grew from there. I had been quietly tinkering with herbs and formulas for almost a decade, and when my children became teenagers I was finally able to give more of my heart and energy towards building FāTH.
EBI: Tell us about your farm! We hear that you don't use your own plants in your skincare formulations (yet!) but what do you learn from growing plants on the farm?
FA: Apple Street Farm is one of the oldest homesteads in Massachusetts and dates back to the 1600's! It's where I live with my family, our three rescue horses, countless chickens, a handful of barn cats and two farm dogs. It's also the home of our FāTH HQ, our bottling facility and our botanical research garden. Our mission is to breathe life back into the land by conducting soil restoration projects, planting biodiverse botanicals and connecting back to the earth. It's where we fall in love with new plants and dream up new formulations. It's where I hang up from conference calls and rush off to dig my hands into the dirt between meetings. There is always work to be done on the farm; always an animal that needs love, a fox to gently chase away, a row of herbs that needs tending. It's work I'm always proud to do because I know the farm has so many lessons for me.
EBI: What's FāTH's hero product, and why?
FA: From the moment we launched, The Mage Oil very quickly became our hero product. It's a blend of 29 botanicals chosen for their ability to stimulate, fortify and renew the skin. It has a delicious amber color and a deep earthy scent that is not too floral, not too overpowering, and an amazing texture that is exceptionally hydrating, without being too heavy. It blends so beautifully with both of our creams (many of our clients like to mix them up in their hands before applying!) I also think many people have gravitated to the Mage Oil because of the idea that it represents. Our entire collection (and especially the Mage Oil) is designed to be a ritual that reconnects you to the natural world, welcoming you home to the ancient wisdom that lives deep within each of us, an experience we call "meeting your mage."
EBI: Where do you see the brand in the future? What would you love to expand to?
FA: We have some exciting new launches coming up later this year that will help to complete our full line. Stay Tuned!
EBI:  What do you want readers to know about what sets FāTH apart from other skincare brands out there?
FA: Our formulation process is quite unique. When I dream up a new product, I like to let the formula come to me over time. Sometimes I'll have product idea while walking around the farm, sometimes I wake up from a dream and rush to scribble down a new ingredient idea. I then take this horticulture insight to our amazing chemist (who also holds a PhD in Herbology) and she makes it a reality. She specializes in emulsification and skincare delivery systems and her ability to make the most luxurious textures and ground breaking formulas never ceases to amaze me. Our batches are always made in very small quantities to ensure that our clients are always receiving the most vibrant and potent skincare experience.
I don't know if it's the small batches or, as Faith said, the luxurious textures and ground breaking formulas, but reader, I'm all in. Dare I say, and this is a true compliment, that FāTH is likely to be the next Tata Harper!
I was sent a five-step FāTH skincare routine and, while I sometimes will try one new product at a time, this time I decided to jump right in and try the entire routine– that's how much faith I had in FāTH!
I started with the Resurfacing Botanical Cleanser. Reminiscent of Tata Harper's Regenerating Cleanser, yet slightly physically more gentle and subtle, this cleanser uses kaolin white clay and sustainable bamboo fibers as physical exfoliants, plus pomegranate enzymes to further exfoliate. I rubbed it in and left it on my face for a few moments as I took a shower, and enjoyed the dual-mask-and-treatment properties of the Resurfacing Botanical Cleanser.
After rinsing clean, I used the line's toner, The Rose Nectar. Rose scents can be tricky for me, as I'm super-sensitive to smells, but this one strikes the perfect balance of floral and earthy, with a scent that isn't at all overpowering like many rose extracts.
Next I put on a sample of a magical, special, incredible serum coming soon! I can't say more yet, but you're going to LOVE it!
Then, a few drops of The Mage Oil that Faith mentioned above, and it is every bit as great as she says. It reminds me a bit of Vintner's Daughter's Active Botanical Serum, which is a very high compliment, of course, and boasts ingredients I love like Helichrysum extract, Prickly Pear oil, and Arnica, which is so great for irritated or stressed out skin.
(If you're wondering what makes The Mage Oil and Vintner's Daughter's ABS different, here are a few things to consider. They use different carrier oils; Vintner's Daughter is based in grape-seed oil, which is more lightweight. The Mage Oil is based in Camellia seed oil, a richer, silkier oil. Also, The Mage Oil has a more subtle scent whereas the Vintner's Daughter has a more floral scent. It all depends on what YOU love. There's really something out there for everyone, folks!)
As a last step, I experienced the pure, cloud-like bliss of The Infinity Cream. I love this aptly-named cream for its lasting moisture, its subtle scent, and it's truly soft-and-fluffy feel. It spreads over the skin easily and sinks in quickly, so I could rest assured it didn't all just rub off on my pillow while I slept. FāTH recommends it mixed with The Mage Oil if you prefer, but I enjoyed applying each layer individually to really savor and enjoy the ritual experience.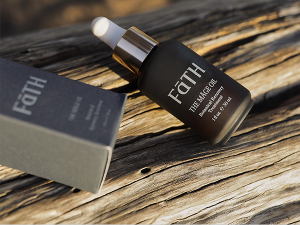 Right now we have a special offer: Receive a Free Deluxe Sample of the The Rose Cream or The Infinity Cream (0.25 oz) with any FāTH purchase using code: ROSE or INFINITY. This is a really generous size for a free sample and should last you a week or two!
I promised, above, that I would tell you my pick for what product you should try first from this gorgeous new line… and now that we're here, I'm finding it hard to choose just one! But I keep coming back to The Mage Oil. It's meant for absolutely every skin type, making it a versatile product that can be used morning, night, or both! I hope everyone reading this can get their hands on some FāTH magic. You know I can't resist saying– especially because it's true– "You gotta have FāTH!"