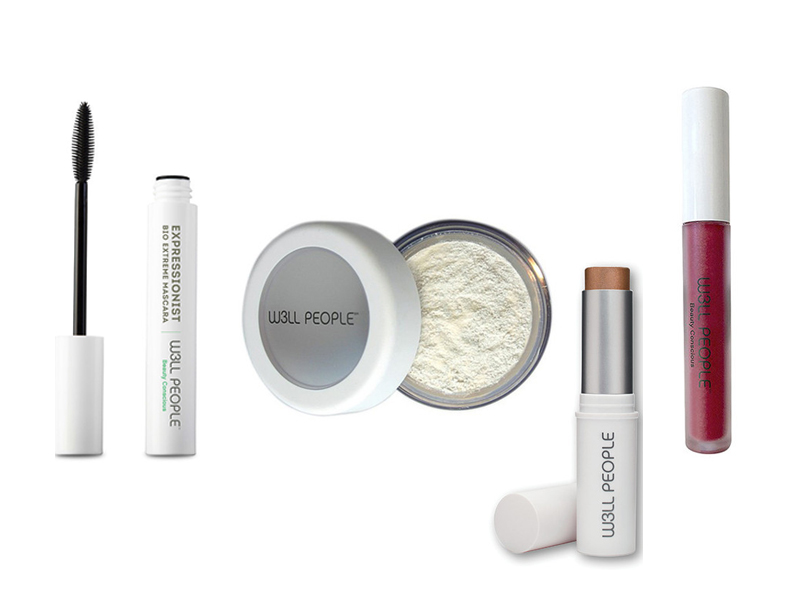 As you can see, my fall makeup bag features lots of W3LL PEOPLE. It's a W3LL PEOPLE kind of fall! I've left out a few items that are a new addition to my makeup bag this season, but don't worry—those will get a special review later this month. (Hint: Kjaer Weis is launching at Integrity Botanicals!)
I've been a fan of W3LL PEOPLE since the original packaging was in effect years ago, and I've loved watching this brand grow. Their products get better and better because they are always looking to improve and bring cutting edge, high performing healthy formulas to the market. If you ever go to Austin, you must check out the W3LL PEOPLE Studio and have your makeup done by their incredible makeup artists. It's an experience that will stay with you, from the warm smiles to the fabulous application tips.
Here are a few makeup products that I can't live without this fall…
If you didn't catch my blog post on keeping your summer glow, then take note—the W3LL PEOPLE Bio Bronzer Stick is the bronzer I keep reaching for each day to add sun-kissed color to my cheeks and face. For daily makeup, I love the very on-trend fresh-skinned look, and I can achieve that easily by skipping the blush and relying entirely on the Bio Bronzer. The creamy formula is so easy to blend, so it only takes a few seconds to apply, and I just love the healthy glow it gives.
As the weather gets cooler, you may need to adjust your makeup products. Naturally, there's less concern about sweating off your foundation and more concern about keeping skin from drying out. The W3LL PEOPLE Bio Brightener Powder is the perfect setting powder for this time of year. It's a non-drying powder that provides a radiant, soft-focus effect and illuminates without looking shimmery. The formula includes aloe powder to help keep skin from drying out and it smells faintly of chamomile and green tea, two ingredients included for their anti-inflammatory and antioxidant effects.
I have completely rediscovered the W3LL PEOPLE Expressionist Bio Extreme Mascara in the last month. When the formula was first launched, I tried it and filed it away as lengthening but not volumizing enough. I decided to give it another try when they won a Best in Beauty award from Allure, and I'm so glad I did! What I discovered is that for my thin blonde lashes, I need a few coats of this mascara, but that isn't a problem at all since it layers beautifully, never clumping or flaking. Instead, I get the glossy full lashes of my dreams.
If you read my post on the perfect berry lip colors for fall, you know that the W3LL PEOPLE Bio Extreme Lip Gloss in Berry definitely makes the cut. This is one I reach for on the go for daily wear because I can apply it without a mirror, it conditions beautifully and it deposits just a touch of berry color for a fresh, no-fuss look. It uses peptide technology to plump lips and increase lip volume. Plus, wintergreen, spearmint and star anise make the formula extra delicious.
 Do you love W3LL PEOPLE, too? What's in your makeup bag this fall?