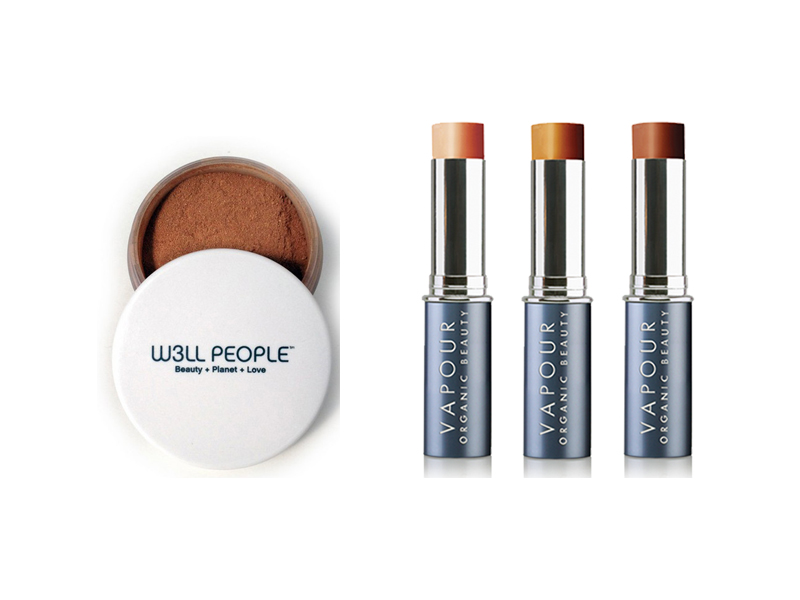 The summer is almost behind us, but I don't plan to give up my sun-kissed glow anytime soon. Since the glow I speak of actually comes from a healthy skincare routine plus a few key makeup products, I don't have to! Bronzer used to be one of those products that I felt a little clueless about, but once I got a tutorial from a friend far more capable in the makeup department than I, bronzer went from a "what's the point?" to a "can't leave the house without it!" product. With a subtle touch, bronzer can help you achieve that no-makeup look while still looking fresh and awake, or it can accent and enhance a full makeup look. The key is all in the placement and technique, but don't be intimidated—it's quick and easy!
Here's what I do: suck in your cheeks a little to locate the hollow area right under your cheekbones. Apply below the cheekbones and round up to the temples in a "C" shape. Finish the effect by lightly applying to the forehead, nose and chin. If you're using a stick bronzer, like the Vapour Organic Beauty Solar Translucent Bronzer, do this by tracing the "C" shape lightly with the stick, and then blend in and out toward your hairline and ears. If you're using a powder bronzer, like the W3LL PEOPLE Bio Bronzer, use the same technique but apply by swirling a brush such as the W3LL PEOPLE Kabuki Brush into the bronzing powder and tapping loose the excess powder before sweeping it on and blending in. Look for the areas where the sun would naturally kiss your face.
The Vapour Organic Beauty Solar Translucent Bronzer is a favorite because it's so clean and easy to use, and you can really target the areas you want to highlight. It also comes in three shades. I'm currently using the lightest shade, Mirage, but the color payoff is fantastic—a pale gold that's never orange or muddy looking. It helps to warm the stick on the back of your hand first so you get a smooth application, but the shea butter helps the stick glide easily over skin. Solar is also infused with antioxidants like pomegranate, green tea and acai berry. This is makeup with a skincare mentality.
If you're more comfortable with a powder formula, the W3LL PEOPLE Bio Bronzer is the best in the business. The bronzer is significantly darker than Mirage, but it never looks unnatural and it blends into skin beautifully. It's finely milled, and though it doesn't have a shimmer to it, it does provide this luminous effect that I love. Once applied and blended in, the Bio Bronzer gives the most realistic sun-kissed look. Just be sure to apply less if you are fair. Start with a small amount and build from there. You'll love the radiant look on your face!
Finally, for a quick look that really brightens your face, swipe a little bit of bronzer on your eyelids instead of eyeshadow. This little trick can save you when you need to look put together but don't have time for a full makeup application or you're traveling light. You'd be surprised how versatile a bronzer can be!