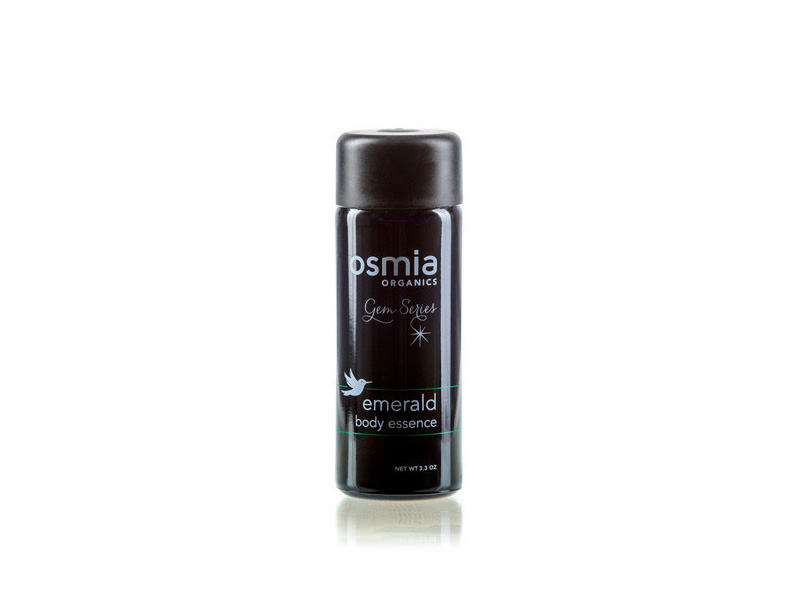 As most people who attended A Night For Green Beauty this past August can attest, the Osmia Organics team smelled amazing. Hugs from the founder, Sarah, left me inhaling and exhaling deeply like I'd just stepped into a spa treatment room. I'm pretty sure I understand why now—the Emerald Body Essence. This is the latest body oil from Osmia (which means "sense of smell") and it's a special release that's part of the new Gem Series, a line inspired by the concept of ancient royalty. How so? The ingredients, of course! For centuries kings and queens have savored precious botanical ingredients ranging from reparative oils like shea to aromatics like frankincense. The Emerald Body Essence will truly make you feel like a queen.
The Emerald Body Essence formula is richer than Osmia's classic body oils, but it's not heavy and it sinks into skin beautifully. Apply to damp skin after bathing or spritzing yourself lightly with a hydrosol for the best results (I do this with any body oil). Emerald features organic sunflower and avocado oils, which are full of nutrients your skin craves like vitamins A and E. Both penetrate the skin readily so your skin can really benefit from their healing properties. My skin absolutely loves sunflower oil and I find myself using it way more in skincare than I do in my kitchen, even though I was introduced to it as cooking ingredient. Food for skin indeed! Camellia oil (made from tea leaves) and borage seed oil provide anti-inflammatory benefits and antioxidants galore, meaning your skin has a better chance to repair and protect itself from environmental damage. Shea and argan oils add more vitamin E and skin conditioning properties to the blend. The final result is a velvety, lux body oil that makes your skin feel pampered and adorned.
Though I love the texture of this body oil, what would the Emerald Body Essence be without it's gorgeous scent? This is the real intrigue for me, and the fragrance sings with notes of wild mint, geranium, and frankincense. The opening notes are invigorating and fresh thanks to the mint, and then the blend mellows into a perfect marriage of geranium and frankincense that is soothing and sultry while still remaining very clean smelling. Both geranium and frankincense are known to ease anxiety and depression, and I can tell I will reach for this often in the darkness of winter when I need all the mood-lifting help I can get. The Emerald Body Essence comes packaged in a beautiful violet Miron glass bottle, which protects the precious ingredients and looks great on display. Overall, I'm completely in love with the Emerald Body Essence and can't wait to see what's next in the Gem Series.