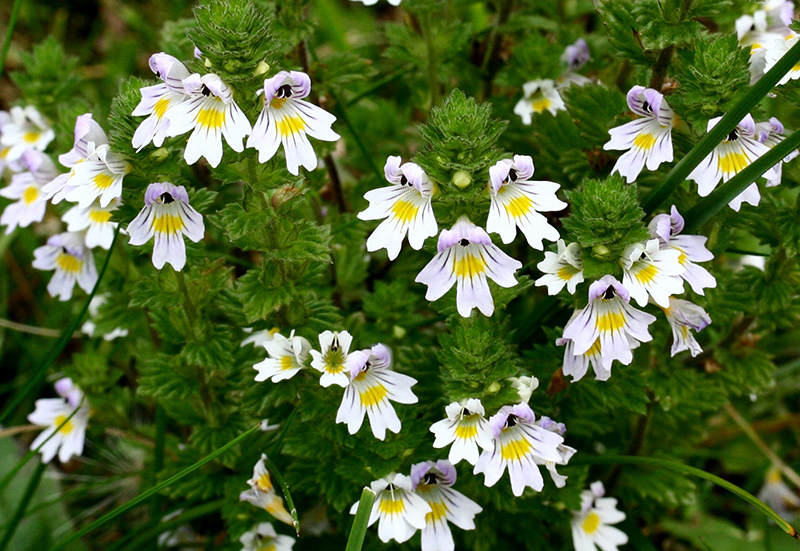 Eyebright is an herbal ingredient that is commonly found in natural skincare treatments for—you guessed it—the eyes. Yes, eyebright does exactly what it's common name suggests—it helps the eyes look more awake and brightened. It's naturally astringent, anti-inflammatory and anti-bacterial and can help the thin, delicate skin around the eyes look more youthful and refreshed.
Eyebright is properly known as Euphrasia officinalis, and this flowering plant is gathered when in bloom to create an extract that typically includes most of the plant from the flowers to the stem. Eyebright has long been used as a natural treatment for eye infections and inflammatory conditions like pinkeye. The extract can be mixed with water to create an eyewash to treat eye infections, and it is also used internally to help alleviate allergy and sinus problems. For skincare purposes, you'll find it included in many of the eye treatments we love because it infuses these formulas with phytonutrients and antioxidants and helps calm the eye area.
Eyebright contains flavonoids and tannins that have antioxidant benefits and protect skin from premature fine lines and wrinkles. Eyebright can also help decrease inflammation. If your eyes are prone to puffiness and redness, this herbal extract can truly help calm and reduce swelling. Eyebright is also anti-bacterial, which means it can help protect from eye infections as well as breakouts. Finally, eyebright's astringent qualities help tighten skin and shrink pores, so it's great for giving the eye area a fresh, taught appearance and benefits the face in general, too. Eyebright is a potent and active botanical ingredient that is effective yet gentle. It has earned it's place in natural skincare, which is why you will see it frequently in some of the best treatments for the eye area.
If you're interested in giving eyebright a try, the following treatments give eyebright a starring role…