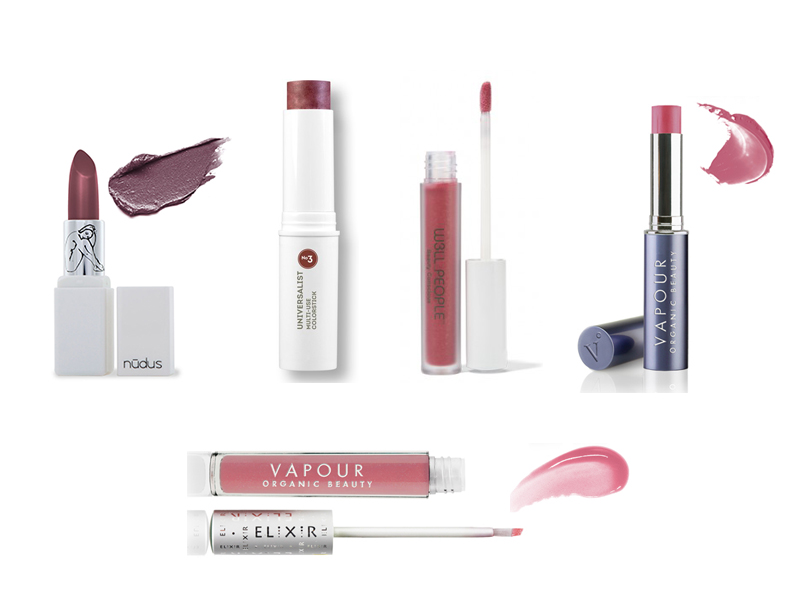 What pairs perfectly with soft cashmere sweaters and gorgeous scarves? Berry lips of course! Fall has begun and the perfect color for this season is berry.
This shade flatters almost any skin tone. It can be worn casually while out running errands or meeting friends for brunch, and it can be dressed up for an evening of cocktails and dancing. While most of my berry picks are lipsticks or lip glosses, don't be afraid to wear these on cheeks—even the glosses! I like to pat color onto my lips and blend with my fingers, then I dab the remaining color from my fingertip onto the apples of my cheeks. When you do this with a gloss, you get more of a dewy look, and it works perfectly with the Vapour and W3LL PEOPLE glosses because they aren't sticky or tacky.
For a more bold berry look, check out the Nudus Lipstick in Just Like Jade, which is a deep berry with a faint hint of sparkle. This handcrafted organic lipstick is pigmented with ancient ayurvedic bioactive color extracts, and it stays on for hours. For something equally bold but a bit warmer, try the W3LL PEOPLE Universalist Luminous Multi-Use Color Stick in Berry Aubergine. This formula is made for lips and cheeks and has a creamy shimmery finish. The base of grape seed, olive oil, camellia, aloe, chamomile and green tea does wonders for skin and lips.
For a more subdued berry look, go for the Vapour Siren Lipstick in Au Pair. It's a rich velvet berry that you can rock day or night with a barely there face or a smoky eye. It's a long-wearing lipstick and lip conditioner in one, so your lips will feel hydrated and fresh. For a more minimalist look, go with a lip gloss. The W3LL PEOPLE Bio Extreme Lip Gloss in Berry is gorgeous and conditioning. It uses peptide technology to plump lips and increase lip volume. Wintergreen, spearmint and star anise make the formula extra delicious. Another beautiful option is the Vapour Elixir Pllumping Lip Gloss in Beguile. It's a warm clear berry mauve and the formula is antioxidant rich with ingredients like acai and goji berries. Both glosses can be worn alone or layered over the lipsticks for a customized look.
Are you into berry this fall? Let us know how you're wearing it!