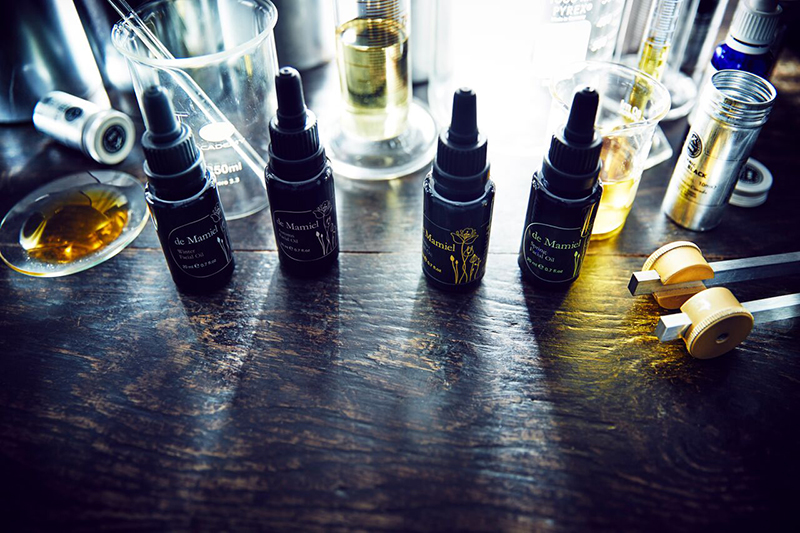 Long before I had the chance to try de Mamiel myself, my intuition told me this line would be special. I'm happy to report that de Mamiel is all I had imagined and more. Beautiful, botanical, pure and artisanal—these are the words I'd use to describe de Mamiel. I can't wait to try more from this line and hope to incorporate much of what I've tried into my regular routine.
The Restorative Cleansing Balm was one of the first products I wanted to try from de Mamiel. The process of massaging my face with an oil-based balm like the Restorative Cleansing Balm is so nurturing and relaxing that I no longer feel like washing my face each evening is a chore—I look forward to it! De Mamiel's Balm is a truly beautiful experience. The blend is silky and nourishing and never causes you to tug at skin. It melts and dissolves makeup in a flash, and the honey-lemon scent with faint rose undertones resets my frame of mind and helps my shoulders unknot themselves. The balm must be gently buffed away with a warm, wet cloth, but skin is left supple, clean and moisturized thanks to plant butters like mango, camellia, moringa and kukui nut.
The ingredient list for the de Mamiel Brightening Cleanse and Exfoliate reads like a little slice of heaven. This potent formula comes in powder form, and similar to The Clean Dirt, you add a little bit of water to create a loose paste. You can either massage the Exfoliate in and rinse off right away, or you can let it sit on your face first like a mask treatment and then exfoliate, which is my preference. The Exfoliate has a rosey hue and a slightly cocoa scent thanks to the antioxidant-rich raw cacao powder, and it's very gentle on skin. Water activated Vitamin C brightens while colloidal oat helps calm any redness or inflammation. The formula also contains red jasper and rose quartz gemstone powders in addition to Hawaiian salt. It all adds up to smooth, radiant skin.
The Autumn Seasonal Facial Oil was specially prepared to use as of September 23rd, the Autumnal Equinox. (To hear more about de Mamiel's seasonal approach to skincare, check out our interview.) The blend of precious plant oils, essential oils and flower essences is meant to decongest and calm post-summer skin. The gentle, comforting aroma helps balance emotions and ease us into shorter days and longer nights. I'm obviously not that far into the season, but I can tell this oil will provide adequate support. It's really divine smelling and feels like velvet on skin. I wake up with a soft and glowing complexion after a night with this facial oil. I only have a small sample of this beautiful oil but can tell you the full size is on my list. I'm cherishing each drop and could see myself using this all through the season.
The Altitude Oil from de Mamiel has been on my wish list for a long time, and I received it just in time for my flight to Chicago this summer. Let me tell you, I'm grateful I had it, especially in the stale taxi I took from the airport that smelled like old cigarettes. It makes travel so much better! This potent essential oil blend is an immune booster and mood lifter all in one. It revives senses, clears your head and calms any upset that might be going on due to travel (great for motion sickness) or general stress. The scent is herbal, zesty and a little sweet. Lavender, lemon myrtle, and peppermint calm and uplift while pine and eucalyptus help you breathe easy. Patchouli grounds the blend and your body while fragonia, a floral tea tree oil, protects and boosts your immunity. Add a drop or two between your hands and inhale deeply to reap the benefits of this beautiful aromatic potion.
Receive a free Rosey Lip Balm ($24 value) with a de Mamiel purchase of $125 or more at Integrity Botanicals. Code: ROSEYBALM