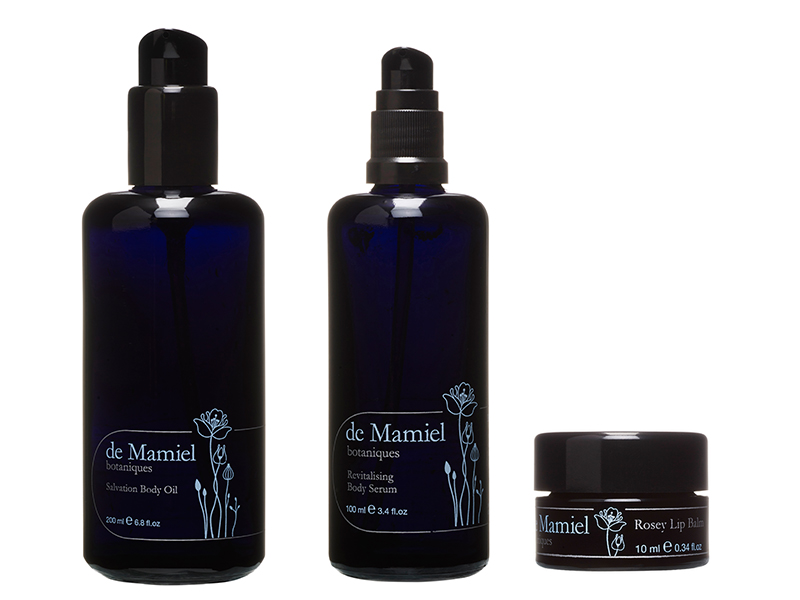 Fall can be a time of uncertainty for me from a skincare perspective, but I have felt much more confident stepping into the new season with de Mamiel by my side. Before I get into the reasons why I love the delicious products in this supportive line, let me say a bit about the packaging. If you love chic luxurious packaging, keep de Mamiel in mind for the holidays. It's gift-worthy even without any additional wrapping. The boxes are beautifully crafted and very sturdy with small touches like grosgrain ribbon "clasps" that hold the box top in place. The products are packaged in dark violet glass with de Mamiel's minimalist labels tastefully displayed. Beautiful packaging aside—it's what's in the bottle that counts, and de Mamiel delivers. Here's an update on a few products I've fallen for since my initial de Mamiel review aired—the Salvation Body Oil, the Revitalizing Body Serum and the Rosey Lip Balm.
For the body, de Mamiel offers two treatments that are truly worth your time and attention. The Salvation Body Oil is a blend I reach for after my shower, and the perfume grade fragrance keeps me in a good mood (or puts me in one if I'm on the fence or feeling grumpy). Thanks to essential oils like sandalwood, frankincense and myrrh, it's slightly spicy but not overly so. The bergamot, ylang ylang and jasmine keep it light and happy if not a bit sweet. The Salvation Body Oil features botanical oils that collectively work to rejuvenate the skin, improve elasticity, help retain moisture and protect from environmental damage. It contains some of my favorite oils like camellia, melon, prickly pear and rosehip—all of which sink into the skin beautifully and work synergistically to tone and protect. The Salvation Body Oil is offered in a 6.8 ounce bottle, which is quite a bit of product. Did I mention it includes anti-aging CoQ10?
While the Salvation Body Oil makes a luxurious daily moisturizer, the Revitalizing Body Serum stands apart as a true indulgence. The blend is more concentrated with potent, active botanical oils (the first ingredient is the vitamin C rich rosehip seed oil as opposed to the coconut oil derived base of caprylic/capric triglyceride in the Salvation Body Oil). It also includes ultra nourishing sea buckthorn, marula and kukui nut oils, as well as beneficial extracts like calendula, carrot and amaranth. The citrus-floral scent is a sublime blend of lemon, orange, sandalwood and rose among other notes. It truly revitalizes the senses. The Revitalizing Body Serum is infused with a subtle shimmer that gives skin a natural glow. If you've had a long day at work, the Revitalizing Body Serum is just what you need—especially if you have dinner plans or another social engagement that requires you to shake off the work day and show up fresh, glowing and clear-headed.
Finally, do not miss the Rosey Lip Balm, especially if (as the name suggests) you are a fan of rose. Packaged in a tote-friendly little glass jar, this balm goes with me everywhere these days. It keeps my lips feeling hydrated and protected for hours at a time. It's hard to describe, but it truly stands apart from other lip balms in terms of texture and the cushioning effect it has on lips. It's silky and soft but not too glossy. I credit the divine mango seed butter base for doing most of the heavy-lifting here, but other ingredients like honey, rose wax, evening primrose oil and calendula flower are equally healing and softening. The scent and flavor is a true complex rose that comes from precious Rose Otto and rose geranium. When you first dip your finger into the balm, be sure to "crack" the waxy seal to get at the soft core that's waiting underneath. This makes all the difference, and I'm grateful Terri shared this tip with me.