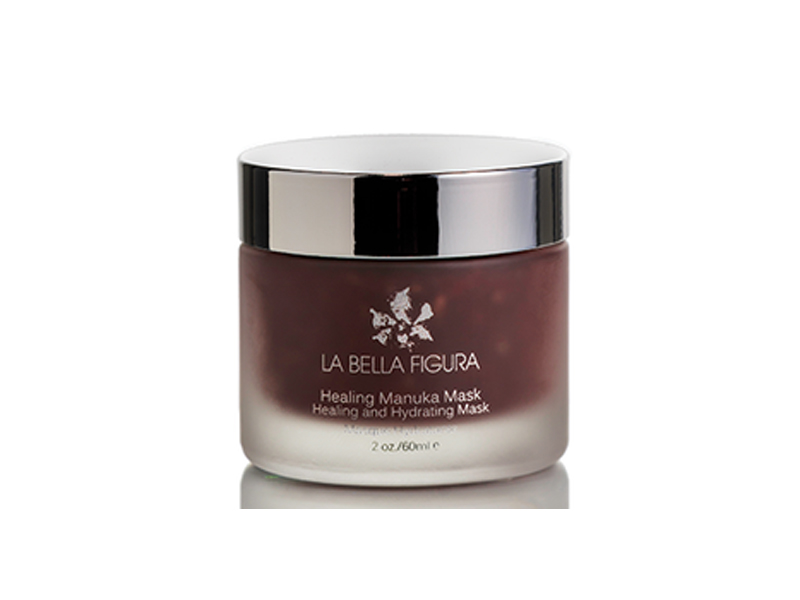 Just as quickly as sweater weather arrived, I noticed my skin transition with the season from needing less moisture in my daily routine to needing more. I wanted to treat my face with something nourishing but not heavy, because I'm really just responding to a drop in humidity and crisp fall air, nothing too arctic at this point.
The Bio Active Healing Mask turned out to be the perfect thing for the job, and once again La Bella Figura totally delivers on another gorgeous and effective botanical skincare product.
Time after time I discover La Bella Figura products that are super luxurious but still contain an ingredient list I can understand with zero effort. As cosmetic chemists and formulators in the green beauty space get more technical with their products, ingredients lists can become longer and more difficult to decipher—just like conventional beauty brands. Thankfully there are retailers like Integrity Botanicals who do the hard lifting for us in terms of vetting ingredient lists, but it's still nice to be able to read the label on your facemask and know exactly what is going on your face. I appreciate that about LBF.
The Bio Active Healing Mask contains 12 stunning natural ingredients that take pampering your skin to a new level. Raw manuka honey and aronia berry powder are stars in this calming and therapeutic mask. Deeply pigmented aronia berry is anthocyanin and resveratrol-rich, and these flavonoids add up to some of the highest levels of antioxidants of any berry. Aronia is also high in vitamin C, and we know that C is a proven collagen-builder and skin brightener.
These ingredient qualities give this treatment an anti-aging effect that is further boosted by the raw honey and organic Barbary fig and rosehip seed oils.
Vanilla seeds and jasmine petals add an exotic touch, and I love that the kaolin clay adds a bit of exfoliation at the end. The Healing Mask is absolutely scrumptious skin food. I generally love wearing masks in the morning, but the Healing Mask lends itself readily to an evening ritual with its relaxing jasmine scent. I wear the mask for a good 45 minutes before massaging it into skin for a gentle exfoliating effect. With warm water the mask rinses clean effortlessly. The texture of my skin feels greatly improved after each use—so soft and smooth. The Bio Active Healing Mask is calming, toning and nourishing for fall, but there's no reason to limit its use to this season. It should balance skin year round.