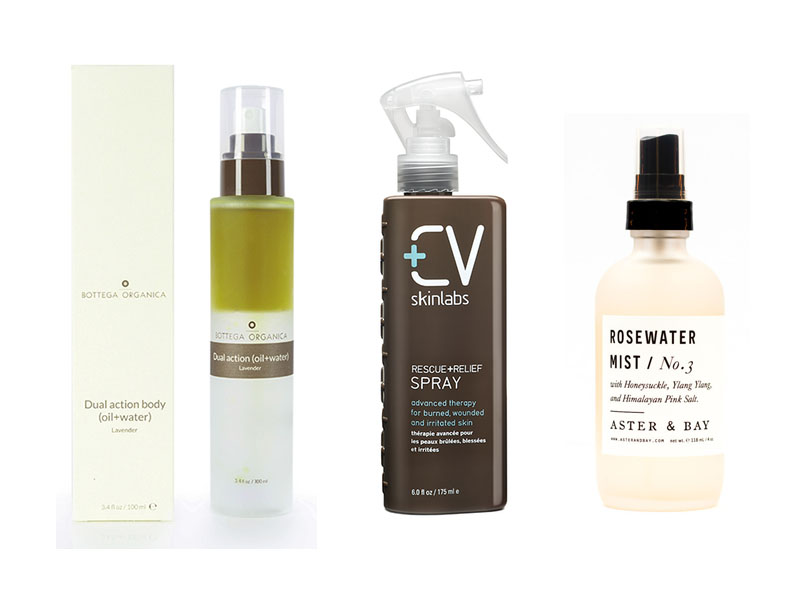 Have you made it through the summer without a sunburn or without overheating or feeling uncomfortably hot? Sunburns can wreck a vacation or just make life a little miserable for a short period of time. Sunburns can also do real damage to delicate skin, so it's very important to help your skin recover using active healing botanicals. Additionally, summer heat can cause skin to break into a heat rash, break out from too much congestion and sweat, or look red and overheated. There are a few great products that will help take the heat right out of summer and keep your skin feeling fresh and healthy.
CV Skinlabs Rescue + Relief Spray is my number one pick for treating sunburn and heat rash (as well as other skin irritations). You can read more about why I love this water-thin soothing spray from this post on summertime first aid, but know that this healing blend takes the heat and the pain out of a sunburn in no time thanks to the Tri-Rescue Skin Complex, a blend of powerful anti-inflammatory botanicals that includes turmeric, alpha-bisabolol and reishi mushroom. This formula also includes chamomile and cucumber to calm, water lily to purify and remove heat, and valerian and comfrey to soothe inflammation. It is a godsend when you've had too much sun or when razor burn or heat rash strike.
I mentioned the Bottega Organica Dual Action Peppermint Body Mist  as part of my introduction to Bottega Organica, and it has been in heavy rotation for me this summer. It feels so lightweight on skin, and the peppermint oil creates an instant cooling effect on skin that helps you feel fresh and invigorated. Peppermint oil causes a slight tingling feeling on skin that feels cool, kind of like sticking your head into the freezer. I love how the sensation is made stronger when you feel a breeze from a fan or the air conditioning across skin. I can't imagine a summer without this heat-busting formula. In fact, peppermint oil is so cooling that I avoid it in the winter because it makes me shiver. Does that happen to anyone else?
Aster & Bay Rosewater Mist is another recent favorite, and this Rosewater Mist is sweet relief when you return from a hot, sweaty walk with the dogs or kids. Rose is naturally cooling and calming, and rosewater is a beautiful way to remove heat from skin and provide a mood boost in the process. You might remember this gorgeous mist from my original review, and I'm here to report that my bottle is nearly empty because I've leaned on this for so much this summer. The aloe vera and salts in this mist provide additional relief and moisture.
You can also make a very simple DIY recipe that will help remove heat from skin and calm heat-related inflammation and irritation. Simply mix equal parts rosewater and aloe vera, store in a spray bottle and refrigerate for extra cooling relief. Shake and spray on skin when you're overheated or just feeling gross. It will take the heat right out of summer.