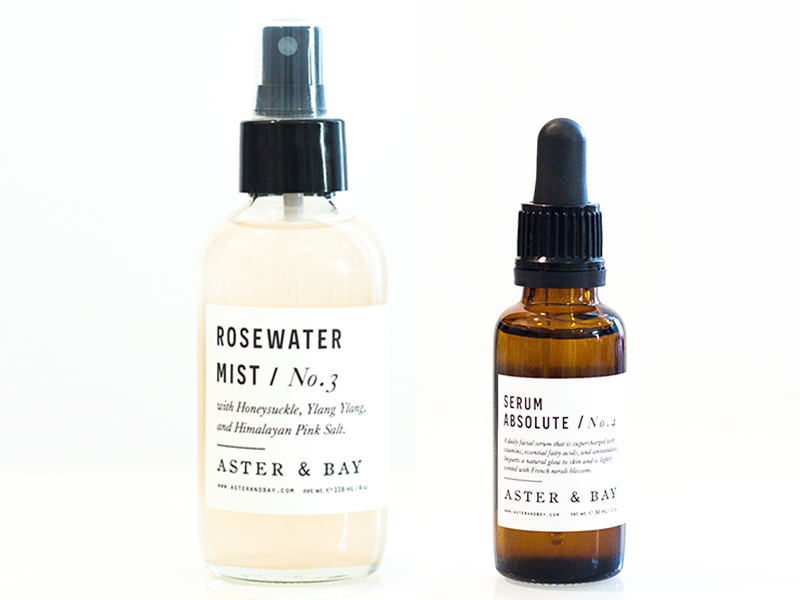 There is so much to love about Aster & Bay. If you haven't given this apothecary line a shot, I'm going to give you two new reasons to do so: Serum Absolute and Rosewater Mist. Hand made by a husband and wife team out of Atlanta, Georgia, Aster & Bay's skincare line is 100% vegan and cruelty-free. The products are all made with raw plant ingredients. You'll never find preservatives or synthetic chemicals of any kind.
I've gotten to know several serums from Aster & Bay's line, and they are beautiful and effective, but the new Serum Absolute is my favorite of all. The ingredients plus the way it feels on skin are everything. Crafted with four cold-pressed, anti-inflammatory oils and topped off with therapeutic essential oils, the Serum Absolute is made for most skin types (though I'd point oily and congested skin types to the Purify Face Serum). The Serum Absolute is a blend of marula oil, camellia oil, hazelnut oil and chia seed extract. Each of these oils alone serves a healthy dose of antioxidants and essential fatty acids that promote elasticity and protect the skin's acid mantle while calming redness and inflammation. Together they add up to a super charged serum that feels amazing and manages to be rich and luxurious without feeling heavy or greasy. Seriously, the finish is like velvet, and I adore the way it feels on my skin. Let's not forget the CoQ10, which helps boost skin repair and fight free radicals. Did I mention the gorgeous scent? Jasmine, neroli blossom and cedarwood provide a clean, heavenly floral scent that is irresistible, morning or night. Speaking of which, using this serum at night is a no-brainer, but I also love it as a daytime moisturizer. It works well under makeup or anything else you might put on your face.
If you have been following my writing on green beauty, you know what a fan of floral mists I am, especially when rose is involved. The new Rosewater Mist from Aster & Bay has my number. The scent alone is therapeutic and relaxing, but there's so much more than aromatherapy behind this mist. It includes Bulgarian rosewater, honeysuckle extract, magnesium sulfate (Epsom salt), Himalayan pink salt, aloe vera and flower essences. The Rosewater Mist has a pale blushing pink color that is likely from the Himalayan pink salt, which is a hydrating, mineral-rich (80+ minerals!) salt. Rosewater and aloe vera are two of the most gentle and soothing ingredients I know, so I'm thrilled that this mist contains both. I've been using this mist quite liberally throughout the day, since my skin always benefits from the extra hydration, and a mist is the simplest way to provide that on the go. The Rosewater Mist can also be used on hair like a beach spray to create extra volume and texture (thanks salt!), but I haven't tried that yet. I've been too busy enjoying it on my face.