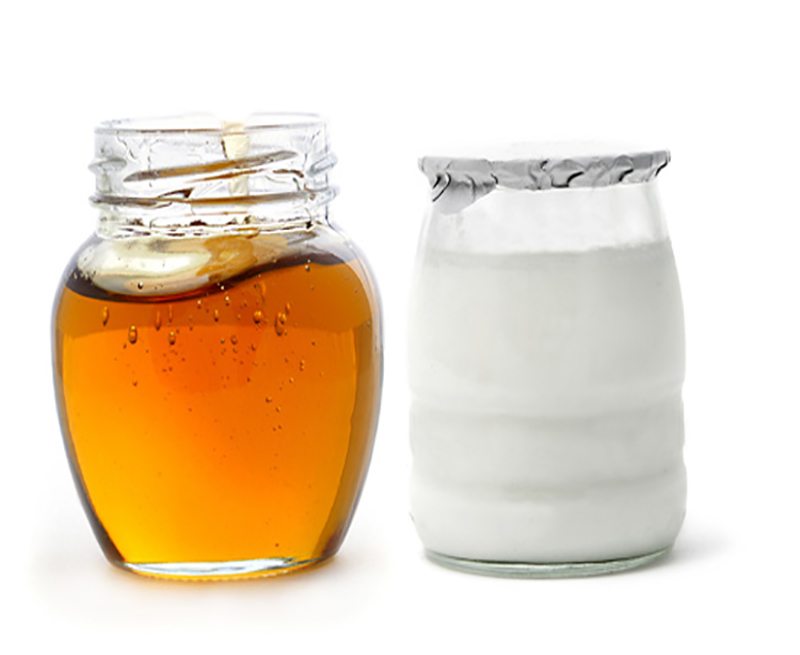 This month I nearly tried a DIY I've never been brave enough to experiment with—a coconut oil hair mask. As you can tell from the title of this post, I chickened out. I have fine hair that is easily weighed down and prone to oily roots, and I also tend to break out from straight coconut oil, so while the benefits of using it as a hair mask are endless according to the Internet, I realized I need to begin with baby steps when it comes to moisturizing hair masks. Next month I will be experimenting with several oil-based hair treatments like La Bella Figura Bohemia Verde Aromatic Hair Elixir and Yarok Feed Your Youth Hair and Scalp Serum, so I decided to ease my way into hair treatments with something that felt more approachable and easy to wash out—a yogurt and honey hair mask.
Plain, full fat yogurt (preferably organic) is a wonderful scalp and hair treatment thanks to lactic acid and zinc. The lactic acid is moisturizing and can help calm an itchy, irritated scalp as well as gently exfoliate the scalp. It gives hair a nice soft texture. The protein in yogurt strengthens hair and promotes growth. It's important to add a boost of protein when your hair is being put through stressful conditions, like extra exposure to sun and swimming. Honey is a humectant that helps draw moisture to the hair and adds shine and luster. Honey is also antibacterial and great for scalp health. Used in tandem, the yogurt and honey will hydrate your locks without weighing hair down, and they'll give your scalp a fresh start with no irritation or unnecessary stripping. The best part about this hair mask is that you can use it on your face at the same time and get similar benefits, particularly a smooth and bright complexion. Love a good multipurpose mask!
Hydrating Yogurt & Honey Hair Mask

Mix a single serving container of plain, full-fat yogurt with 2 tablespoons of raw honey. Apply to dry hair, beginning at the roots. Massage into scalp and work mask into hair. Let sit for 10-15 minutes and wash as normal.
This cooling mask is light enough for summer yet conditioning enough to combat the stress hair goes through in the summer sun and heat. The results have me eager to try more intense hair masks.