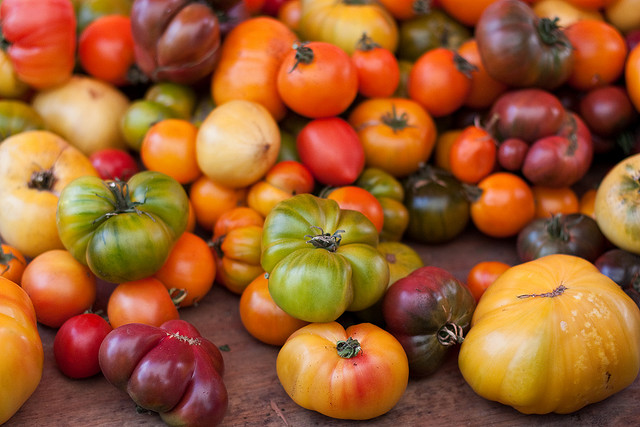 The Fourth of July is upon us, which means summer vegetables and fruits are kicking. Fresh plums are my favorite, as are tomatoes. The smell of tomato vines is so strong in my memory since as a kid I'd pick tomatoes with my grandfather during summer visits and the pungent green vine scent would stick to my fingers. Such a strange and earthy scent! As soon as I had the opportunity I planted my first summer garden and got a little ambitious with nine varieties of tomatoes. Have you ever had to pick out seeds? There are seemingly endless types of heirloom seeds available. It's as difficult as choosing an ice cream flavor. I want them all. It all worked out, though, kind of. Some baby raccoons helped me by polishing off more than their fair share of tomatoes. Little robbers.
I still love a summer tomato, and they make a gorgeous salad, especially alongside picnic fare. Tomatoes are beneficial for your skin, too. Lycopene—the pigment that makes tomatoes red—can actually increase skin protection against sunburn and sun damage, especially when tomatoes are processed or cooked as in tomato paste.
This tomato salad is a simple tribute to fresh, seasonal ingredients. It is easy to prepare and perfect for the Fourth of July. There's no better way to celebrate than with fresh seasonal produce, and tomatoes are an American classic.
4th of July American Heirloom Tomato Salad
Look for a mix of heirloom tomatoes at your farmer's market or grocer. Make sure they are nice and ripe.
Cut larger tomatoes into quarters or small wedges and smaller tomatoes in half.
Add to a bowl and toss with olive oil, juice from half a lemon, coarse sea salt and a tablespoon of fresh thyme.
Top with fresh cracked black pepper.
Tomato salads tastes better room temperature, so make it the morning of, refrigerate it and then remove and let it sit out for 30 minutes or longer before serving.