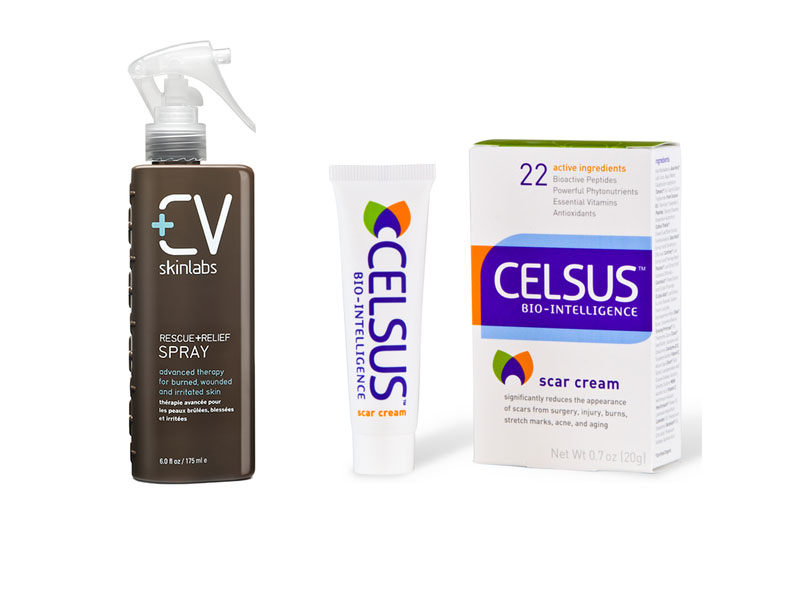 Summertime is ripe with opportunities to get roughed up. Cuts, scrapes, bruises, bug bites and sunburns or skin irritations from the heat and humidity… it can take its toll and leave you with unsightly scars or itchiness that takes forever to stop. We (and kids especially) have more opportunity to be active and out in the world when warm weather hits, so it's important to have a couple of natural products on hand that are a smart addition to your first aid kit.
First up is the CELSUS Bio-Intelligence Scar Cream. I found this healing cream several years ago when I was on the hunt for something natural to heal a scar from surgery. CELSUS comes in a small tube kind of like Neosporin, and it includes 22 active organic ingredients such as bioactive peptides, essential vitamins, antioxidants, essential fatty acids, extracts and essential oils. Combined, these ingredients reduce the appearance of scars old and new, stretch marks, and fine lines from aging. CELSUS has been shown in clinical trials to improve the appearance of scars and wrinkles, so you can count on seeing some good results here. An important thing to remember is that you should massage CELSUS (or anything else you're using on a scar, even plain oils) onto the scar and keep massaging the scar in gentle circular motions with your finger for 30 seconds to a minute several times a day. Stimulating circulation to the area helps scars heal faster and more completely.
The next product I consider essential in my first aid kit is the CV Skinlabs Rescue + Relief Spray. This is the best antidote to sunburn, razor burn and heat rash that I've ever found. I get a little giddy when I have the opportunity to use it—especially on friends or family—because it's almost like magic. It heals burns and irritation so quickly. I've seen a handful of bad sunburns heal overnight and saved a few people from being stranded indoors during beach vacations as a result. No wonder, because the formula includes CV Skinlabs' Tri-Rescue Skin Complex, a unique healing blend that was created to treat skin undergoing the stress and side effects of chemotherapy. In addition to the powerful blend of turmeric, alpha-bisabolol and reishi mushroom, this formula includes chamomile and cucumber to calm, water lily to purify and remove heat, and valerian and comfrey to soothe inflammation. The spray is a water-thin milky consistency that soaks in beautifully and provides instant cooling relief.
Looking for an easy DIY to treat basic cuts and scrapes? Raw organic honey is a true healer. It's antibacterial and helps heal wounds and keep them from getting infected. I've used honey in place of Neosporin for several years with great results. My husband had an accident that required stitches along his forearm. I wanted to treat the wound with honey rather than the colloidal silver concoction the hospital provided. My husband was skeptical, but his doctor approved the use of honey, and we've been using it ever since.