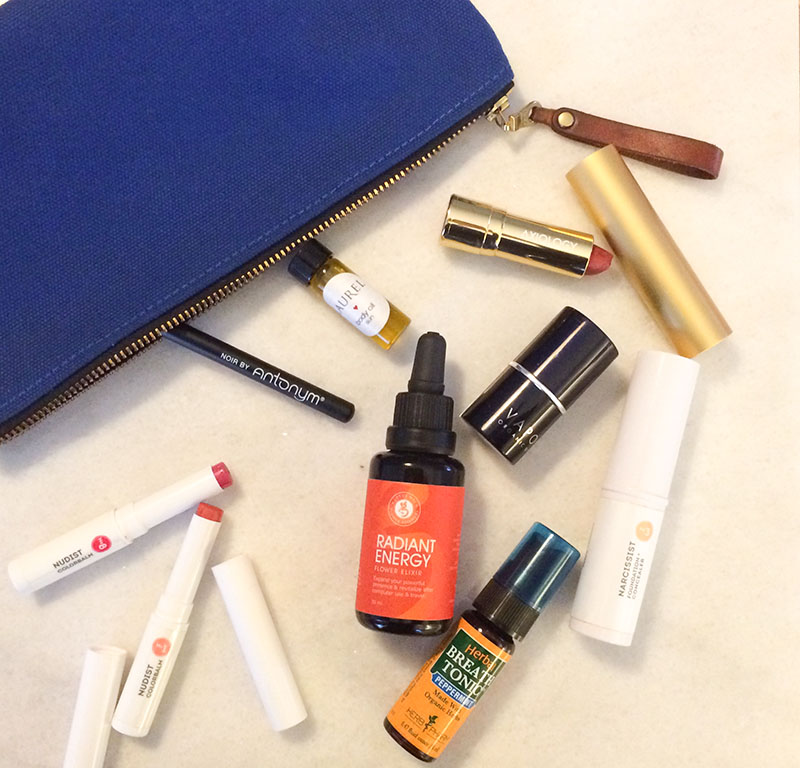 Do you find that the contents of you makeup bag shift with seasons or your style moods? For me, some things are constant while others—especially colors—get swapped pretty regularly. I often develop a makeup crush on a certain lipstick color, which can dictate the rest of the look. Overall, I wear my makeup very naturally and rely on cheek and lip colors to brighten up my look. I like products that are easy to apply and generally fool-proof for those of us that aren't great with application techniques. (I've still never pulled off a smoky eye!) There are so many fun and healthy options to choose from these days, so I thought I'd share what is currently in my makeup bag. These are the items I want to have on hand while on the go, and they are heading to Chicago with me today for A Night For Green Beauty.
Axiology vegan lipstick in Fundamental. Oh this shade is killing it this summer. I've been wearing such bright cherry tones through the spring and early summer. I recently received a sample of Fundamental from Integrity Botanicals and had to have the full size. It has become my favorite Axiology shade. It's red, but not a blue red. It has golden coral undertones but still remains red and bright. It also looks gorgeous on cheeks. I often use lipstick for blush, and I like matching my cheeks and lips.
Vapour Organic Beauty Lux Organic Lip Conditioner. I have an insane lip balm collection. I'm talking a few dozen at least. It's totally unnecessary but I love collecting them. If I had to ditch my entire collection in favor of a few, I would never ever let go of Vapour's Lip Conditioner. This little fatty stays with me wherever I go. The tube is short but wide, like the width of a stick foundation or blush, so applying it is extra comforting since it envelops lips. The formula is buttery, moisturizing and lasts. I love to apply it under or over lipstick, or on its own for a semi-glossy finish.
W3LL PEOPLE Narcissist Foundation + Concealer Stick. Nothing beats a stick foundation for portability and ease of application. A few strategic swipes along the sides of the nose, chin and hollows of the cheeks are all I need to subdue redness and even out my complexion. I use my fingers all the way to blend it out. I love the Narcissist because the colors match my skin tone better than most, and it adds the faintest hint of illumination. It truly brightens! It's also a really nice medium weight that covers but doesn't mask. This does touch-ups on the go with ease.
W3LL PEOPLE Nudist Colorbalm Lip Shine Stick. I usually have two of these in my makeup bag — Coral and Poppy. They are truly like lip balms but have the added bonus of some decent pigment, so they wear like a sheer lipstick but with the texture and feel of a balm. Plus they are skinny enough to put into a pocket without being obtrusive.
Laurel Before & After Sun Body Oil. I have a few sample vials of this oil that I keep on hand for quick sun protection because the botanicals oils in this formula can truly protect your skin from sun damage. See this post for more details on protecting with botanical oils. In a pinch, I have slathered my bare arms and chest in this oil while at the dog park under bright middle-of-the-day sun. After an hour of walking around, I had more color but I wasn't burned or pink in the least. I adore this oil.
Antonym Noir Natural Waterproof Eye Pencil. It's rich and bold, applies smoothly and lasts. Need I say more? Especially good for the tight-lining technique.
Lotus Wei Radiant Energy Flower Elixir. This little elixir keeps me whistling while I work and gives me the boost I need to get everything on my to-do list done and still have time for fun. It also tastes delicious and sweet, so it hits the spot during the afternoon lull.
What's in your makeup bag? Do you swap products out very often?