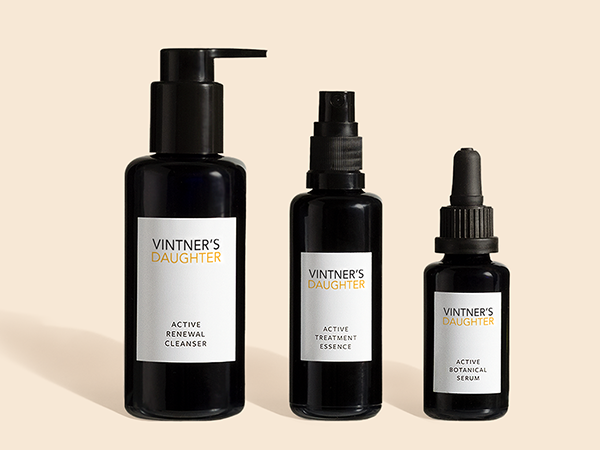 This week, one of our OG, all-time favorite brands, Vintner's Daughter, has released a new product, the Active Renewal Cleanser. Would you believe that this is only the brand's THIRD release, ever!?  In celebration, and to welcome the ARC to the Integrity Botanicals Family, we wanted to take a deeper look into the brand, thanks to a conversation with founder April Gargiulo. Read on to find out why less is better, how two skincare products can be sides of one coin, and why we should celebrate Vintner's Daughter products even though– and simply because– they're not constantly releasing new products!
It's not often that you find beauty brands that advocate using fewer products. Vintner's Daughter is my favorite exception to the "more is more" ethos we see on Tik-Tok and Instagram, and the social media frenzy around the 17-step-skincare-routines.
Brand founder April Gargiulo sums it up best when she explains how the less-is-more approach actually works: "By using better products you can use fewer products."
The emphasis on quality is key here. Vintner's Daughter's Active Botanical Serum and Active Treatment Essence are award winners, celeb favorites, and international bestsellers for a reason. Vintner's Daughter products are packed with active ingredients, including the brand's signature Phyto Radiance Infusion™ and their formulation process begins with nutrient-rich, whole plants and botanicals instead of just parts of plants. Gargiulo and her team use a weeks-long infusion practice to harness each ingredient's vital energy and nutrition.
Gargiulo's family background in wine making has influenced her company's philosophy and production. By using every part of the plant they not only get more nutrients into each bottle, they incur less waste, honoring the process without shortcuts. And perfection takes time. "Active Botanical Serum takes three weeks [to produce], and every bottle of Essence takes five weeks of active formulation time," says Gargiulo. "The industry average is three hours."
The brand launched in 2013 with just one game-changing product, the Active Botanical Serum. This is highly unusual in the beauty industry, where brands often face pressure from consumers and retailers to launch with multiple products for maximum sales. But Gargiulo felt that this mentality wasn't going to make anyone happy. "When you're constantly in the mode of 'more/new/next,' that is driven by a sense of scarcity, versus when you have two or three products and it's all you need and all you want and delivers all the performance you want. I am enough, I have enough. Contentment: that is critical for happiness."
The second product in the Vintner's Daughter line was introduced in 2019– a water-based Essence which is the perfect compliment to the oil-based serum. Explains Gargiulo, "I think a lot of times that people don't recognize that moisture is oil and hydration is water because so often, they're spoken about interchangeably. So Active Treatment Essence is your hydration step, Active Botanical Serum is your moisture step, and because of the way that we produce when we start with those whole plants and over the course of weeks, we capture all that beautiful energy and nutrition in plants… In those plants, nutrients are either oil soluble or water soluble. So, with the hydrating Active Treatment Essence, we're able to capture all the water soluble nutrients. And then, with the Serum, we capture all of the oil soluble nutrients. So that when you apply Essence followed by Serum, you're getting this comprehensive [treatment]. One is sort of the byproduct of the other, they're like two sides of the same coin. They're each other's perfect complement.
Now, at the brand's ten-year mark, they have released their third product, and we're so excited to share it with you now!
The Active Renewal Cleanser's innovative two-step-cleanse-in-one removes makeup, sunscreen, and daily build-up, all in one step. The foaming cream formula is made to leave skin visibly brightened and feeling more balanced. Like all of the brand's outstanding creations, Active Renewal Cleanser contains the proprietary three-week Phyto Radiance Infusion, which starts with nutrient-rich whole plants including nettle, butcher's broom, and frankincense, which work as micro-circulatory starters, aka the "renewal" part of the name. This cleanser is divine for anyone (like me!) who knows that double-cleansing can be beneficial for radiance and health of the skin, but rarely has the time or patience to cleanse two separate times in one session! Honestly, the Active Renewal Cleanser is the answer to my [kind of lazy, but still results-wanting] prayers!
Gargiulo told me that this product has been in the works for quite some time. "Cleanser is one of the things that [customers have] been asking for. We're really excited, and as you know, it takes us years to develop products because we have such a high bar for the performance standards. And to do it in a natural way where we can also obtain those performance standards is really important to us."
She comes by this honestly. Having grown up in a wine-making family, she's used to having to be patient, and understanding that quality takes time. "I was really lucky to come from both a family and a community that just places such a high value on quality and craftsmanship. And not rushing, and not cutting corners. And so, it was something that I just had like a very deep intrinsic value and respect for. The wine world is not fast moving … That's what I was used to, and it was what I understood and that was really what I wanted to do with Vintner's Daughter." Gargiulo set out to create a heritage, luxury skincare brand, which, she knew, isn't something one can do overnight. The lasting impact of a brand like this "isn't measured in five years, it's measured in fifty years."
Beyond wanting to make the best possible products, Vintner's Daughter also looks at the big picture: reducing waste, giving back, and making conscious choices. "We want to have a positive impact on our communities' lives through the images we choose, the words we choose … we don't participate in this constant cycle of "new and next and more" because we think there's so much of that that really just is driven by fear and insecurity. For us, We want to create joy and gratitude and confidence in our community's skin so you know, always focusing on that as our means of having this positive impact on our community's life."
She continues, "Then we talk about a positive impact on our world through our sustainability efforts, which are many. We are carbon neutral. We are Green certified at the highest level. We are a B Corp. We just got our certification [a few months ago]… We're really proud of it and we earned one of the highest scores for any beauty company in our first revolution; really, really proud of that. And then, the other way we impact, our world is through our 2% to charity. So for every bottle sold anywhere, 2% of that is given to charities that positively impact women and children around the world. So for us, that positive impact is just multidimensional. And that's the way we approach it."
I have so much appreciation for Gargiulo and the whole Vintner's Daughter team– their commitment to excellence and "less-is-more" approach have always embodied for me the things that define green and clean beauty. Even though the line is admirably minimalist, I'm thrilled to see it grow with the addition of the Active Renewal Cleanser! Big thanks to April for sharing her thoughts with us for this interview, and for putting all kinds of goodness out into the world: through gorgeous, effective beauty products, conscious business decisions, and the wonderful, insightful knowledge and values infused in everything Vintner's Daughter does.