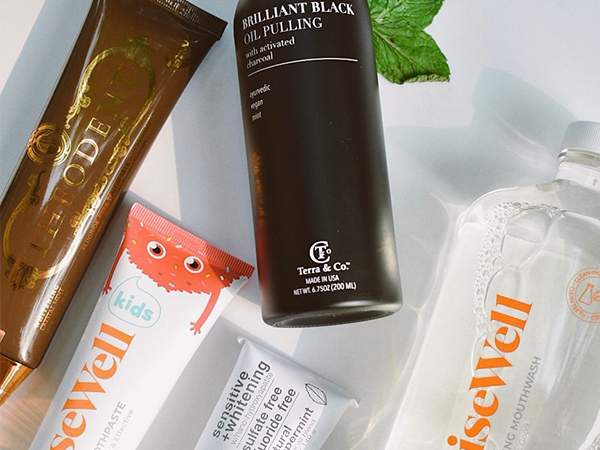 I'm not proud to admit this, but I have a long history of not taking as good care of my teeth as I should. Let me back up and explain that I had significant dental issues as a young kid, but, as my teeth/mouth have been relatively low-maintenance since I got my braces off 28 years ago, I kind of felt entitled to skate by in the dental department once I could. I've also encountered other health issues in my adult life, and really enjoyed that my mouth and teeth have been basically drama-free, which led to me being… let's say, laissez faire about my mouth-self-care. I saw the dentist every six months and they always told me I was doing a great job, and to keep doing what I was doing, so… I did.
All that changed about two years ago. When my family decided that we would skip going to the dentist during the pandemic– until we were vaccinated– it meant a long stretch of time where I hadn't been to see a professional about my teeth! I started to realize that I needed to take responsibility for the health of my teeth and mouth.
Not only is our overall health connected to the health of our teeth (hello, plaque!) but I must admit that, as a person who really enjoys beauty products, makeup, and skincare, I had long failed to make the connection that taking care of my smile could be part of my overall "beauty" routine. Obviously, I know that my teeth and smile are part of my face, but I never thought of brushing my teeth in the same category as using a Vitamin C serum for bright skin or applying blush for a healthy glow. But the thing is, they're all connected, and shifting my mindset about my dental health– connecting it as part of my skincare/makeup regimen– brought unexpected joy to the process.
Suddenly, flossing (which I may or may not have actually done much of before the pandemic, but now do religiously on a nightly basis!) became as "self-care" relevant as applying a deep conditioner to my hair or using a retinol serum. Thinking of my teeth as part of my skin, hair, and overall beauty look made me realize that I had some control in the health of my mouth! And that I want it to keep looking– and feeling– good for a long time!
Integrity Botanicals has carried a few oral health brands (Davids ​​Natural Toothpaste, Theodent ) for a while, but since we recently added Terra and Co. Natural Oral Care and RiseWell, I thought it would be a great opportunity to introduce you to all these brands, and to hopefully inspire you to take care of your teeth like you do your skin and hair, and to green that routine while you're at it!  Using these brands, taking care of my teeth, gums, and mouth feels like a ritual now, not a chore!
I asked the founders of each of these brands to tell us a little bit about why oral care is part of a balanced beauty regimen, and am happy to share some of my favorite products from each brand, too!
I mentioned above that I didn't always floss regularly (okay, or at all) but now that I do, I cannot be without it. Terra and Co.'s Brilliant Black Dental Floss is made from bamboo fiber with additional plant-derived ingredients coconut oil, activated charcoal, Peppermint and Spearmint oils, and vegan Candelilla Wax. Do you know what other dental floss is made from? Yup, nylon or teflon. I was super excited to discover an effective, refreshing floss that is made from bamboo!
I also really enjoy Terra and Co.'s Oils for Oil Pulling (we have two varieties, the Brilliant Black and the Gentle Green with Hydroxyapatite and they're both very refreshing!) and their tongue scraper tool. If you don't know about tongue scraping yet, you are in for a treat– I used to use my toothbrush to brush my tongue, but this tool is so much better (and more hygienic!) than using my toothbrush!
3 questions with Terra and Co.'s founder & CEO Amra Hajdarevic
1. When did you start the company?
I started in 2017 with my sister Azra, right out of my apartment in Los Angeles with an idea to create natural, safe, and effective oral care products.
2. What inspired you?
While pregnant with my daughter, I was searching for safe teeth whitening products. There was nothing on the market, so I decided to create my own. With more than 10 years of experience, working in product development, I reached out to labs to develop a toothpaste that is safe enough to eat and yet powerful enough to remove yellow stains. That's how our first product Brilliant Black Toothpaste was created.
3. Why do you think that oral care is essential to "beauty"?
Oral care is not just essential to beauty but overall health. Fresh breath and a bright smile builds confidence in us to speak openly in public and smile more often in those Instagram selfies while making a positive impact on our mental health. Not to mention, a healthy oral microbiome is directly connected with gut health, improving our immunity and vitality. To me, that is beautiful.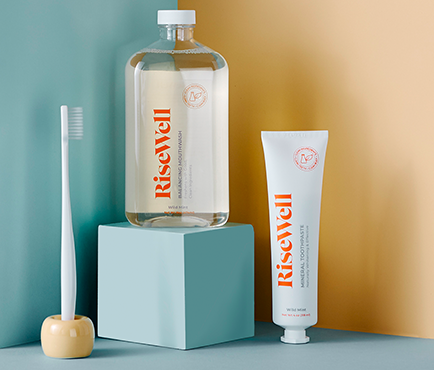 Is it weird that I'm obsessed with a mouthwash? I hope not, because I really love it.  RiseWell's Alkalizing Mouthwash truly works, and it doesn't contain alcohol, which can be super harsh on your mouth.
If you have kids, you might know about the struggle to get them to brush their teeth, and my kids have tried many toothpastes and liked none of them… until this one! I like the adult formula, but the kids' one really has my heart because it has made bedtime routines way less contentious!
3 Questions with John Estrada, CEO, Co-Founder, RiseWell
1. When did you start your company?
The company was founded in 2017 but we didn't launch until 2019.  It took us two years to formulate and source our ingredients. My mission was to bring the cleanest, safest and most effective oral care products to people of every age, and it took a very long time before I had a formula and ingredients I could get behind.
2. What inspired you?
In 2017, my wife and I were going through IVF to begin a family. Our doctor reminded us to eat healthy and use clean products.  I was shocked that we couldn't find a toothpaste with clean ingredients that were both natural and effective at protecting our teeth. We wanted better products for ourselves and our future children. I stumbled across the ingredient hydroxyapatite which was being used in Japan for 40 years but was unheard of in the US.  This need led to the creation of RiseWell and our mission to bring clean, safe and effective oral care to families everywhere.
3. Why do you think that oral care is essential to "beauty"?
Health begins in the mouth.  And beauty begins with health.  Oral care is the simplest change you can make to improve the chemicals you are exposed to multiple times per day.  You use it in your mouth twice a day, more than any other product you own.  It may not be the sexiest category, but it's something everyone should think about.
A few years ago, my husband and I visited Los Angeles (where we now live!) for a film festival and were put up at a VERY fancy hotel. This hotel was #goals in every. single. way., and they had Davids Toothpaste in the room for us. Well, let me say, we were hooked– on all of it! Los Angeles, this hotel, the toothpaste– we loved everything about it and have used Davids ever since.
I'm partial to the Peppermint flavor, and my husband loves the Spearmint, though we occasionally switch to the Sensitive + Whitening kind because we need both of those things! We recently tested out the Charcoal + Peppermint, and, surprise surprise, we loved it, too.
3 questions with Eric Buss, Founder and CEO Davids Natural Toothpaste, Inc.
1. When did you start your company?  
We launched Davids in 2015, but spent three years prior to that developing the toothpaste and putting the company together.
2. What inspired you?
It that I was putting in my mouth twice a day.  Out of curiosity I jumped onto Google and started researching the ingredients.  It didn't take too long to figure out that a lot of the ingredients really weren't good for me, and many were somewhat controversial.  In that moment, I had the crazy idea of creating a better-for-you toothpaste.  I spent three years doing a very deep dive researching all the ingredients and developing the formulation, prior to launching in 2015.
3. Why do you think that oral care is essential to "beauty"?
Davids is a whitening and anti-plaque formulation.  What conveys beauty more than clean bright white teeth, with a big beautiful smile! A friendly smile conveys beauty on both the inside and outside.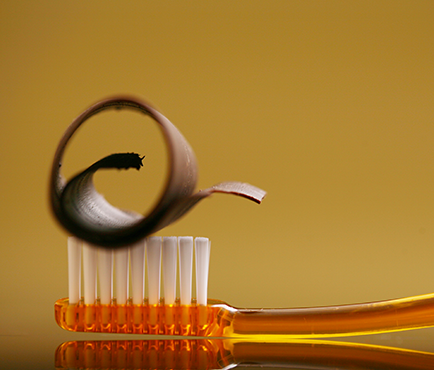 This mini toothpaste is a) the cutest thing I've ever seen, b) refreshing, and c) always in even my tiniest purse! They say size doesn't matter, but… it really does. This little fluoride- and SLS-free tube, like its larger counterparts, utilizes a non-toxic and revolutionary alternative to fluoride, known as Rennou™ (a compound that occurs naturally in chocolate). Of course, I also like the full-sized version of this product 🙂 And there's a kid-friendly version, which is chocolate chip flavored!
3 questions with Joseph Fuselier, Co-CEO of Theodent Toothpaste
1. When did you start your company?
We started Theodent in 2007 with the idea of making and selling "chocolate toothpaste".
2. What inspired you?
This idea of chocolate toothpaste came about from a discovery by [co-founder] Dr. [Tetsuo] Nakamoto in his lab at LSU Dental School. As a Dentist and Nutritionist his research interests led him to study the effects of caffeine on bones and teeth. He discovered that caffeine was detrimental to bones and teeth, especially to the infant and young children. He assumed all the molecules in the caffeine class of compounds known as methylated xanthines would have the same detrimental effect, and tested this theory and surprisingly the one from chocolate known as theobromine had the opposite effect, and made the teeth and bones harder and stronger. This discovery led to filing a patent and starting a company to commercialize this technology. When theobromine is combined with a source of calcium and phosphate, it creates the perfect environment for promoting enamel remineralization without the toxicity of fluoride. So the company is inspired to replace fluoride in all oral care products and do so with style and elegance.
3. Why do you think that oral care is essential to "beauty"?
Oral care is a key component to beauty as it is the beginning of our digestive tract and opening to our bodies. How we treat this special place is a testament of how we treat our bodies, and illness in the mouth will lead to systemic illness. A good oral care routine and maintenance will allow you to keep your teeth for life. Keeping your teeth as you get older will extend your health span and reduce problems as you age. Taking good care of your teeth improves your visual appearance and also your confidence when facing the world. It improves your gums and breath, providing more affirmation that not only do you look beautiful but you smell clean and refreshed. A good oral care routine conspires to create a healthy and beautiful person who radiates positivity through their simple smile.
"Smile is the beauty of the soul." – Lailah Gifty Akita
I hesitate sometimes to place so much importance on physical beauty– there are so many things in life for us to worry about, and the way we look should be at the bottom of that list– but the confidence we feel and the way we can make other people feel with a smile or a kind gesture is important. The power of a smile can change someone's day. Whether you coat it in lipgloss or barely-there balm, I hope these products help you achieve the clean, healthy, fresh smile of your dreams!