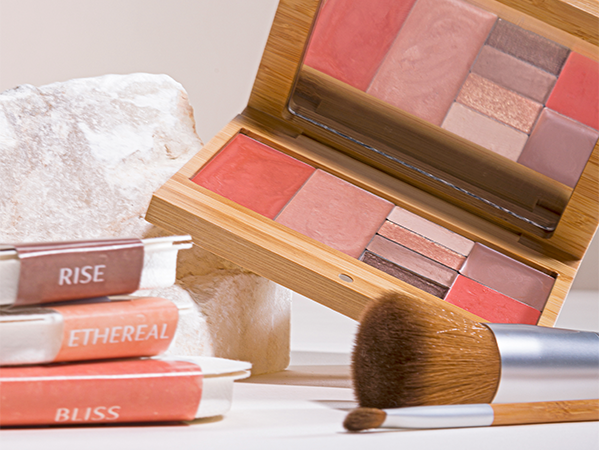 After all these years as a beauty writer, I have occasionally thought about designing my own line of makeup. I haven't ever seriously considered it, but I've wondered what it would be like. Every lipstick shade would be brown-based and have shimmer. There would be tons of bright pink blush and mascara that builds nicely in multiple coats. Okay, that just sounds like what *I* would want, not what would work for everyone and anyone. And this is why I haven't ever actually considered starting my own makeup brand.
The other– more real– reason is that there are already so many great brands out there doing the work, making incredible products from clean, organic ingredients, using vibrant colors and skincare-worthy components. Why on earth should I try to invent a wheel that has already been created, improved, sustainably packaged, and sold?!
But I still do get that creative itch, that wish that I could create something that was specifically made for me… which is why Elate Cosmetics is the answer to my wishes! This ultra-sustainable brand has everything you need at great prices, with flawless ingredients, incredible color payoff, and all in the most eco-friendly packaging around! And the best part is that it all comes in packaging that allows you to build your own palette. You want all cream products? No problem. You like powder? They've got that! Multi-use products? Of course! Put your magnetic pans in one of the brand's water-treated bamboo palettes and ensure that nothing goes to waste.
We've all been there– you buy a palette because you're really excited about two or three shades or products in it. You use those for months or years, but then end up with a few empty pans and several others you barely touched, because you had to buy it all as a set.
Well, no more! Now you can build a palette from scratch with Elate, and unlike some other palettes where you have to add one product of a particular size in a particular slot, and there's no flexibility, with Elate, the world is your oyster! You could build a palette that's all blushes! (I have done this and I love it). You could do a mix of eye shadow and brow balm, or concealer (COMING SOON!) and blush and eyeshadow– anything, really. You choose the size of the palette and then you can just squeeze as many beloved products in there as humanly possible (which is always my plan!).
The pans of product themselves arrive in fully compostable packaging, by the way– just one of many ways this 100% vegan, gluten free, cruelty-free, over 75% organic (Elate always chooses fair trade over organic when both aren't possible, because it's important to them that farmers and their workers are paid fairly and operate safely) company is truly walking the sustainability walk!
So how are the products themselves? They're amazing. I adore all the formulas, and I have chosen a few of my personal favorite picks to tell you more about below.

My surprise favorite is Elate's Brow Balm:
It's a surprise in that I've long-used pencils for my brows so I wasn't expecting to fall so hard for this balm. It has just enough pigment to fill in my sparse areas, but not so much as to be severe or to show up harshly when I accidentally paint outside the lines. Basically, it's the Goldilocks of brow balms, and I am loving "Smoke," the medium shade. I use Elate's slanted brush to stroke lines into my brows and then the attached spoolie to shape them.
You all know I LOVE blush. Like, if I had to pick only one makeup item for the rest of my life (though please never make me do this) it would be blush. This blush may be a powder, but it's very silky and nourishing for your skin, thanks to Bamboo Stem extract, Jojoba Seed oil, and Carrot Root extract.
The two colors I have in my palette are Dew, which is a soft champagne highlight powder blush that you can use all over like a highlighter, and Brave, a medium cool pink powder blush. Of course, I love to blend the two together to get a cool, pink, glowy wash on my cheeks.
The Blush Balms are truly multi-use superstars because, of course, you can use them anywhere on your face. I like to use Keen, a medium neutral plum, on my lips, eyelids, and on cheeks for nighttime. Wonder, a light neutral highlight is great for my brow bone, cupid's bow, nose– anywhere I want to look lit-from-within. The formula is super blendable and buildable, thanks to moisturizing Evening Primrose oil, emollient Bamboo Stem extract, Rice Bran Wax for moisturizing and antioxidants, and Mica, which is a pigment, of course, but also helps make a wonderful texture and prevents clumping.
Like all of Elate's products, these powder eyeshadows can really be used anywhere on the face. I've used mine as eyeliner (Earthen, a matte neutral brown for a subtle line), shimmer on the apples of my cheeks (Ethereal, a shimmery light gold that I am obsessed with!), and, of course as simple, classic daytime eyeshadow (Soar, matte vanilla and Beloved, soft warm brown). Like the Powder Blushes, these pressed colors are silky and moisturizing, easy to blend, and long-lasting.
I've been putting most of the above in the brand's Capsule Palette  for a complete look that fits in my purse. It was very handy to have for travel this summer. Bringing the palette along saved a lot of space and time. But don't worry– Elate isn't just for palette-storable products! They make great stuff for outside of your palette, too.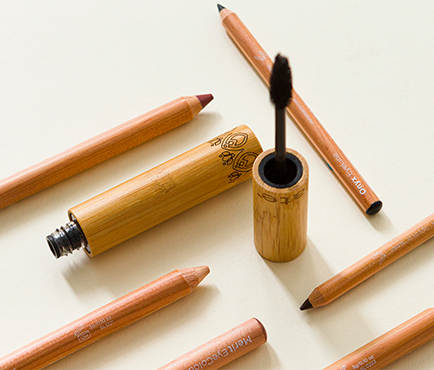 More Eyes:
The Essential Mascara is water- and sweat-resistant, and is buildable for a more bold look. I use the Black, and it's also available in Brown.
I also love the EyeLine Pencil in Hearth, a really rich, lovely neutral brown.
You can wear it on your eyes as a liner or smudge to make it a shadow; or use it on brows! (I've also been known to use the brown as a lip liner and smudge it and cover it with gloss or Wonder, the Blush Balm highlighter, for the nineties brown lip look I adore!)
More Lips:
I also have three of Elate's magical Lip Color Pencils, in Ardent (medium plum pink), Enigma (light, pearly pink), and Infinite (deep neutral). These are so much more than pencils– they're basically balms in stick form, with a completely zero-waste package! Since you sharpen them like pencils, there's no plastic involved, and the material inside can be used all over your face! I like to fill in the lines like with a lip crayon using Infinite for a dark yet still neutral lip. I use Enigma as a blush, highlighter, and in place of a lip gloss for just a sheer wash of shine on my lips. Ardent is great as a blush or eye shadow, in addition to being my new going-out-at-night lipstick.
Coming soon to a palette near you:
Soon, Integrity Botanicals will start carrying Elate's Creme Concealer, which I've been using and loving all summer.  Not only does it cover undereye darkness, but it can conceal blemishes and heal them while it covers! Since it also adds some brightening to the skin, it is a two-in-one concealer and illuminator. I use the shade CN3, a light/medium neutral, and it blends so well. It's never cakey, and you really can't tell I'm wearing concealer, which I appreciate so much, especially as I'm getting older and other concealers can cake in the fine lines I'm developing.
Also coming soon is the brand's Primer, which is also a serum– basically, everything they make is multi-use and super thoughtfully created! This one is full of vegan, plumping hyaluronic acid that also helps your makeup stay put all day long!
Here's a picture of me meeting the Elate team at the now-defunct Indie Beauty Expo in New York in 2018. It's from a different era– before the brand's recent re-brand, talking about a lipstick they no longer make, in a city where I no longer live, at an Expo that no longer exists– but I love looking back at this memory and realizing that I've finally connected with Elate after all these years, and it was 100% worth the wait!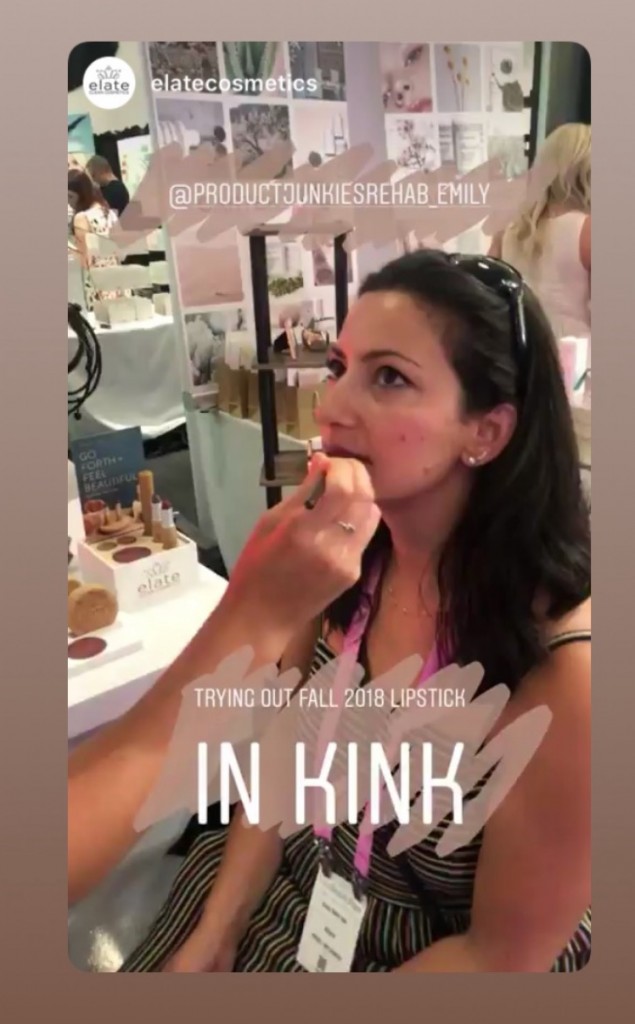 In case you can't tell, I think one of my favorite things about Elate– after the incredible attention to sustainability and ethical consumption– is how it's perfect for someone like me who likes to break the rules.
The brand encourages using the products all over, not just on one specific feature. The textures and colors are all so versatile you can really make a lot out of one or two products, or get many products and have a whole wardrobe of makeup options. I look forward to all the mixing and matching I get to do every morning– Elate really makes me feel like an artist, creating my own blends and combinations. It's a new way to infuse creativity into my day, and I appreciate doing so in a way that creates less waste than other, similar products.