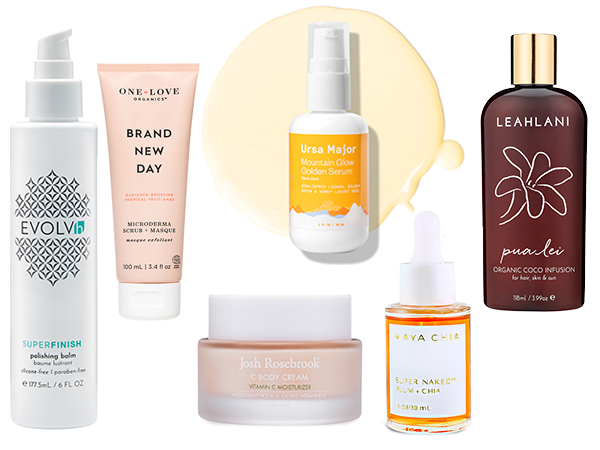 You know that friend you have, the one you can always call when you want to be told "no," or to be talked out of doing something?
I am not that friend. I'm never going to talk you out of getting a new beauty product (unless, of course, it has toxic-laden ingredients or is covered in unnecessary plastic or is somehow bad for you!). I'm the friend who is always going to enable you to Treat Yourself. I'm the person you call when you're trying to decide between two new serums, because I'm going to tell you to get both of them.
My love of testing out new beauty products is a huge part of why I got into this line of work many years ago! And every time I get something new, I can't wait to smell it and feel the texture and see what it is going to bring to the table, aka my skin or hair.
I love new things so much, I made you a handy-dandy flow chart to help you decide which of the many new things that just came into Integrity Botanicals you should try!  And, in case you need more information than just me saying "you should get this," I'll tell you what I love about each of them.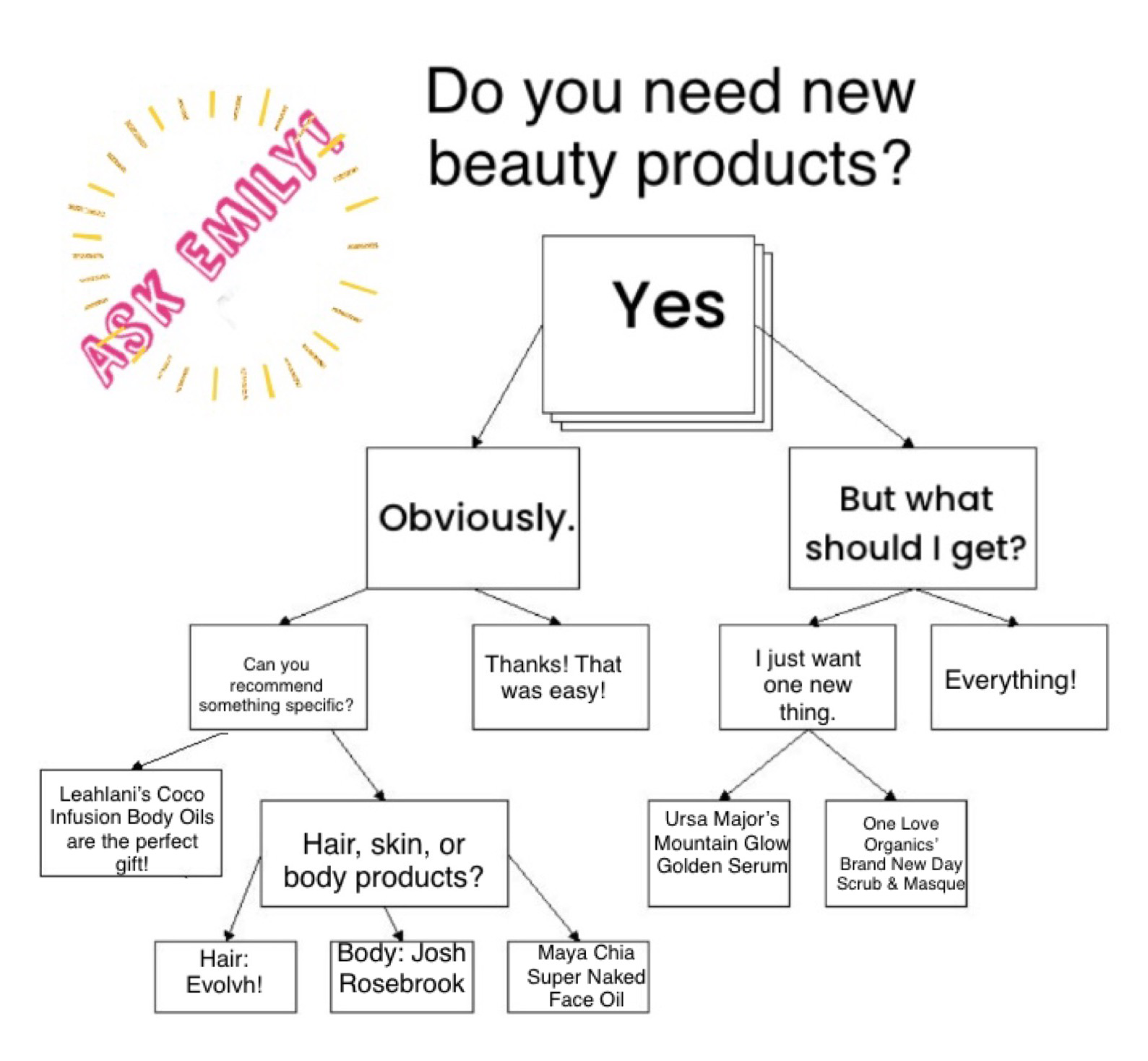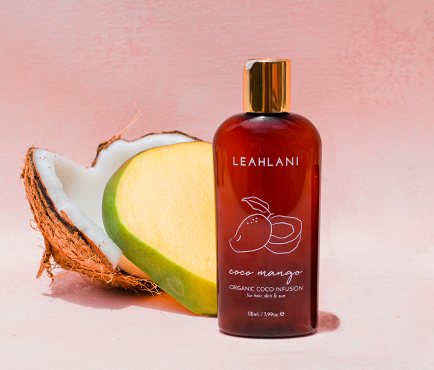 While they're not new to the world, Leahlani's gorgeous body oils are new to Integrity Botanicals, and that is reason to celebrate!
There are just so many wonderful choices here! These decadent, Hawaiian-made oils come in multiple scents, Pua Lei and Mahana, plus limited edition Mango! And all the scents come in your choice of either Classic or Kula (Golden Shimmer). I'm not going to make you a flow chart here, because there are simply no wrong answers, other than not buying at least one of these body oils, because that would be a huge bummer.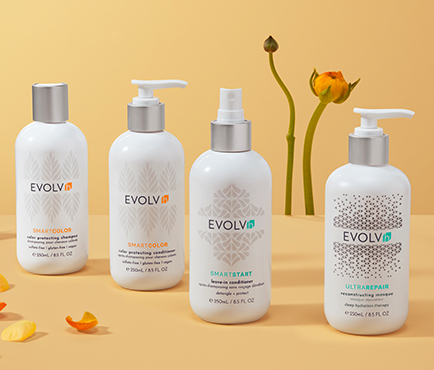 Gosh, had I been wanting to try EVOLVh forever. It was one of those brands I kept reading about and seeing on social media, and when I finally got to try out their incredible SmartColor Protecting Shampoo, SmartColor Protecting Conditioner, and absolutely magical SuperFinish Polishing Balm, it was love at first use. I really appreciate how all the EVOLVh products smell great, but they're not overpowering. The SuperFinish Polishing Balm is so exceptional because it provides heat protection, moisture, shine, and UV protection, all without weighing my hair down or making it feel sticky. I've been looking for this product my whole life, and I didn't even know it! But now I never want to be without it.
EVOLVh has a whole line for curly hair, including specific shampoo and conditioner and a styling balm, as well as products specifically for adding volume, for dry hair that needs extra shine, flexible hairspray, and basically everything you might need, made especially for your type of hair.
It's all available in both full sizes and travel sizes, making it easy to test out in a smaller batch or take with you on any journey. I'm a fan. Can you tell?!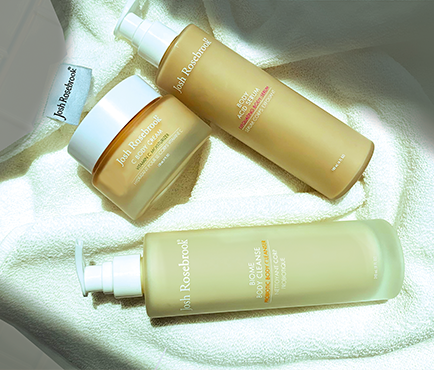 File under: Didn't Know I Needed This, but Josh Rosebrook's new three-piece body care line is my new must-have. There's the Biome Body Cleanse, which helps keep my skin healthy with pre-and pro-biotics and fermented ingredients, especially good for those of us who have conditions like eczema and psoriasis; then there's the Body Acid Serum— yes, your body needs serum just like your face does, and if you love Josh Rosebrook's Daily Acid Toner for face, then you already get it!! The last step in this delightful, luxe routine is the C Body Cream, and oh my goodness, yeah, you need this in your life. You need the scent and the texture, and the way your skin still feels moisturized all the way until your next shower– it's just so good! Also inspired by the brand's award-winning skincare, this time a body-version of the C Bright Complex I love so much, this rich cream has vitamin C along with a whole host of other vitamins your skin needs to not only look good, but to FEEL good, which, of course, is what truly matters!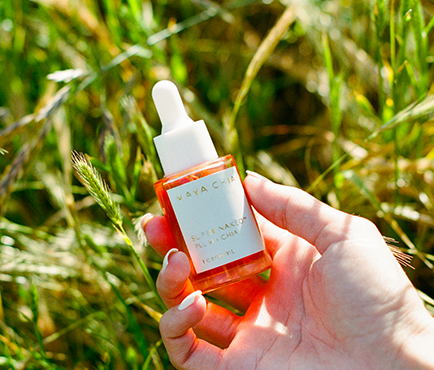 Once again, the brand that reads my mind has done it again! Maya Chia makes my favorite serum, The Straight A Retinol Treatment, but there are nights when I want to give my skin a break from retinol, and that's when Maya Chia's new Super Naked Face Oil comes into play! It's like the ultimate, vitamin-rich vacation for my skin. Packed with plum oil from a COSMOS certified orchard in France (I want to go to there!) and the brand's signature chia seed oil, Super Naked is also infused with astaxanthin, a Super Antioxidant (65x stronger than Vitamin C in combating free radicals). Made without any essential oils, Super Naked is just that, and perfect for the times you just need the ultimate basic– the cashmere sweater or perfect black t-shirt of skincare!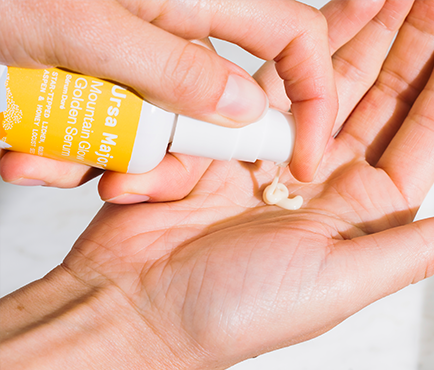 Before I tried (and fell in love with) this serum, I had three separate people randomly tell me it changed their skin overnight. THREE! So I was sold before I tried it, and then sold again because it's just as good as everyone said it would be! Given the amazing array of natural ingredients (44 clean actives, including phytosterols, adaptogens and vitamins A, C & E, Star-Tipped Lichen, Honey Locust Seed, Golden Aspen Bark, Moss Stem Cells–  too many great ones to list them all!) you could expect this serum to cost a lot more, but NO! Ursa Major has worked really hard to keep the price point under $100, and the ingredient quality as high as always, and has crafted this truly magical potion that will leave you golden and glowy overnight.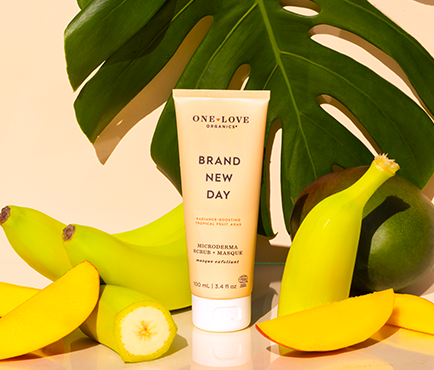 One Love Organics has always –  since the very beginning of my beauty writing career –  been one of my favorite brands, and they've just reformulated one of their first products, which I remember and loved back in the early days! I guess you could say this is a Brand New Brand New Day! This foamy, gentle scrub and masque replaces the brand's previous powder formula, and boy is it amazing. It's gentle enough to use regularly, and dermatologist-tested to exfoliate without stripping or irritating skin. It has yummy tropical fruit enzymes, bentonite clay and eco-friendly polishing minerals, and, like all One Love Organics products, it's ECOCERT certified.
So do you need another flow chart? Here, just in case, I made you an even simpler one: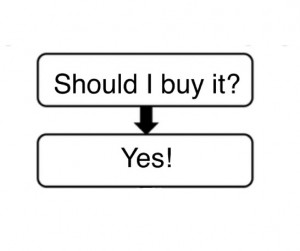 There, it's that easy. Life is short. Buy the product. Use the product. Enjoy the product!
But seriously, I hope this post encourages you to go for it and try something new. Never underestimate the lift it can give you, the joy of something that smells great or makes you feel good or keeps your skin moisturized. Like I said, I'm not the friend you call when you want to be talked out of something!