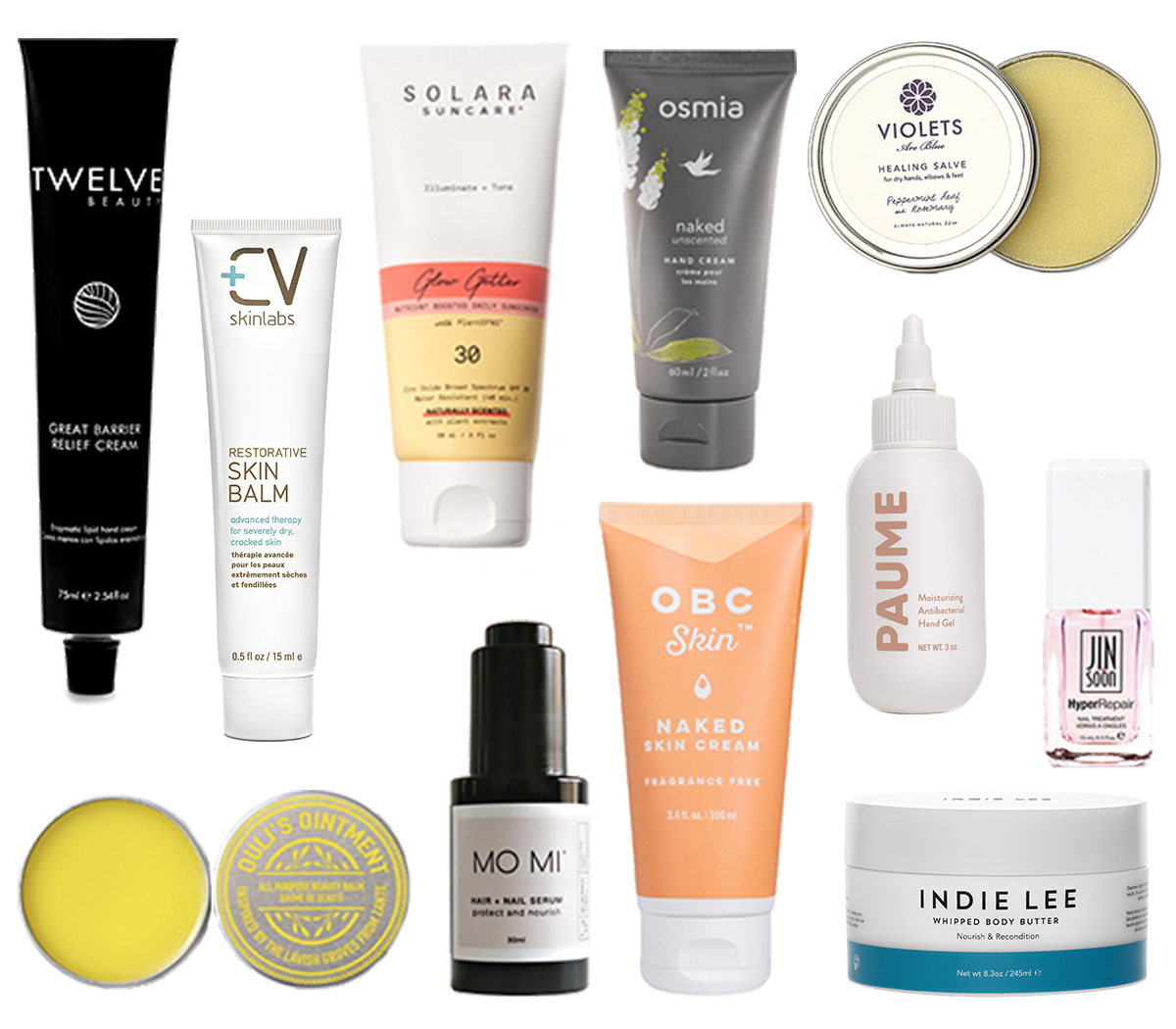 I'm willing to bet that your hands and nails need (nay, deserve!) some extra love and care right now. Think about it; in addition to washing them eight thousand times a day (okay, I know, that's an exaggeration, but … you do wash your hands a lot, right? Okay, good.) you use them a ton, you expose them to all kinds of materials and textures, and, I'm willing to bet, you rarely put sunscreen on them. Am I right about that last part? Okay, because this is your reminder to PUT SUNSCREEN ON YOUR  HANDS! For example, when you're driving, they're right there, soaking up all the rays, so it's a great habit to get into.)
I truly believe that routine moisturizer on your hands is the foundation for all other hand and nail care!  I admit that I often base my hand cream choices on how they smell, which IS important, but I also like knowing I'm getting a hand cream that is doing its job.
Obviously, it has to be moisturizing, that's kind of the baseline of its purpose. Ideally, it would also contain active ingredients that really nourish my skin. Most people don't think "hands" when they hear the word "skincare," but our hands are often a pretty visible part of ourselves, so it would be nice to keep that skin healthy and looking well-cared for. Plus, if you have a cut on your hand or any kind of skin irritation, it can be kind of disruptive– you have to keep your hands in good shape.
What else is on my hand cream must-list? Packaging that doesn't leak all over my bag, something that moisturizes but I don't have to apply it ten times a day, ingredients to treat age spots and even out the skin tone, and, as I started with, it has to smell nice! (Unscented is fine, too, but no medicinal/weird/aggressive scents, please!)
So I'm going to give you recommendations for my favorite hand creams, lotions, and hand-friendly sunscreens, as well as a few hand balms that are really great for hands and nails in need of extra TLC!  But first, I'm going to introduce you to our two new hand-care focused lines: Paume (all things cleansing and moisturizing, specifically made for hands!)  and JINSoon (truly decadent nail care and polish)!
The Hands experts:
Paume!  When a brand chooses a focus, the way Paume chose hand care, you know it has worked hard to make sure it's really nailing it (see what I did there?!), and Paume absolutely NAILS hand care. Not only are their products fun to use, they are ultra-sustainable, with clean ingredients and incredibly thoughtful packaging. Between refill bags that use 60% less plastic than bottles, smaller dispensers that are made with at least 65% PCR, and a cool, reusable pump for hand sanitizer at home, this brand has thought of it all.
The hand cleanser includes gentle exfoliation, which is absolutely key in keeping your hand skin happy, and the Hand Balm contains probiotics to ensure ultimate hand health in even the dryest season. And while you're at it, you'll definitely want Paume's All-in-One Cuticle & Nail cream and Hand & Nail Brush (coming soon – this December!) to prep your digits for a coat of JINSoon polish (see below), or just to be groomed for that no-polish polished look!
Nails! Nails! Nails:
JINsoon nail polish is 10-free, non-toxic, and vegan, but of course you'd expect nothing less from us at Integrity Botanicals. What sets JINsoon apart from even the most green/clean polishes are the gel-like high-tech polymers and UV Filter that make this brand stand out from the rest. With over 50 shades, there is nothing you could possibly want in a nail polish that JINsoon can't provide! Glossy? Check. Sheer? Got it. Shimmer? Of course! There's even confetti! 
I've been a complete fan since trying JINsoon nail polish out, and while I often choose a fun color like the absolutely divine Cool Blue or classic red Ardor,I'm never without at least a coat of their polish, even if it's the clear Hyperrepair, which works as a base coat or on its own, and is proven to restore nail health after just two applications. (It's true! I've tried it, and it has made my nails less soft and fragile. ) Top if off with the anti-aging, anti-bacterial Ex-tract Honeysuckle and Primrose Cuticle Oil and the Hypercare Cuticle Pusher + Reducer, and you've got everything you need for a perfect at-home manicure!
Hand Creams We Love
Awesome Hand Lotions
Best Hand-friendly Sunscreens
Balms for Hands
Cuticle oils
In addition to the JINSoon cuticle oil I mentioned above, I also recommend MoMi's Hair and Nail serum. It's so versatile and smells great! Easy to toss in your purse to have on hand (I can't stop with the puns) any time.
Whether you're about to get a professional manicure or DIY at home, you will want to moisturize your hands a lot this fall. And especially in the winter! And still in the spring and summer … Basically, you should treat your hands the way you treat your face– frequent moisturizer, regular cleansing, and, yup, sunscreen regardless of the weather. Handshakes are coming back after the pandemic, and if you, like me, talk with your hands all the time, they are almost as much a part of your look as your face is! Keep moisturizing– thank your hardworking hands by treating them right!
And one last Bonus Tip:  All things Hand-care related make the best gifts. I like to give hand lotions as hostess gifts, hand soaps to teachers, and nail polish to friends who already have "everything," so stock up for your holiday gifting needs!