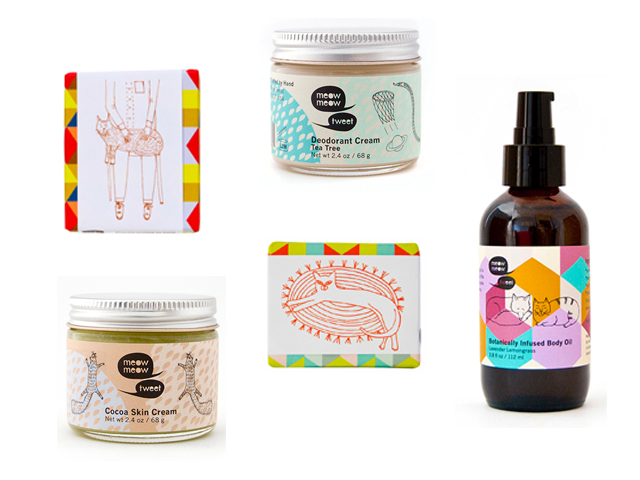 There's more to Meow Meow Tweet than adorable and quirky branding, but first — have you seen their delightfully illustrated and brightly colored packaging? This is smile-inducing, even giggle-inducing stuff, all illustrated and color coordinated by the team who makes the skincare products, Tara and Jeff. The creative verve that brings us such sweet packaging also shines through in their various products, which include staples needed in every personal care kit such as soap, deodorant, creams, oils and toners.
Meow Meow Tweet does basic skincare exceptionally well. You'd think that the most universal products like soap and deodorant would be a cinch, but trust me — I've tried enough subpar versions of everyday basics to know that just isn't the case. Using Meow Meow Tweet deodorant and soap reminds me just how sublime these basics can be. I've been so happy with everything I've tried.
There's so much to love from Meow Meow Tweet, so let me give you my take on some treats from their line.
Meow Meow Tweet Bar Soap. Here's my soap testament: I have not felt compelled to use a bar of soap in a long time, and Meow Meow Tweet changed that entirely. Game over. I'm a soap convert now. Why? The exfoliating action I get from the Cinnamon Coffee bar soap is everything I want in a daily scrub. The bar is thin and wide, so it sits in your palm for a perfect rub-a-dub-dub movement. It's crazy moisturizing, and the scents — like grapefruit mint — are exhilarating and beautiful. Did I mention that opening a bar of Meow Meow Tweet soap is like opening a little gift? The paper wrapping is the best.
Meow Meow Tweet Cocoa Skin Cream. Remember my post about shea butter? This cream fits right in with that theme — restoring and nourishing depleted skin. This rich cream borders on a balm-like consistency and melts into skin easily. Skin feels protected and beyond soft after use. The cream has a natural sweet cocoa aroma with a nutty finish. This cream would heal chapped hands and feet in no time. Rough and dry patches don't stand a chance against the Cocoa Skin Cream.
Meow Meow Tweet Body Oils. The formula that makes up the base of the Meow Meow Tweet Body Oils is on point. It's hyper nourishing yet non-greasy and quick to sink into skin post shower. Sunflower, hempseed, jojoba and coconut oils offer a full range of vitamins, minerals, fatty acids and more to help balance and fortify skin. I've been a fan of the Juniper Mint Body Oil for a while, and I recently got to sample the Lavender Lemongrass and Frankincense + Flowers Body Oils. The combinations are so lively and lovely. Lavender Lemongrass is perfect in the evening after a bath, and Juniper Mint or Frankincense + Flowers set such a happy mood in the morning.
Meow Meow Tweet Deodorant. Whoa. This is good. I love the consistency of this cream because it is truly that — a cream. I can dip my finger in it and get a nice dollop without having to dig (not always the case with natural deodorants). It spreads across skin with ease, rubbing right in. A little goes a long way. Also, it works! I've tried samples of the Tea tree Oil and Lavender Deodorant Creams. Both have a fresh herbal scent that I find enjoyable, especially as the essential oils begin to warm against your skin. For those of you who are sensitive to baking soda, Meow Meow Tweet Baking Soda Free Deodorant Cream is going to be your new best friend. And lucky you, it smells like fresh grapefruit.
It's been such a pleasure getting to know Meow Meow Tweet. Be sure to try them out at Integrity Botanicals!